Central Asian Artists' online self-aid in the time of global pandemic: sell three, buy one

With the whole world trying to keep alive in the time of COVID, the arts and culture sphere is one of the "fish outside the water" that face the cascading financial losses. Artists all over the world are struggling to make ends meet. While big players of the art market in the West have enough funds to be able to quickly accommodate to the situation, reversing activities online and still getting significant revenues, like Sotheby's and other giants, artistic societies from less developed states are more vulnerable.
That is why the spontaneous initiative from Kyrgyzstan, a self-proclaimed Art Bazaar, is a bright spot in the isolated Central Asian contemporary arts periphery. Having the embryonic stage of art entrepreneurship in general and now facing the global pandemic in the -Stans made local artists act quickly and take the lead.
Art Bazaar (in Russian: художественный базар) is the idea driven by Kyrgyz architect and artist Meder Akhmetov, Kyrgyz artist Darina Manasbek and German civic activist Philipp Reichmuth. Literally, it is a group on Facebook. Art Bazaar was reflected from another project in Russia, called "shar i krest" (Eng: the Ball and the Cross). According to the description of the group, the "Bazaar is a bit different; our rules are of emergent character and we prefer plasticity in relationships between all members." It is a socially oriented initiative, an online platform for artists and collectors to share a common space in quarantine times.
Within around three weeks of existence, Art Bazaar developed from a private group of friends and acquaintances, who decided to help each other, to more than 1000 members from the CIS countries and beyond. Distinguished Central Asian art professionals like Said Atabekov (Kazakhstan), Dilyara Kaipova (Uzbekistan), Ulan Djaparov (Kyrgyzstan), Saule Suleimenova (Kazakhstan), Valery Ruppel (Kyrgyzstan), Elena and Viktor Vorobyev (Kazakhstan), Marat Rayimkulov (Kyrgyzstan), Saule Dyussenbina (Kazakhstan) or Olesya Roskos (Kyrgyzstan) and others exhibit their artworks and support young artists. "Art Bazaar is an interesting phenomenon: here you see emerging generations of new curators and artists, and developing culture of art collectorship," shares Ulan Djaparov, the front-row curator from Kyrgyzstan, who created the "pervoaprelsky konkurs" (Eng: April 1st Competition) that has been running since 2003.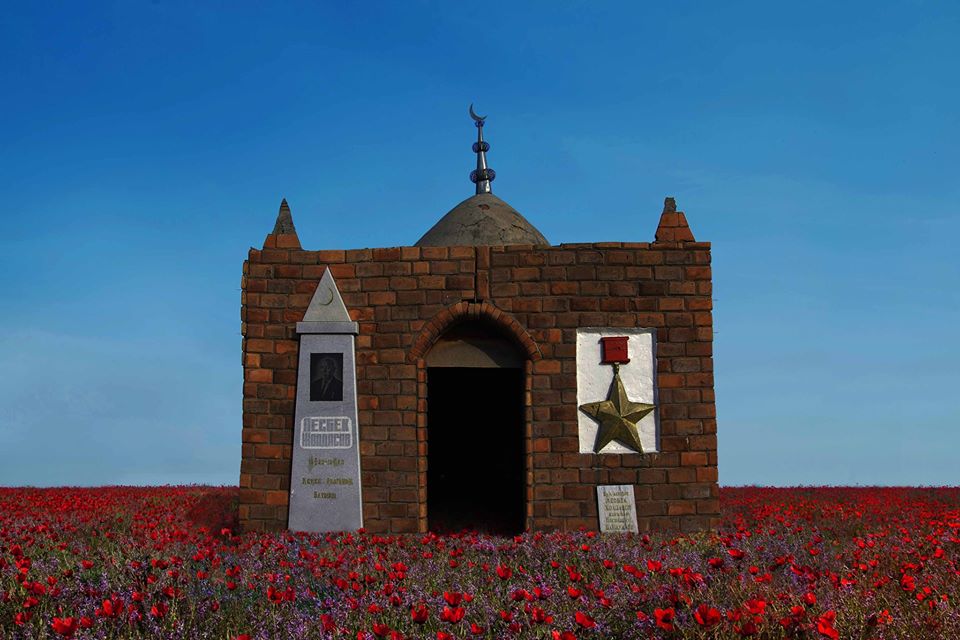 The rules of purchasing and selling are as simple as they are: an author posts images of their works, description, and the price. If an artist sells three works, they shall buy one from someone else; if they sell ten, they donate one work as a gift for future shows and auctions. The special thing is that the maximum prize is 20 000 Kyrgyz soms (250$) in the most expensive category, and 5000 Kyrgyz soms ($65) for works on paper, when many works sell for as low as 500 soms ($7). There can be some exclusions, if an author decides to sell a more expensive work, then it is a subject to discuss with the administrators. That happened to Valery Ruppel's prominent work "Tulips/Political Botany" that was sold for $1,600 — so far the highest price within the Bazaar. Logistical issues, such as money transfer or transporting the purchased work, are solved immediately in the group: people agree to ship artworks as soon as the pandemic situation becomes clearer and post offices start operating normally. "This is a matter of trust," shares Meder Akhmetov. "We know the majority of each other well and can discuss things openly to come to a satisfying conclusion. There are new people in the group, and it shows that sometimes logistical topics can be resolved easily even in the complicated times."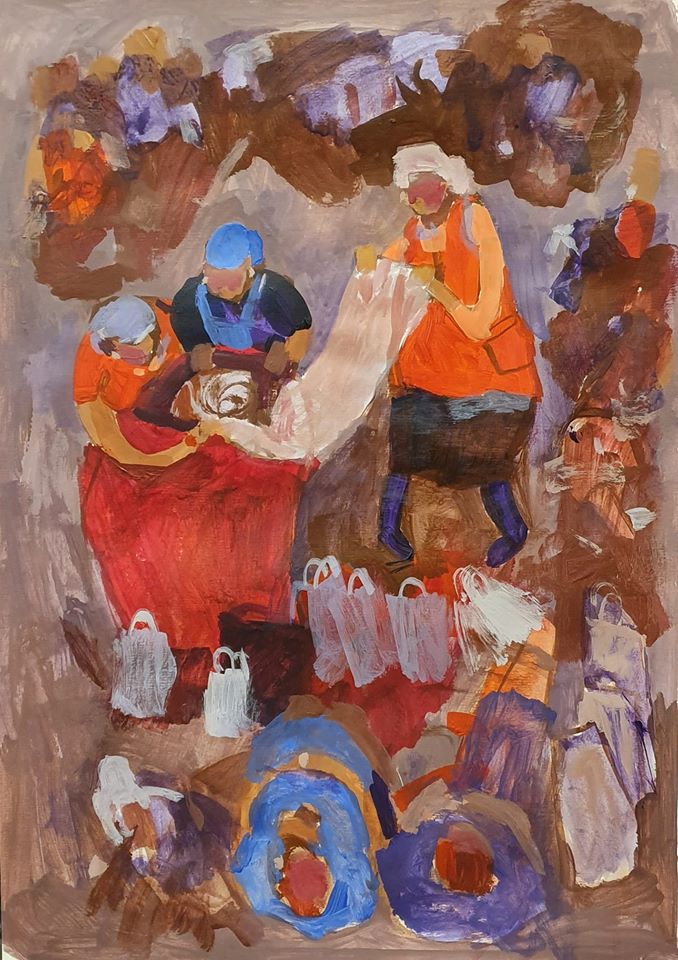 As estimated by administrators, the overall revenue for the three weeks of existence of Art Bazaar so far is between 10-15K US dollars. This is an extraordinary event in the Central Asian contemporary arts landscape. A minimum of 160-180 artworks were sold, from which 50-70 bought by artists, and around 100-120 by customers outside the artistic circle. "We will see where our initiative leads us — we will organize an exhibition with the donated artworks, and then see whether institutionalization is a good idea or whether the initiative disappears naturally after the lockdowns end," says Philipp Reichmuth. This weekend the Bazaar held its first online charity auction with four lots sold for 4200 soms ($60).
"For young 'fresh' artists the Bazaar is a place to get in touch with the already shaped artistic community. It can give you discussion, 'art infection' by local artists and artworks. I think here it is easier to find your own 'art illness' and the impulse for art!", mentioned Darina Manasbek.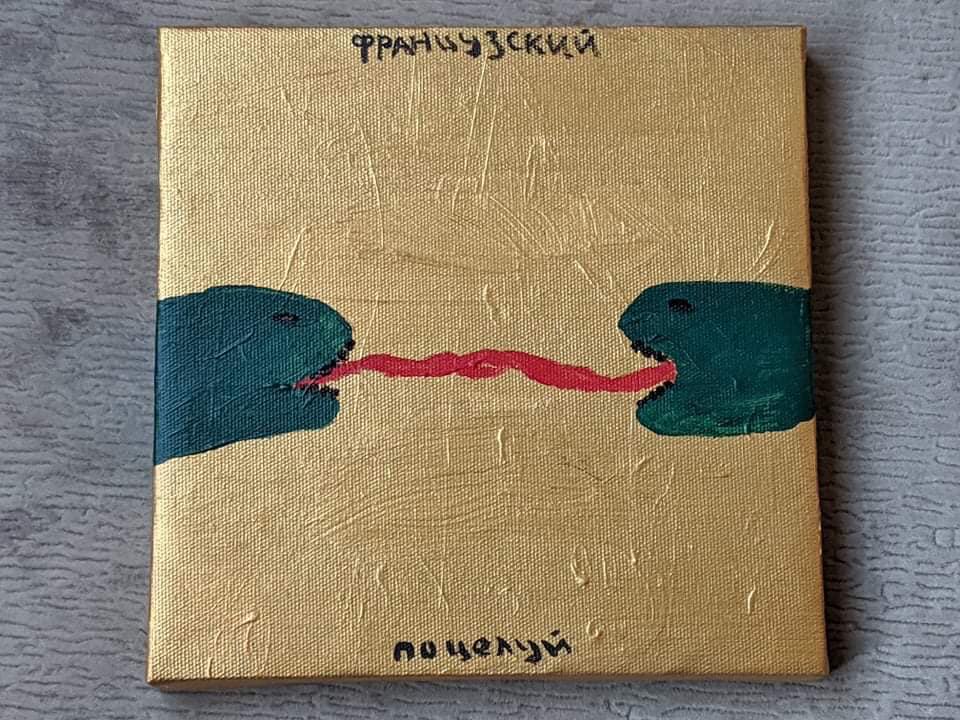 The global pandemic situation is no doubt quite a challenging time for the whole world; that is why unexpected creative solutions can develop so fast and so successfully. The example of Art Bazaar so far proves the statement of "the right time and place" — we do not yet fully realize how historical this moment is in the contemporary arts chronicle of Central Asia.
---
Cover image — Valery Ruppel, Political Botany of Valery Ruppel, 2006