On December 16, a political rally was held in Almaty on Republic Square in memory of the victims of the 1986 Zheltoksan protests and the 2011 Zhanaozen massacre. The rally was attended by activists, young representatives of art and culture, as well as environmental movements and groups.
On November 22, the civil movement Oyan, Qazaqstan announced a rally on its social media scheduled for December 16 and stated:
"We must put an end to the political violence of the state towards its citizens. Thirty-three years after the tragic events of Zheltoksan and eight years after the brutal execution of strikers at Zhanaozen, we, young and free citizens, will go to the historical Republic Square to commemorate the many victims of authoritarian terror and demand an end to repressions against Kazakhstanis..."
On December 15, Oyan, Qazaqstan published a post announcing the goals of the rally:
"We are organizing a peaceful rally on December 16 at 12:00 to demand the end of tyranny. We uphold our right to live in dignity in a democratic country and to choose our representatives in fair elections. We organize for freedom of speech and for peaceful assembly. This is what young people did in Almaty in December 1986, and what the workers of Zhanaozen did in 2011."
In the morning, sizable police and other law enforcement forces were stationed on Republic Square and adjacent streets.
At 11:40, a column of supporters of the Democratic Party of Kazakhstan led by journalist and public figure Zhanbolat Mamay approached the Independence Monument from the direction of Zheltoksan Street.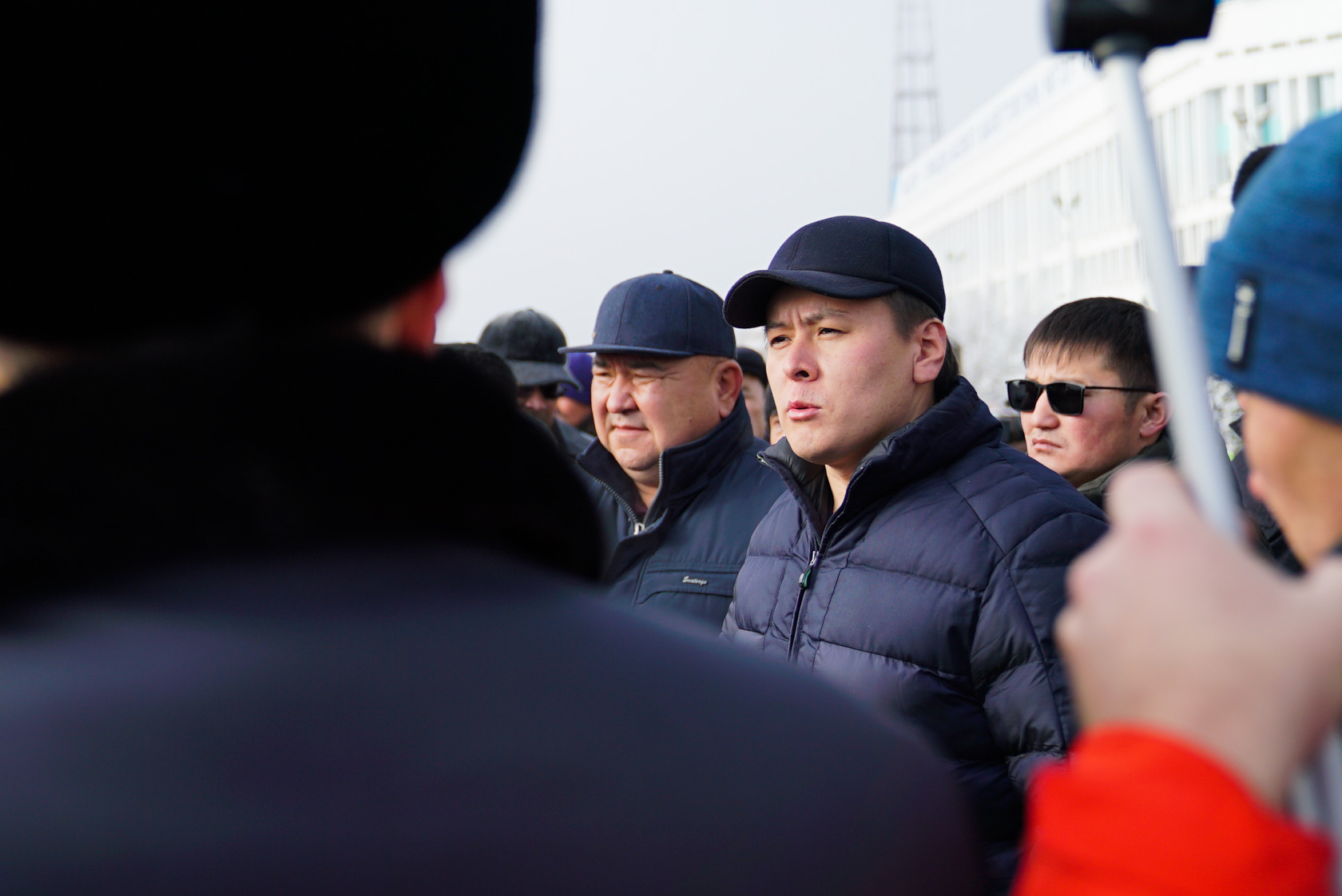 Supporters of the Democratic Party of Kazakhstan laid flowers at the Independence Monument and said a collective prayer commemorating the victims of Zheltoksan and Zhanaozen.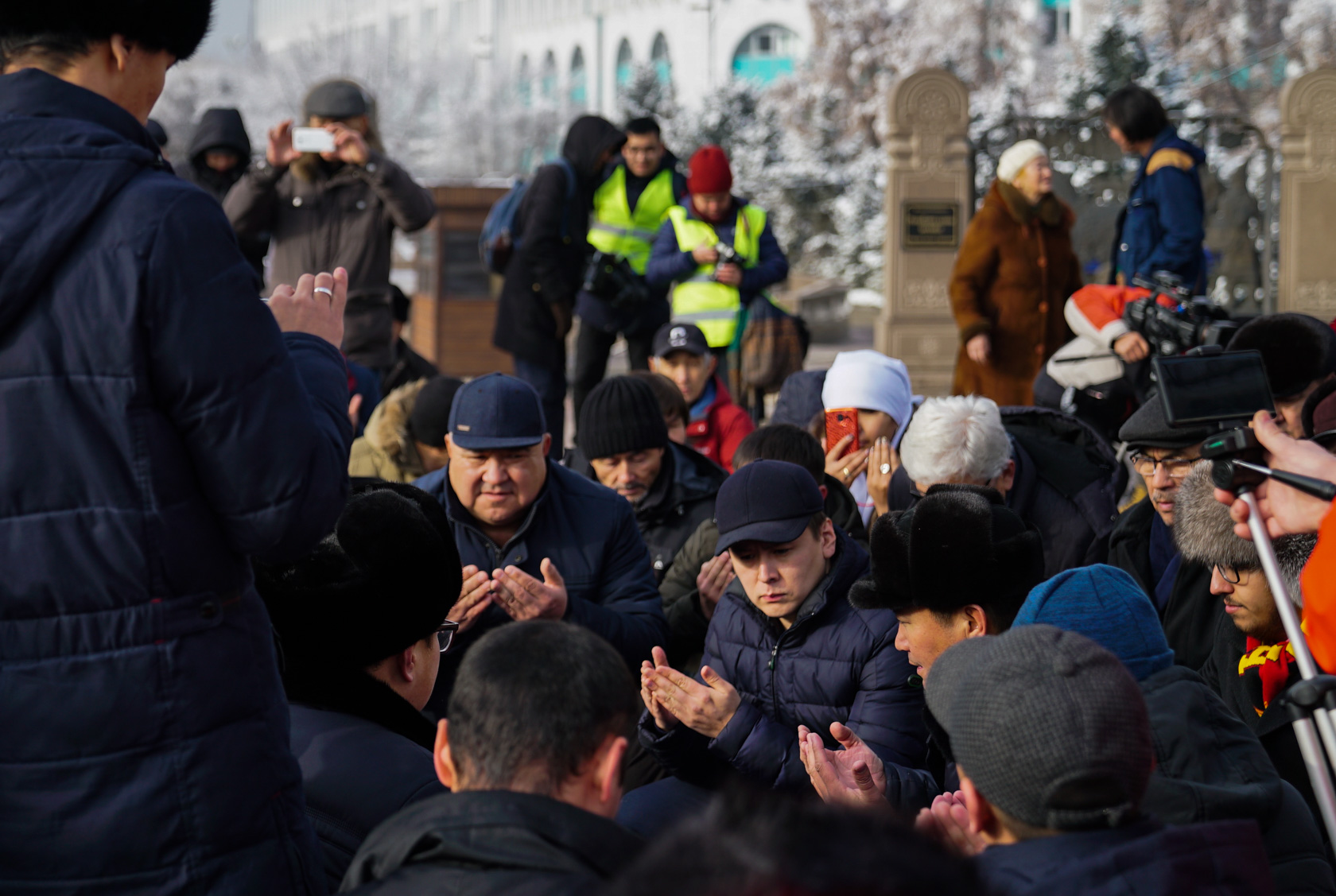 Around 11:55 a column of several dozen supporters and activists of the civil movement Oyan, Qazaqstan approached the Independence Monument on Republic Square.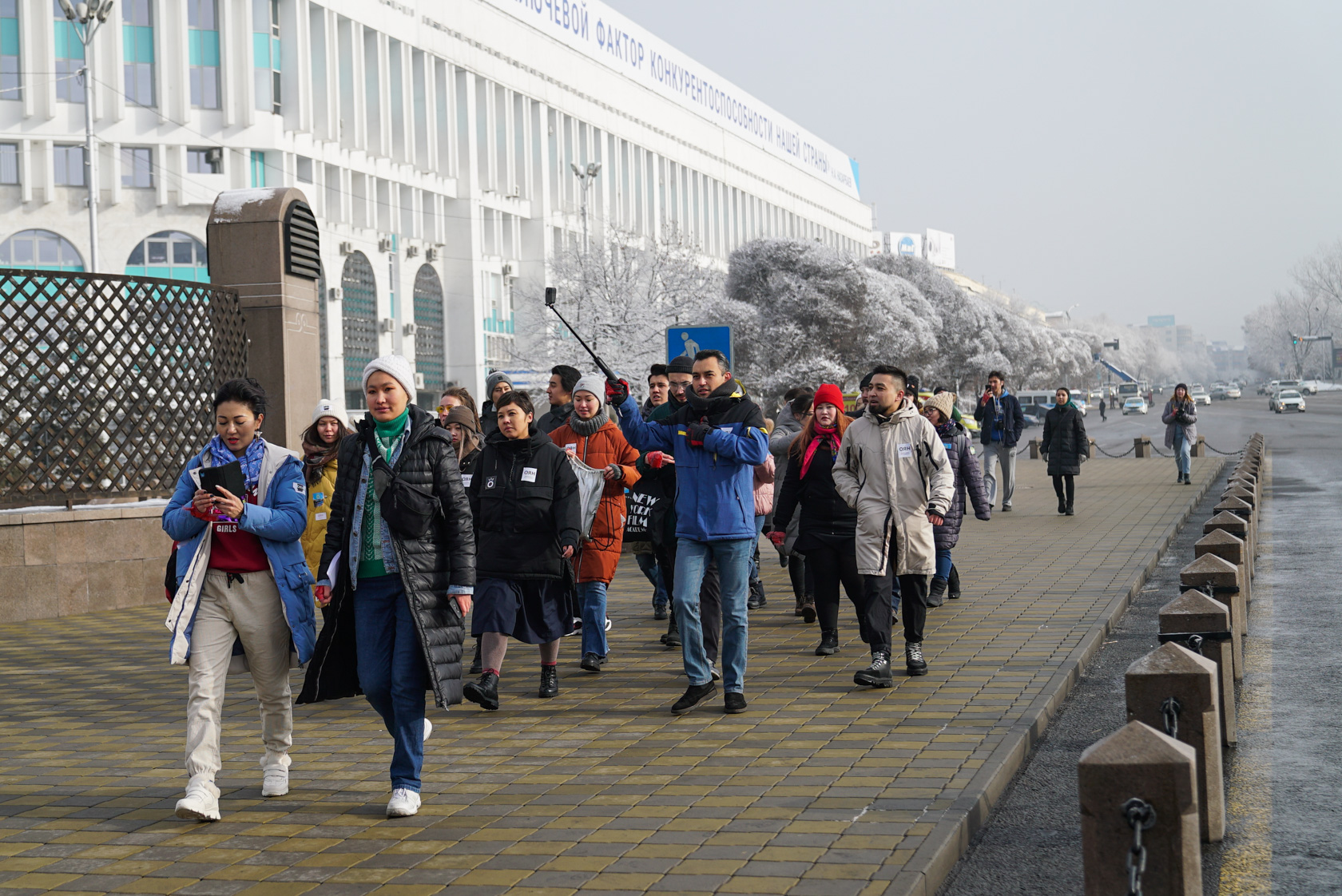 At around 12:00, these Oyan, Qazaqstan activists unfurled posters adorned with various slogans and phrases: "From authoritarianism to spring", "Umytylmas 1986 2011" ("Let's not forget 1986 & 2011"), "The word should be free", "NAN Ursyn (I am not an extremist)"," Kazakhstan without the Nazarbayevs "," Parliamentary Republic ","Make way for the young "," #Umytylmas #Jeltoqsan #Jangaozen"," Our freedom is stronger than all prisons "" I want my voice to mean something ", "Freedom for political prisoners", "29 years of tyranny", "The mafia is dozing off, peaceful civilians are waking up", "Spring is approaching".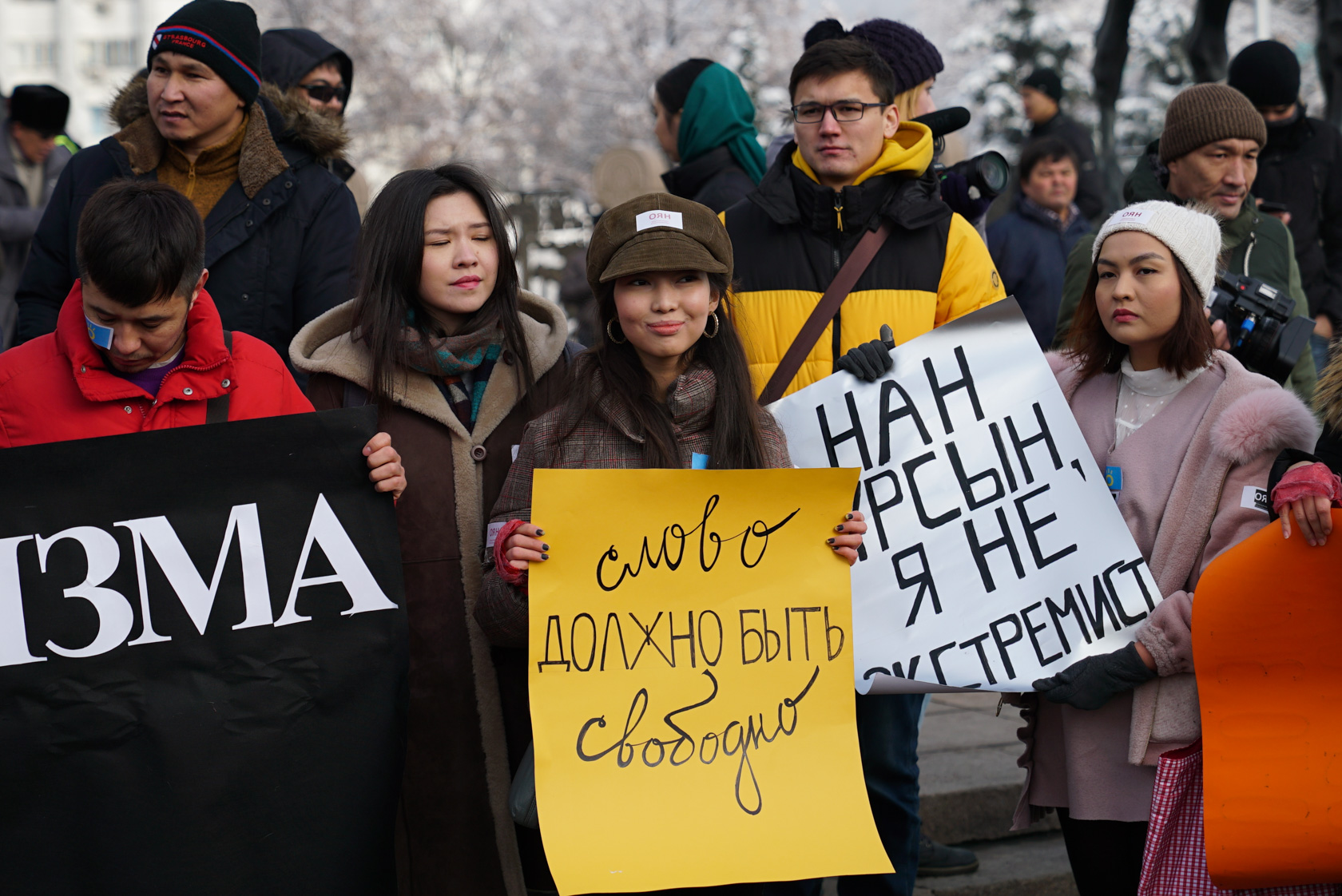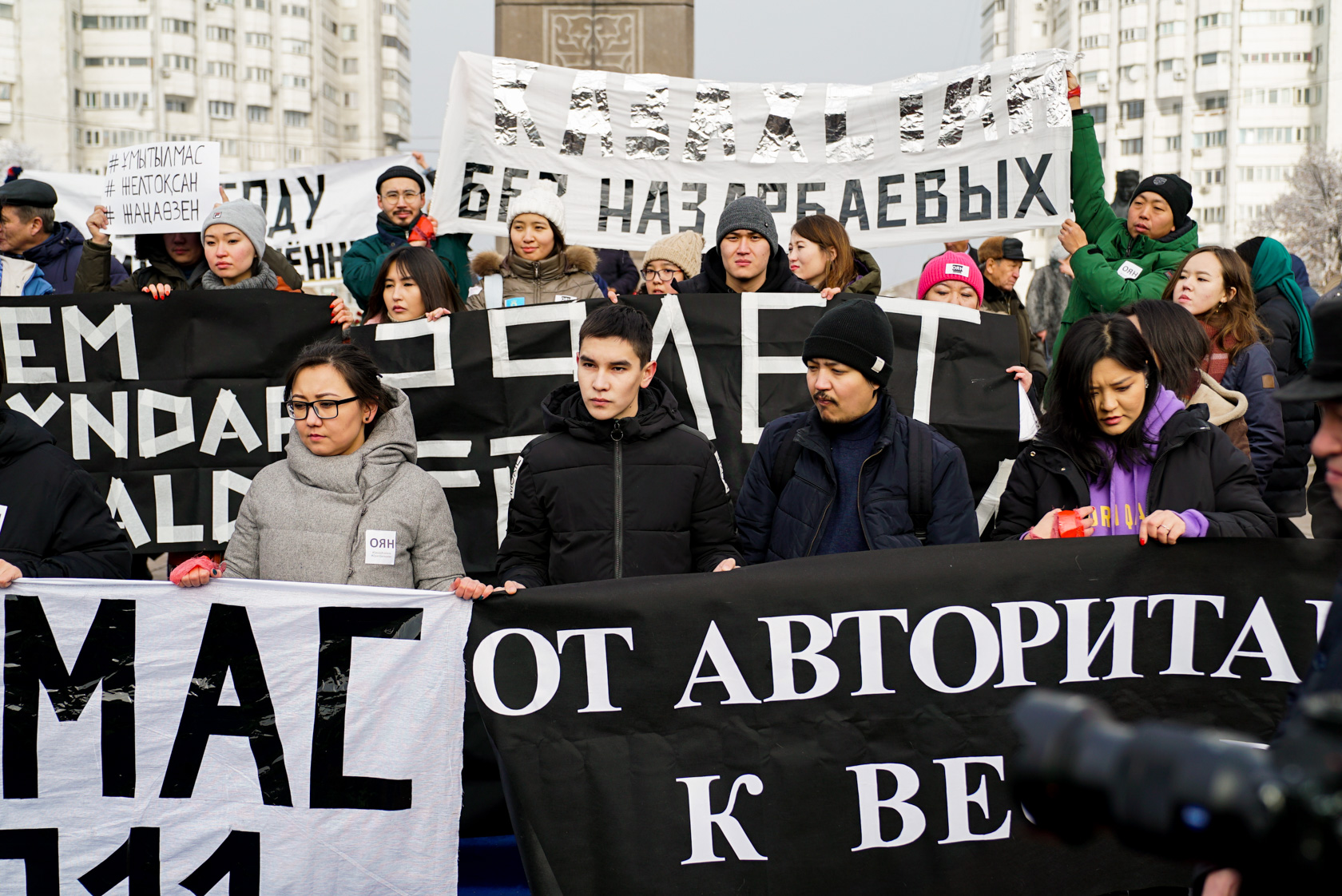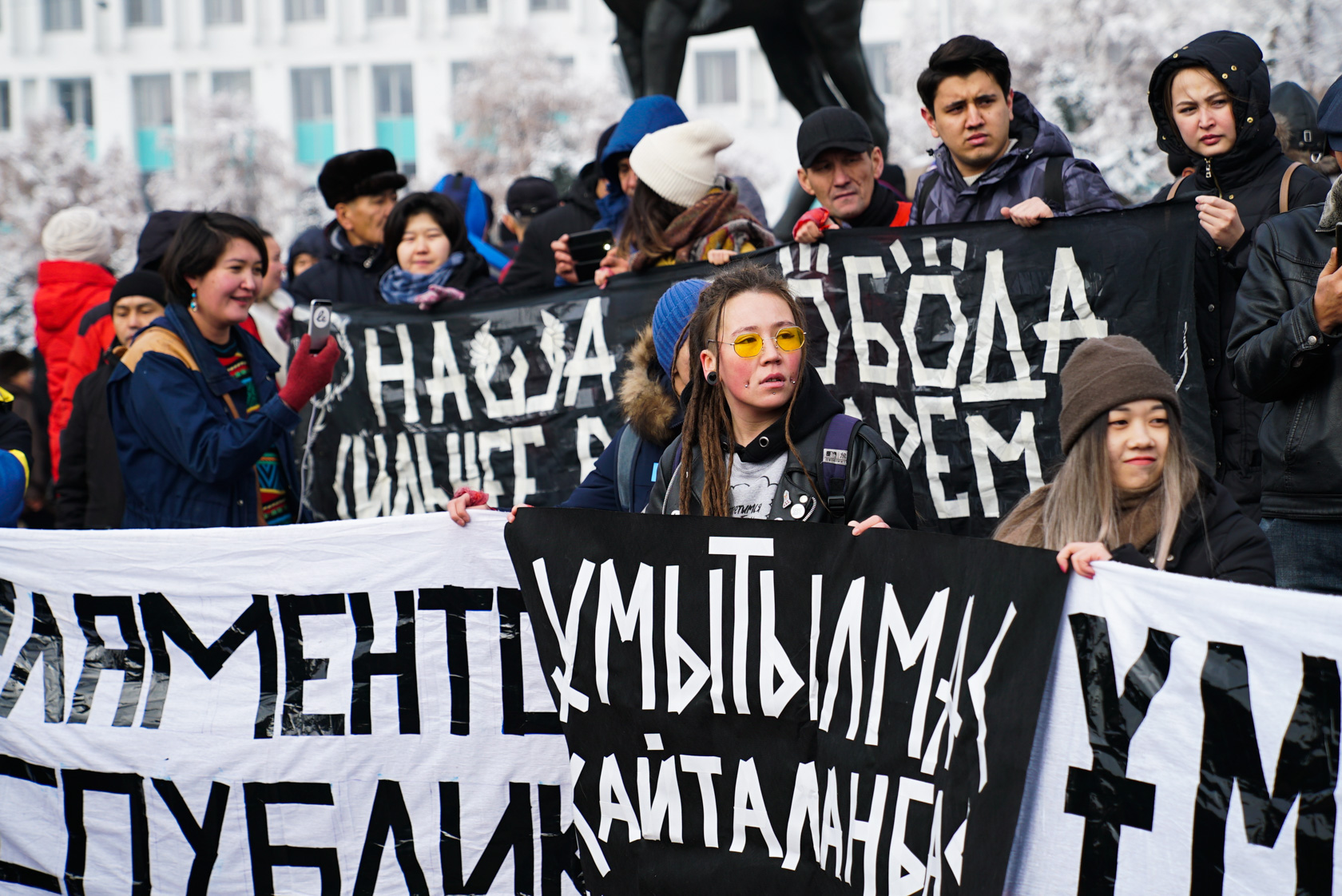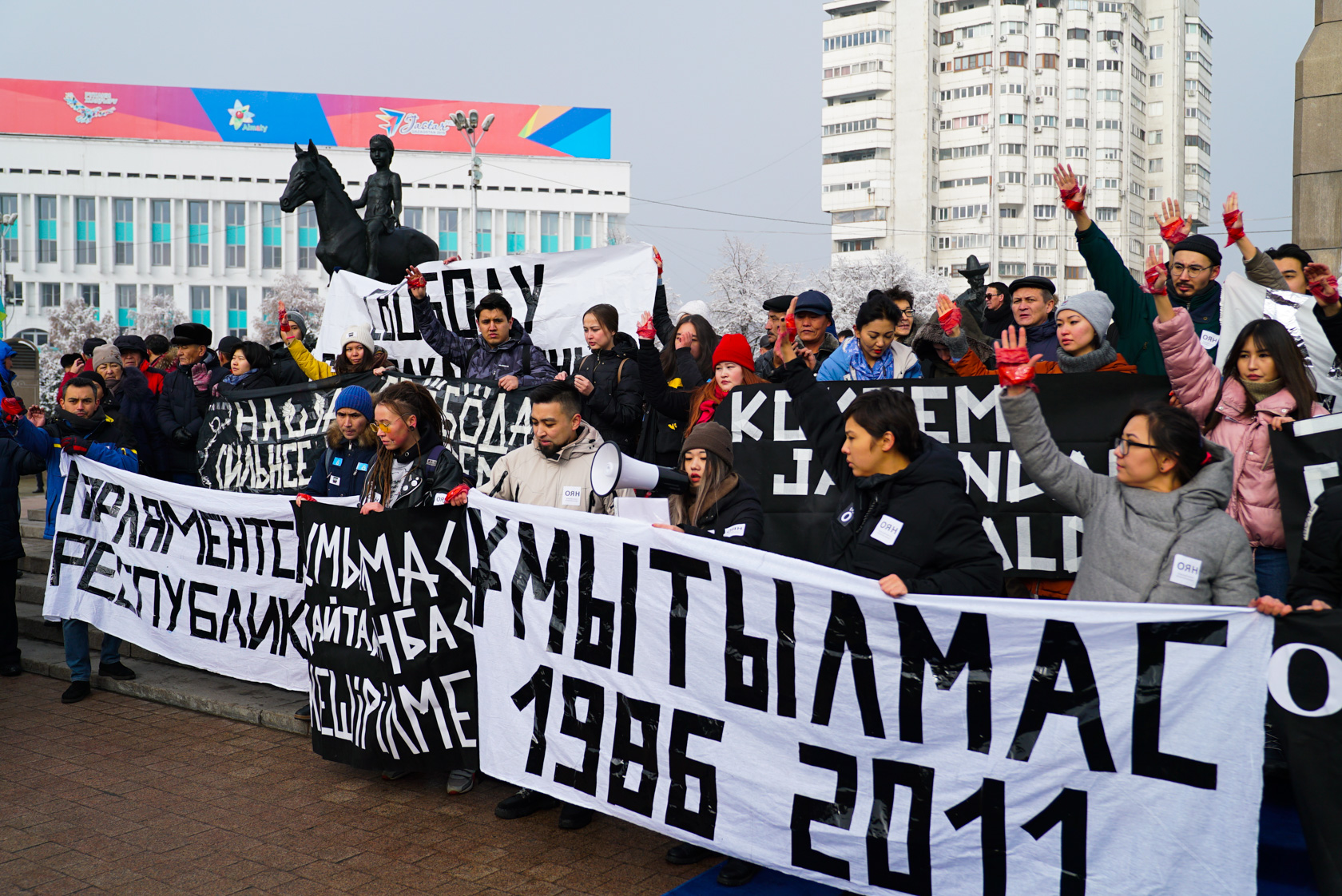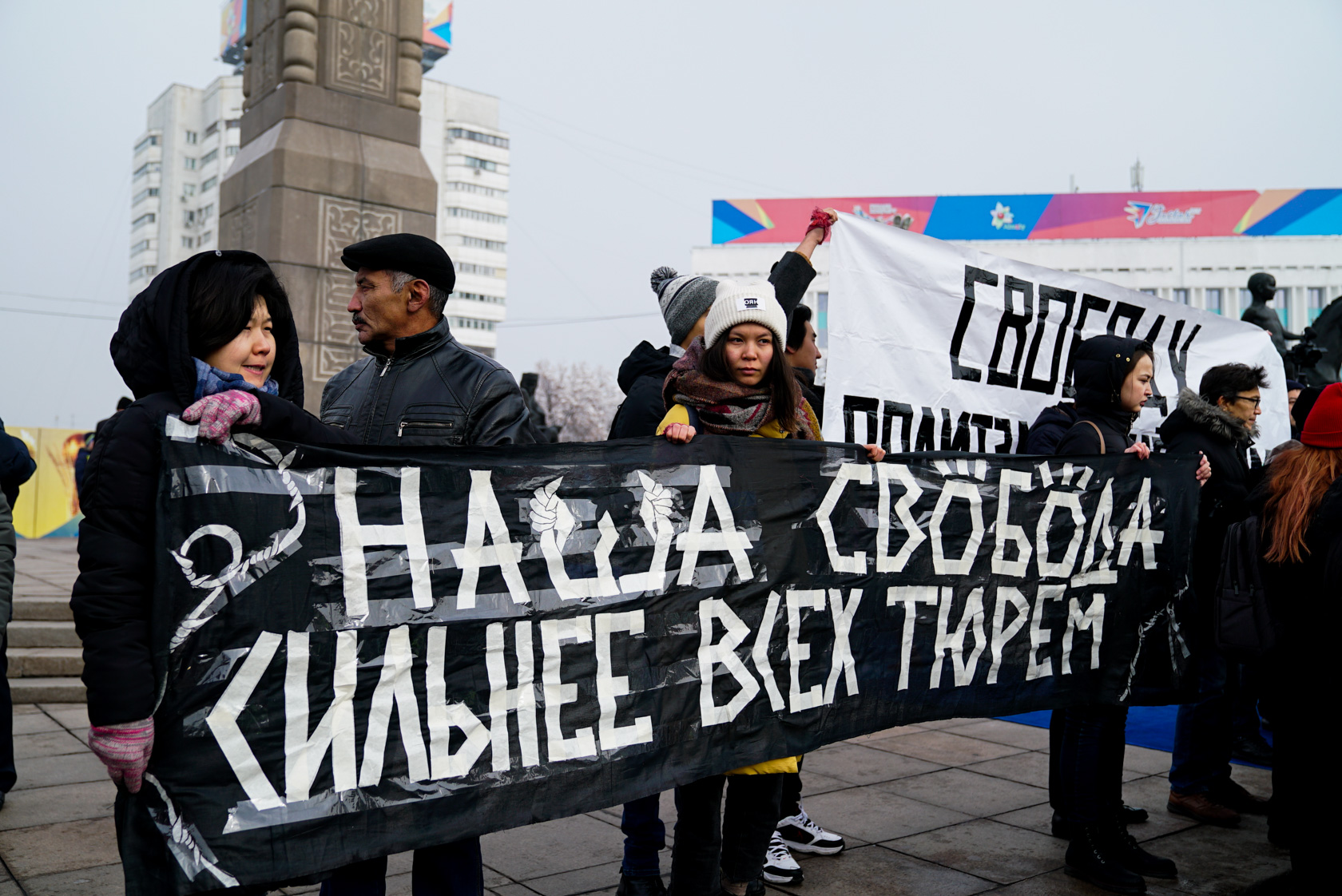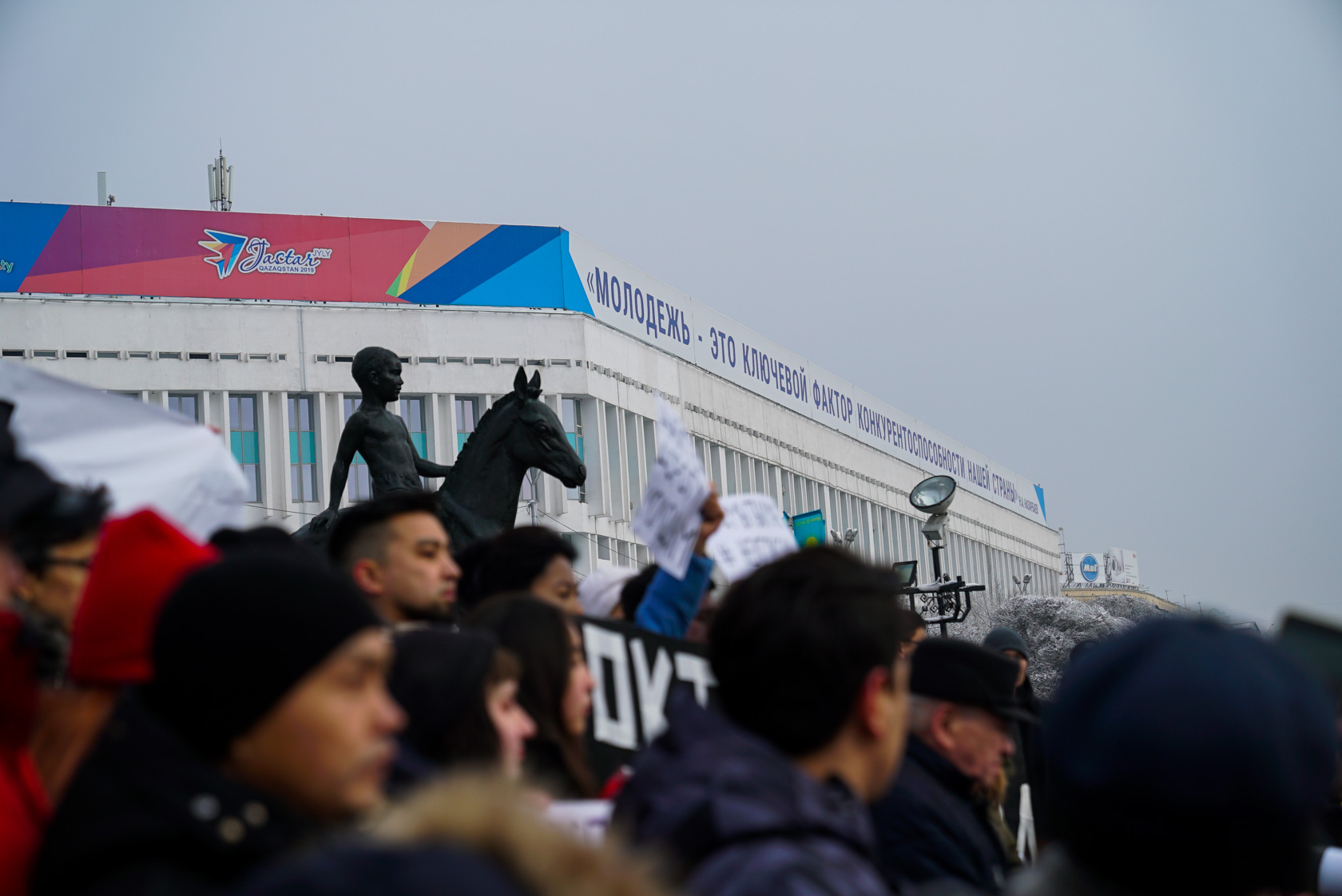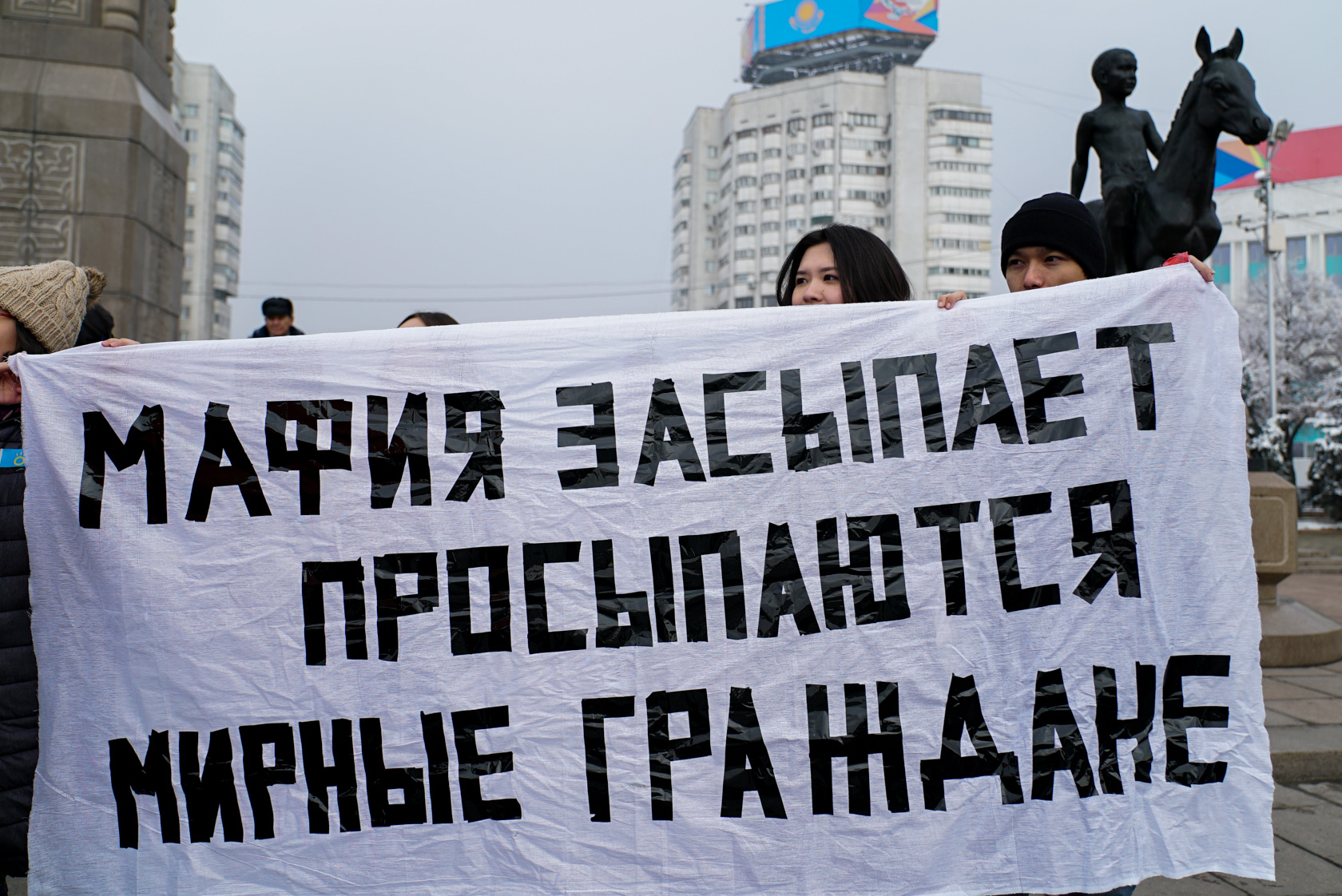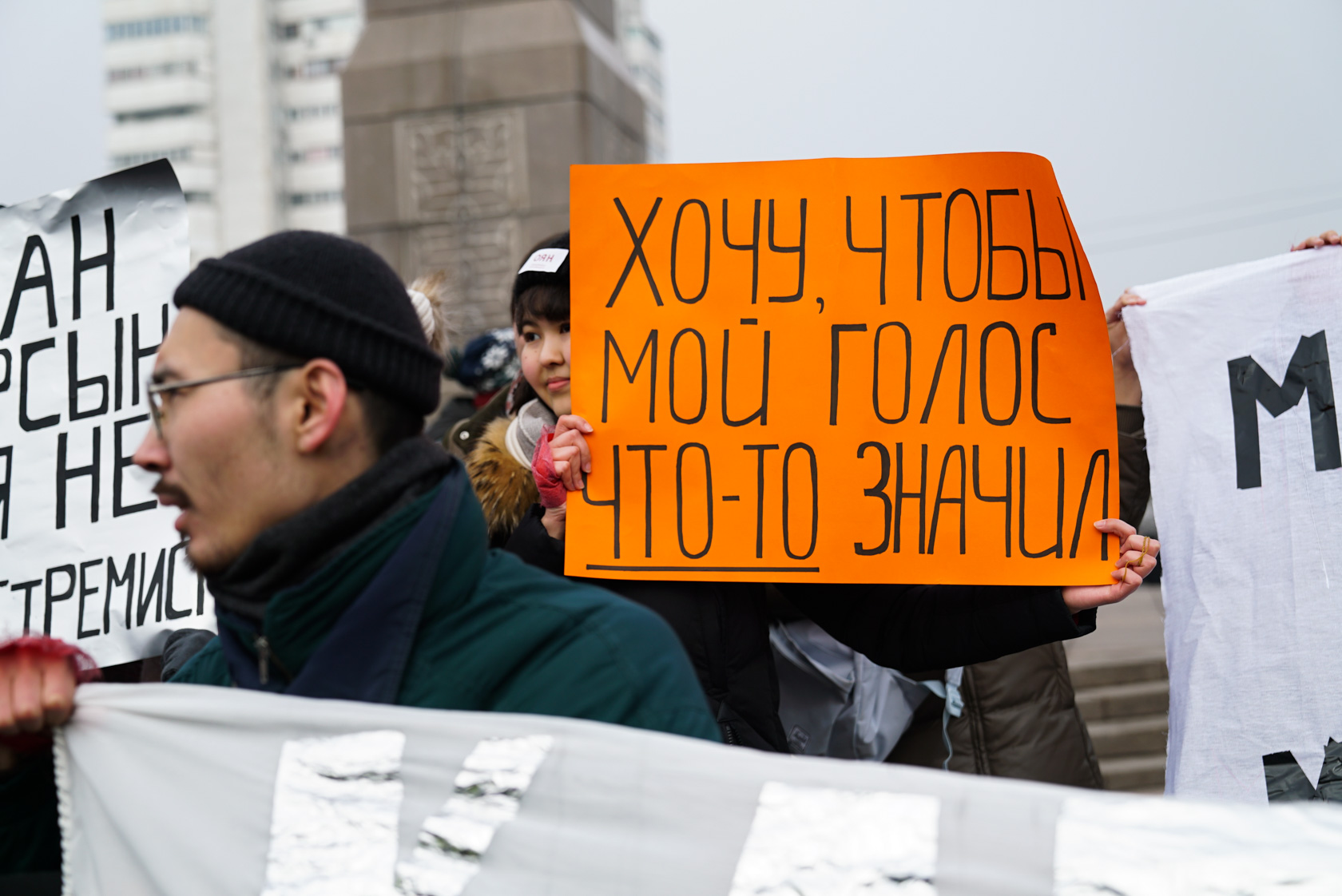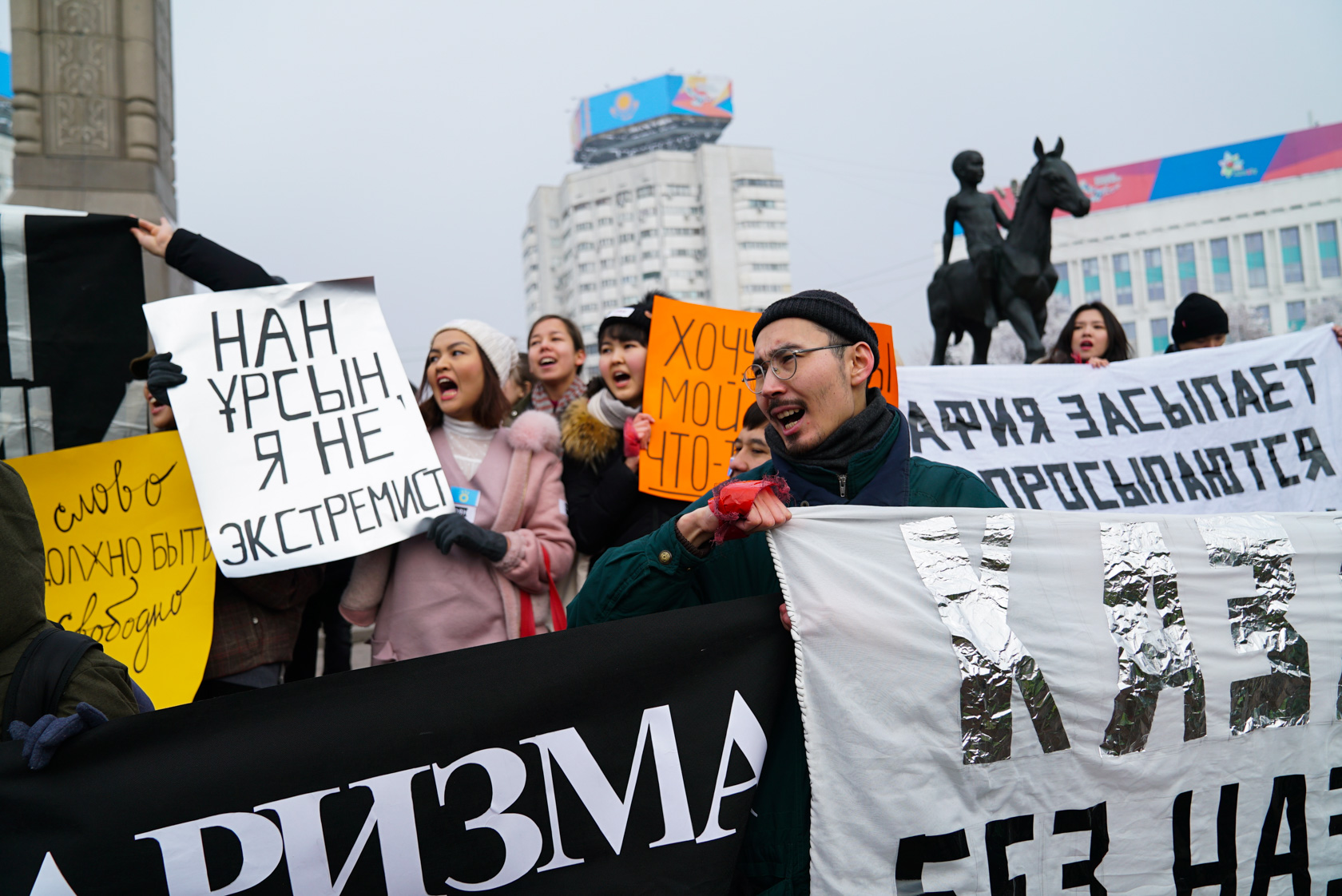 After the posters were unfurled, Oyan, Qazaqstan activists performed an art protest: the participants simultaneously raised their right hands, which were wrapped in bandages and smeared with red paint. This action symbolized the blood and wounds of victims killed and wounded in Alma-Ata in 1986 during Zheltoksan (December in Kazakh), as well as those killed and wounded during the massacre in the city of Zhanaozen in December 2011.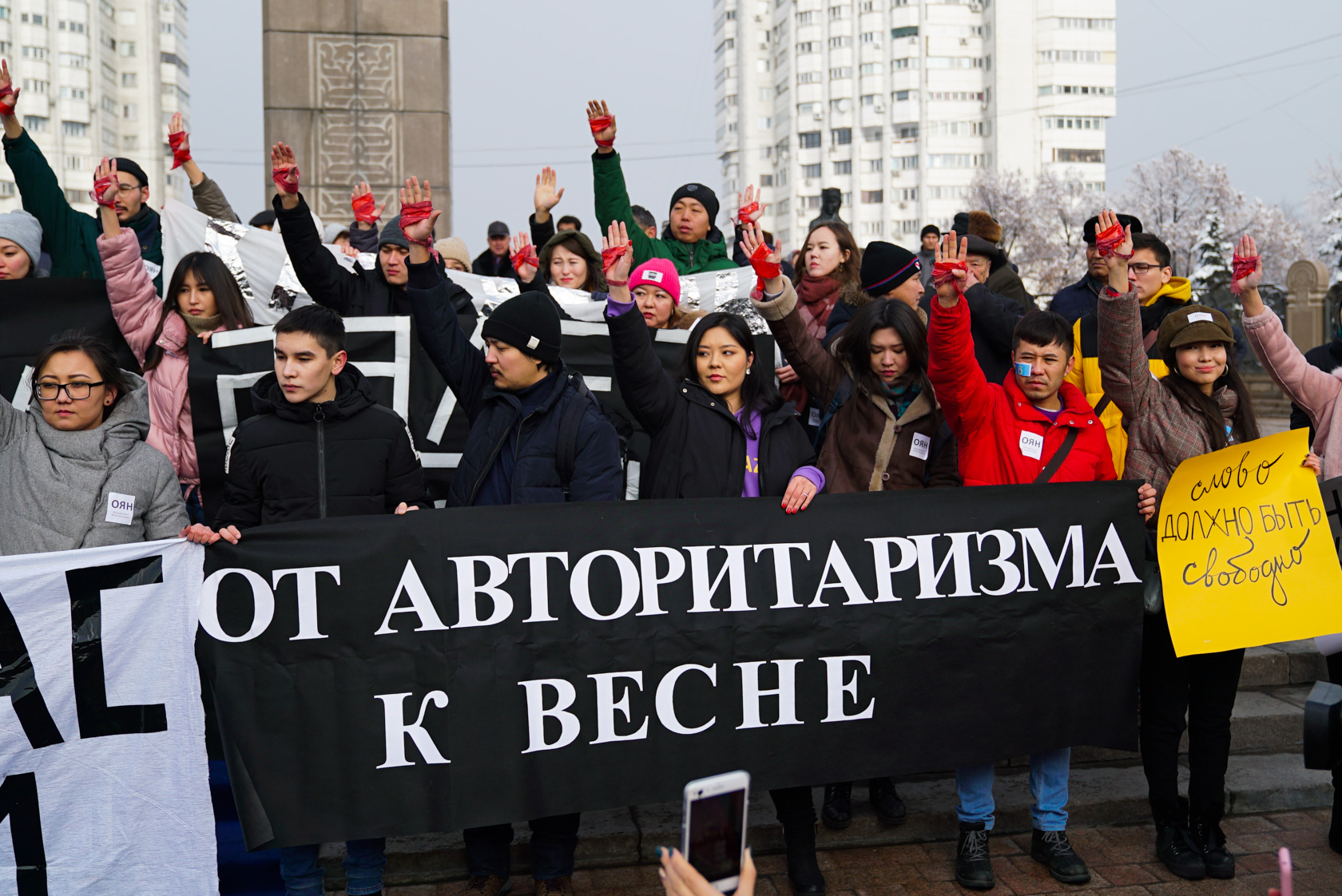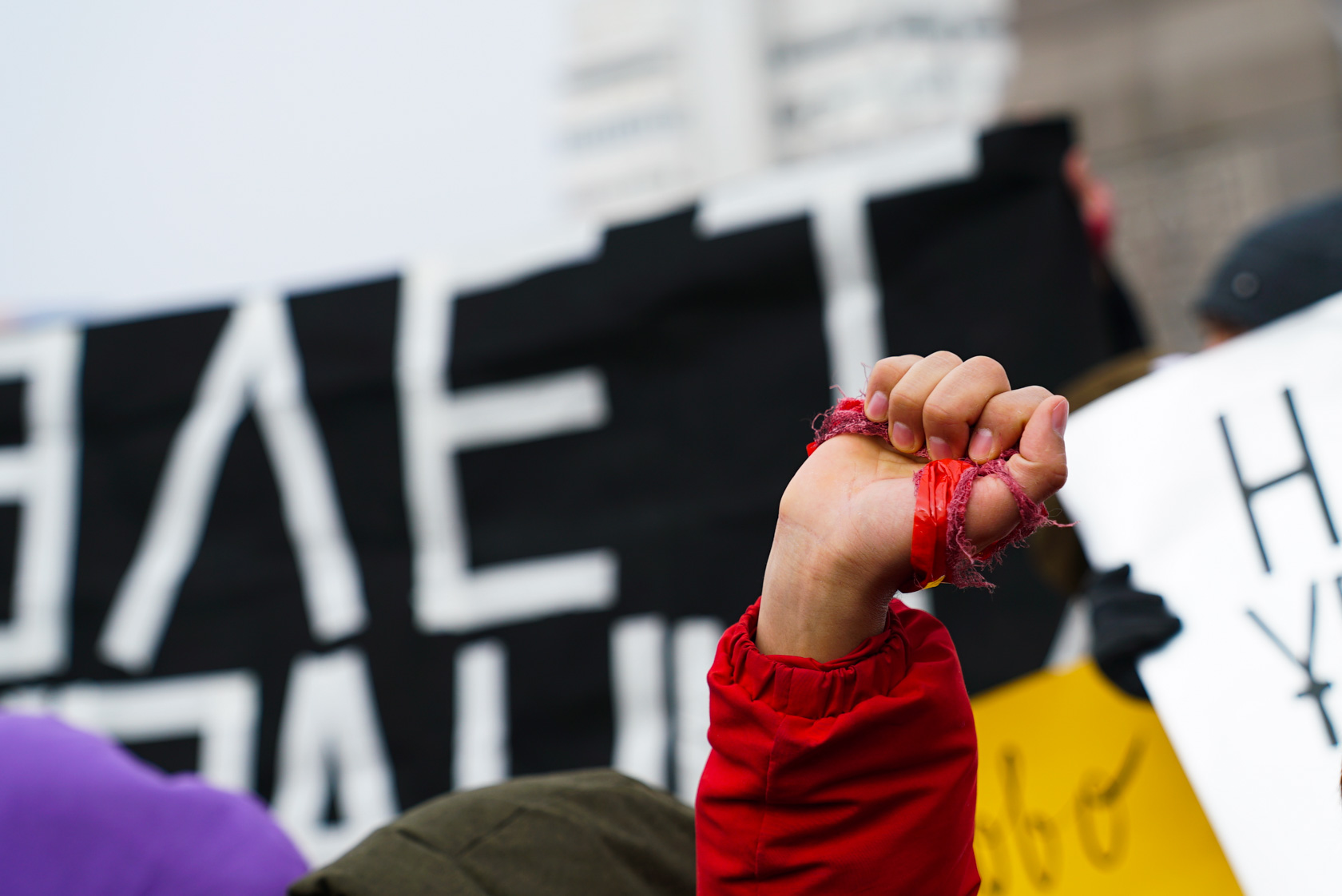 Within half an hour, Oyan Qazaqstan activists delivered several speeches in which they voiced demands for the release of political prisoners and the establishment of a parliamentary republic. They also advocated for freedom of speech and called for the democratization of the country and against tyranny. The activists occasionally chanted: "Oyan, Qazaqstan" ("Wake up, Kazakhstan" in Kazakh), "Kazakhstan without Nazarbayev", and "Parliamentary Republic".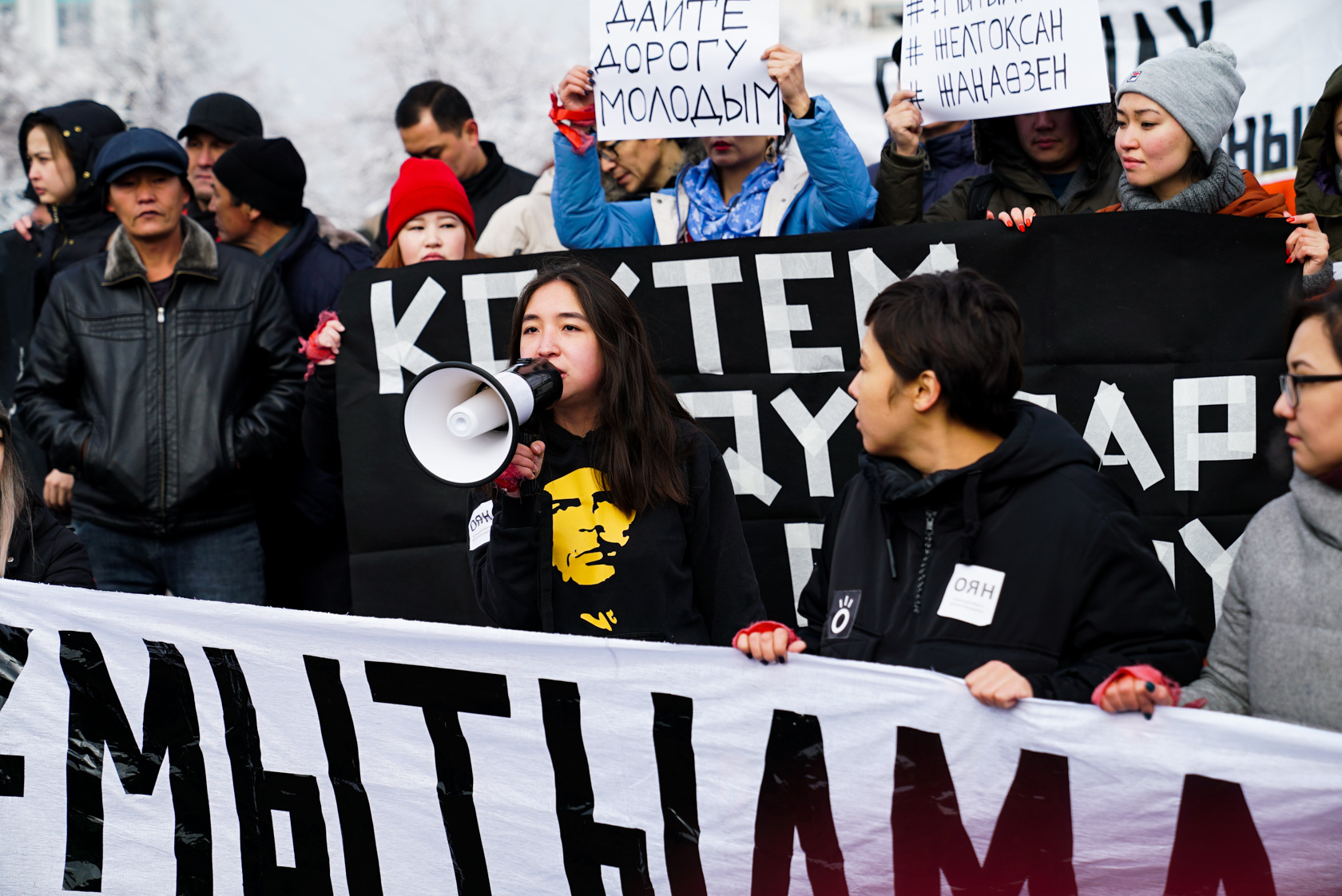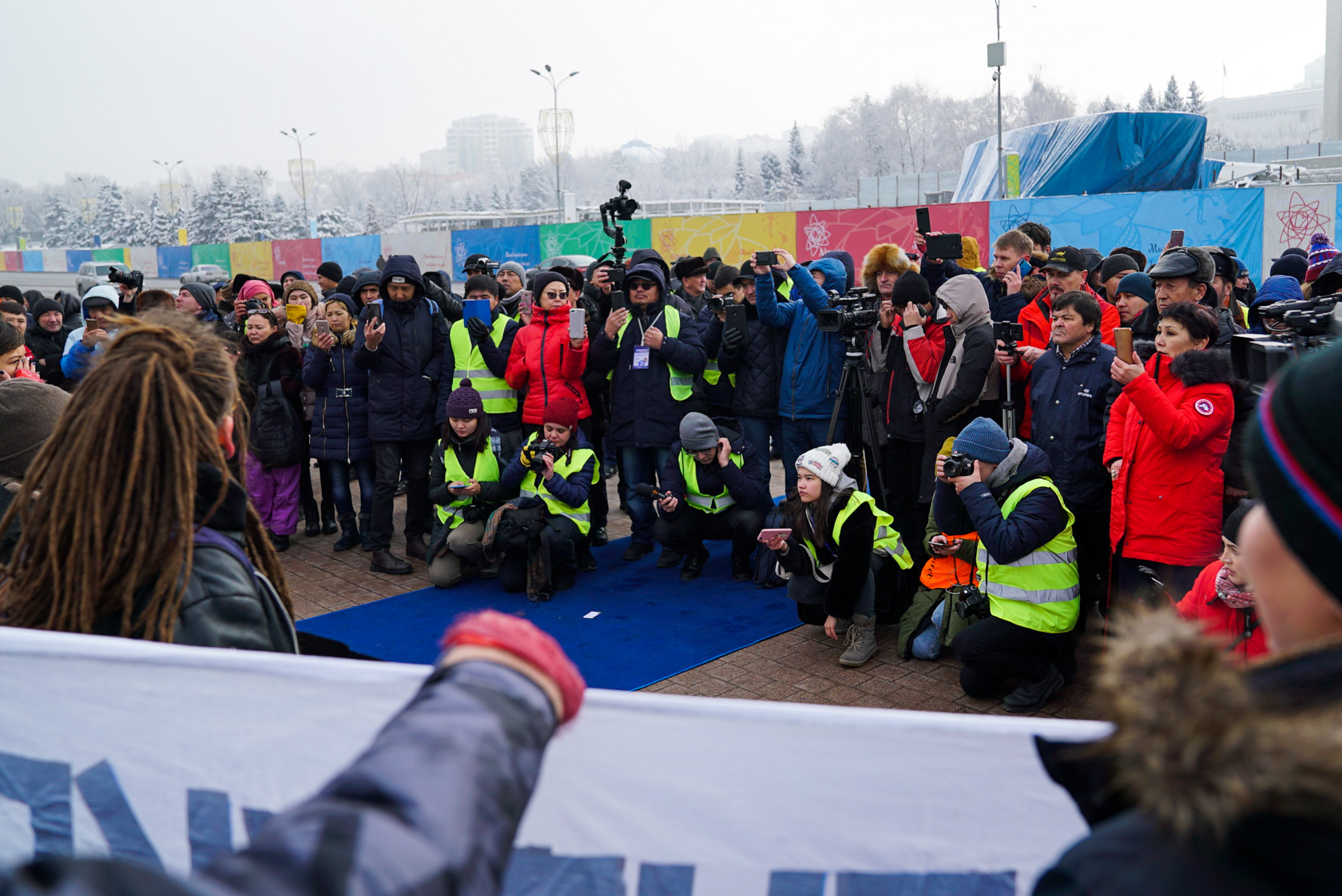 For two hours, individuals and groups of citizens chanted various slogans at the Independence Monument. The dominant themes were the cessation of repression and tyranny in Kazakhstan, as well as calls for freedom and democratization.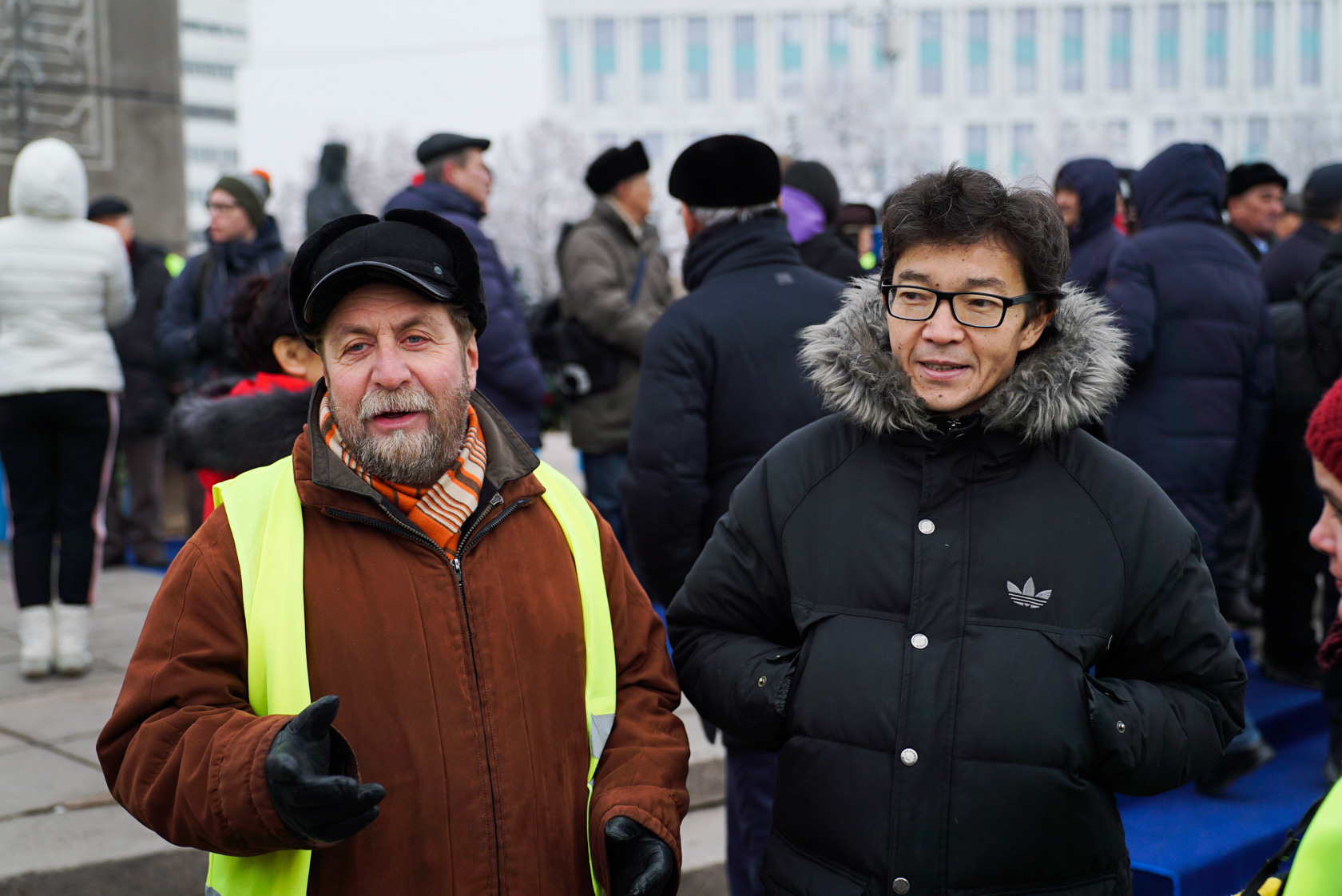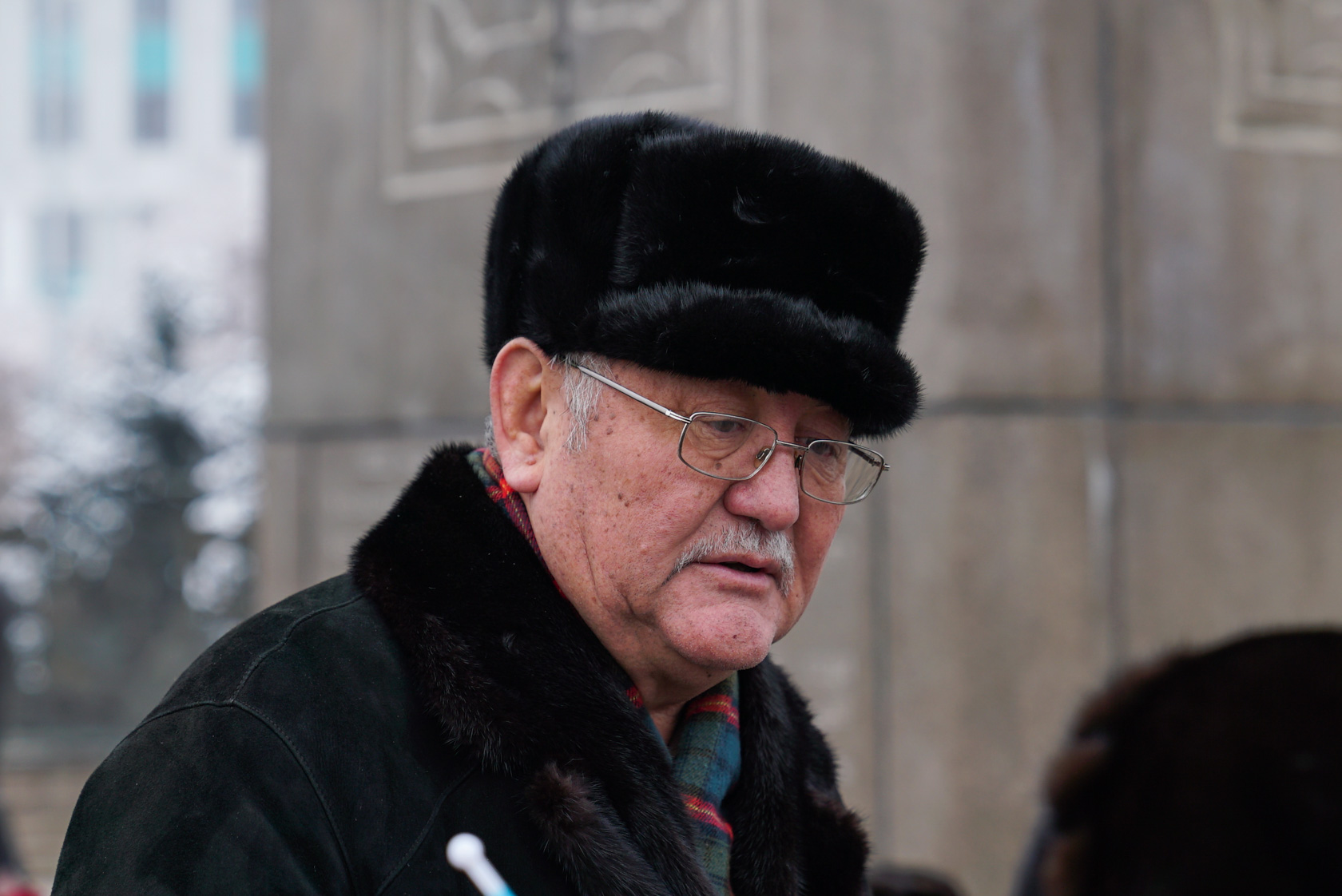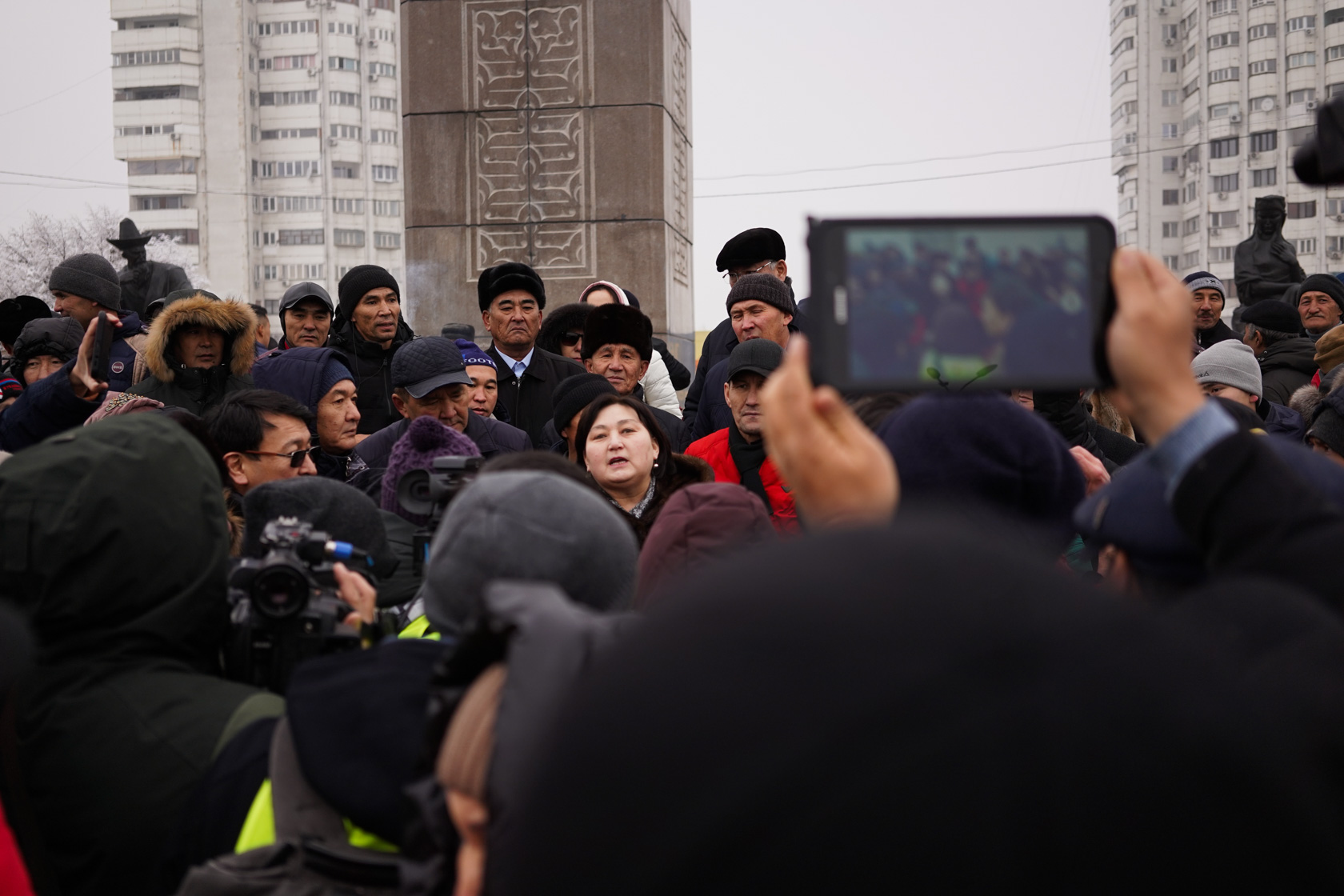 At around 14:40 Oyan, Qazaqstan and other activists began to descend down Zheltoksan Street. As they did so, the activists chanted: "Oyan, Qazaqstan! Algha Qazaqstan!" (Kazakh: "Wake up, Kazakhstan! Forward, Kazakhstan!")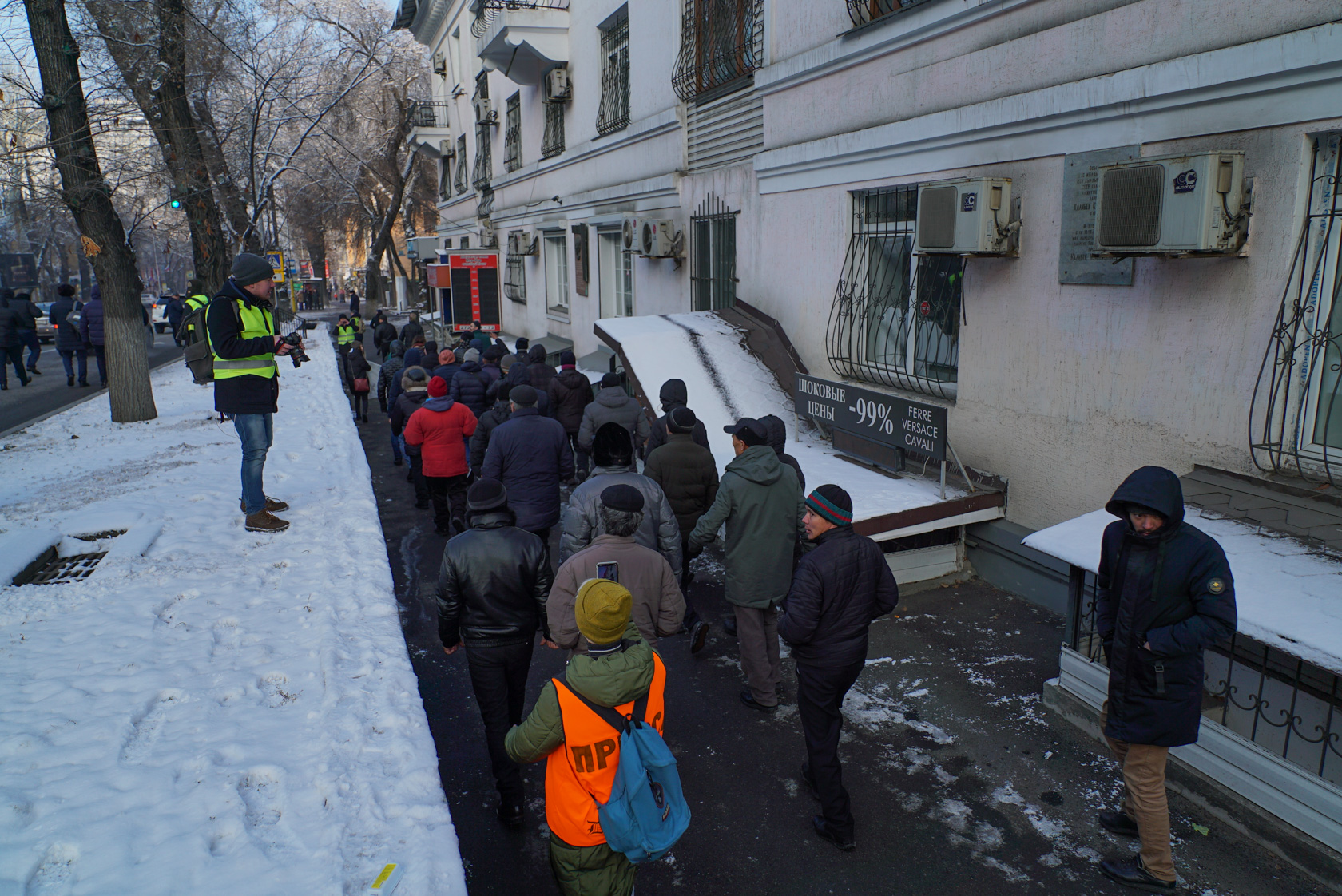 At 15:15, a crowd of more than 200 people turned onto Abylai Khan Street.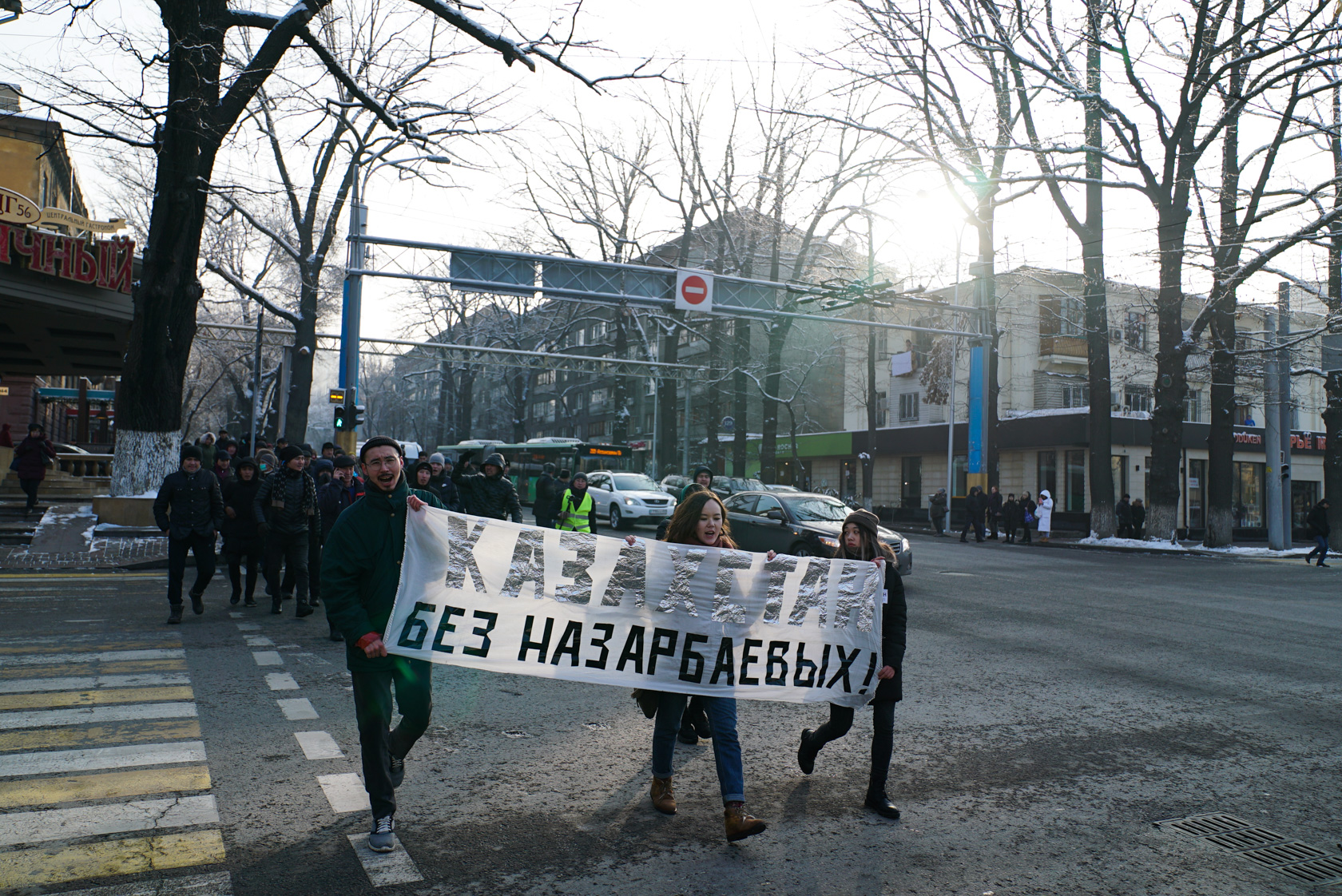 At 15:20, at the intersection of Abylai Khan and Karasai Batyr streets, police and special forces began to detain activists. Dozens of people were detained.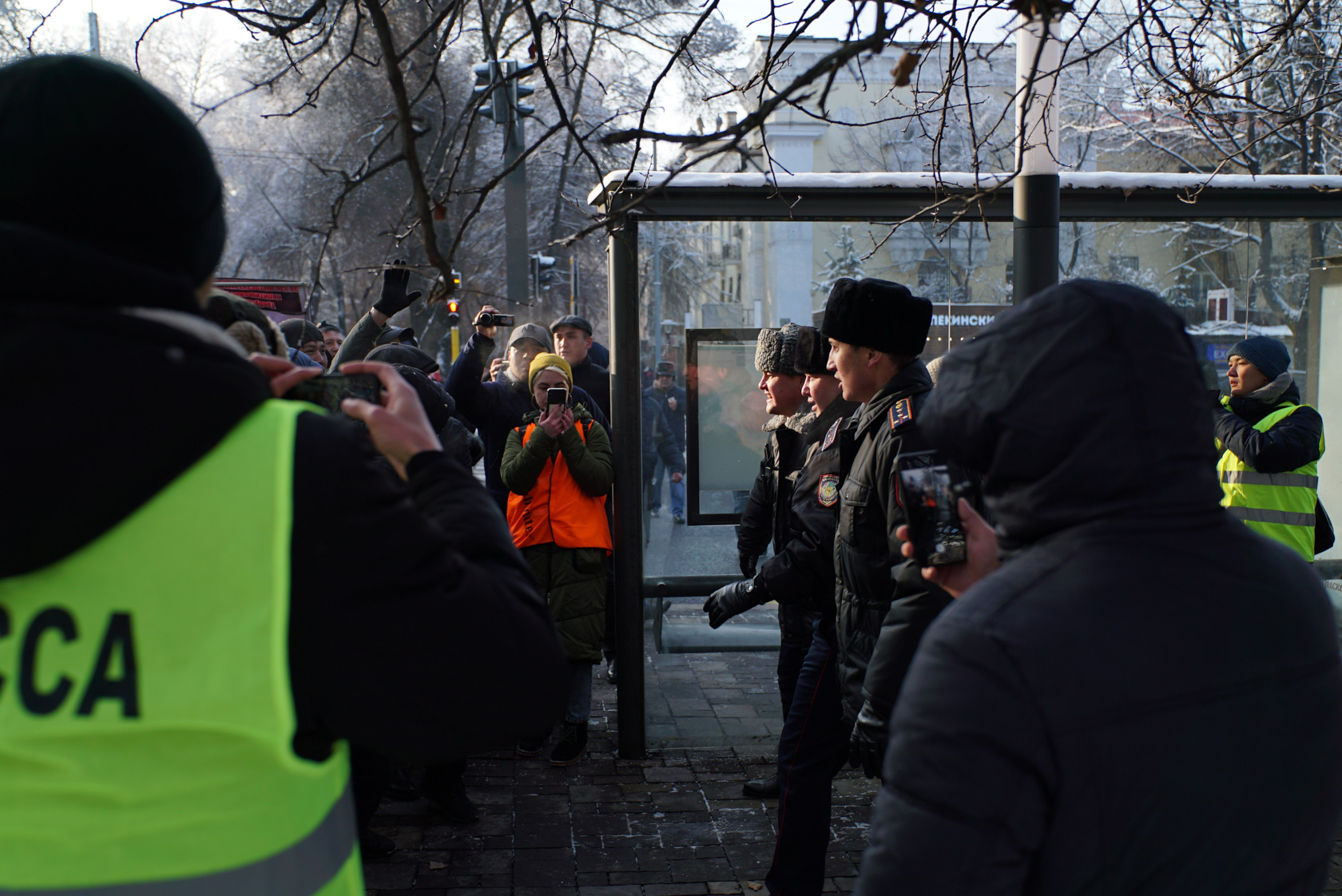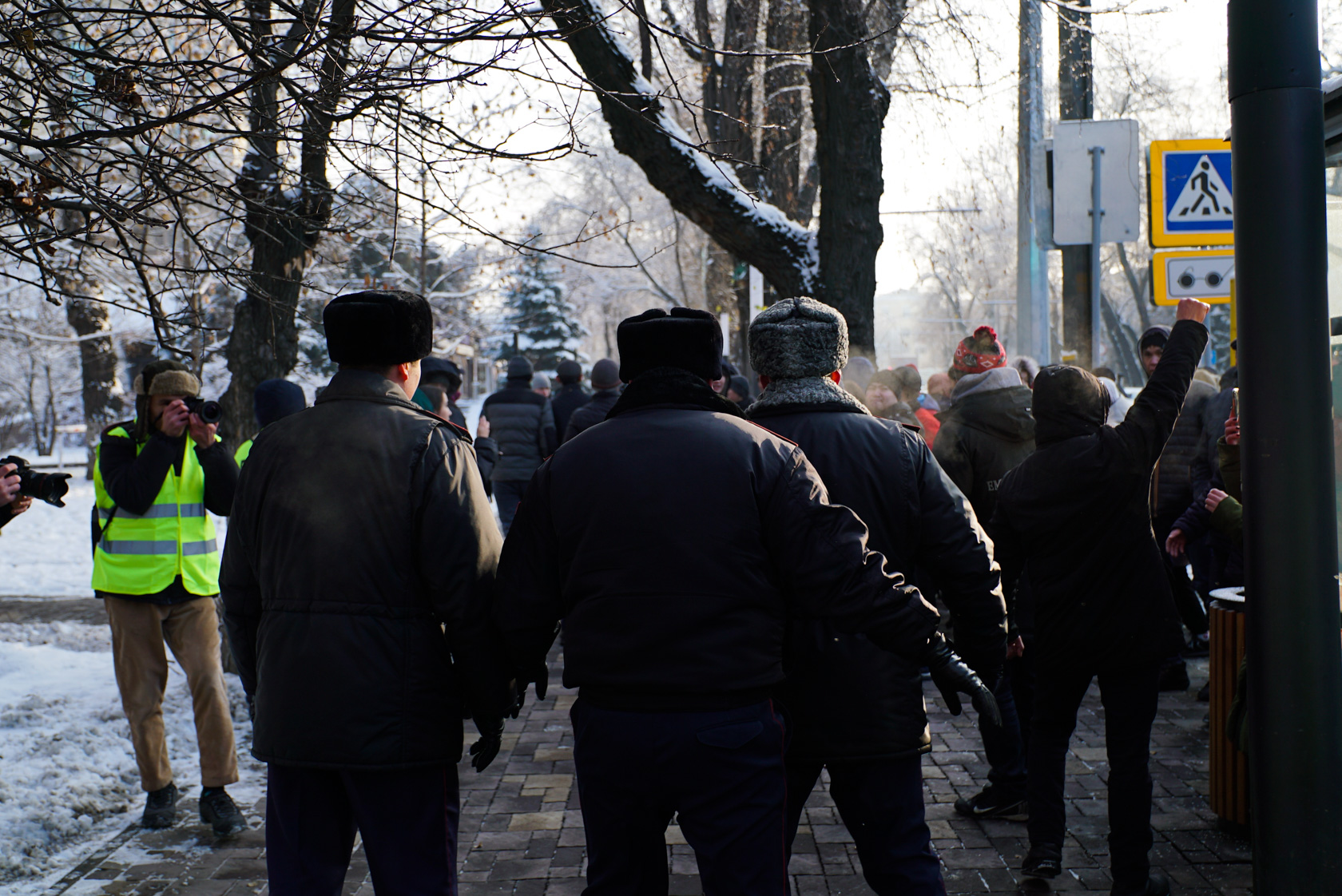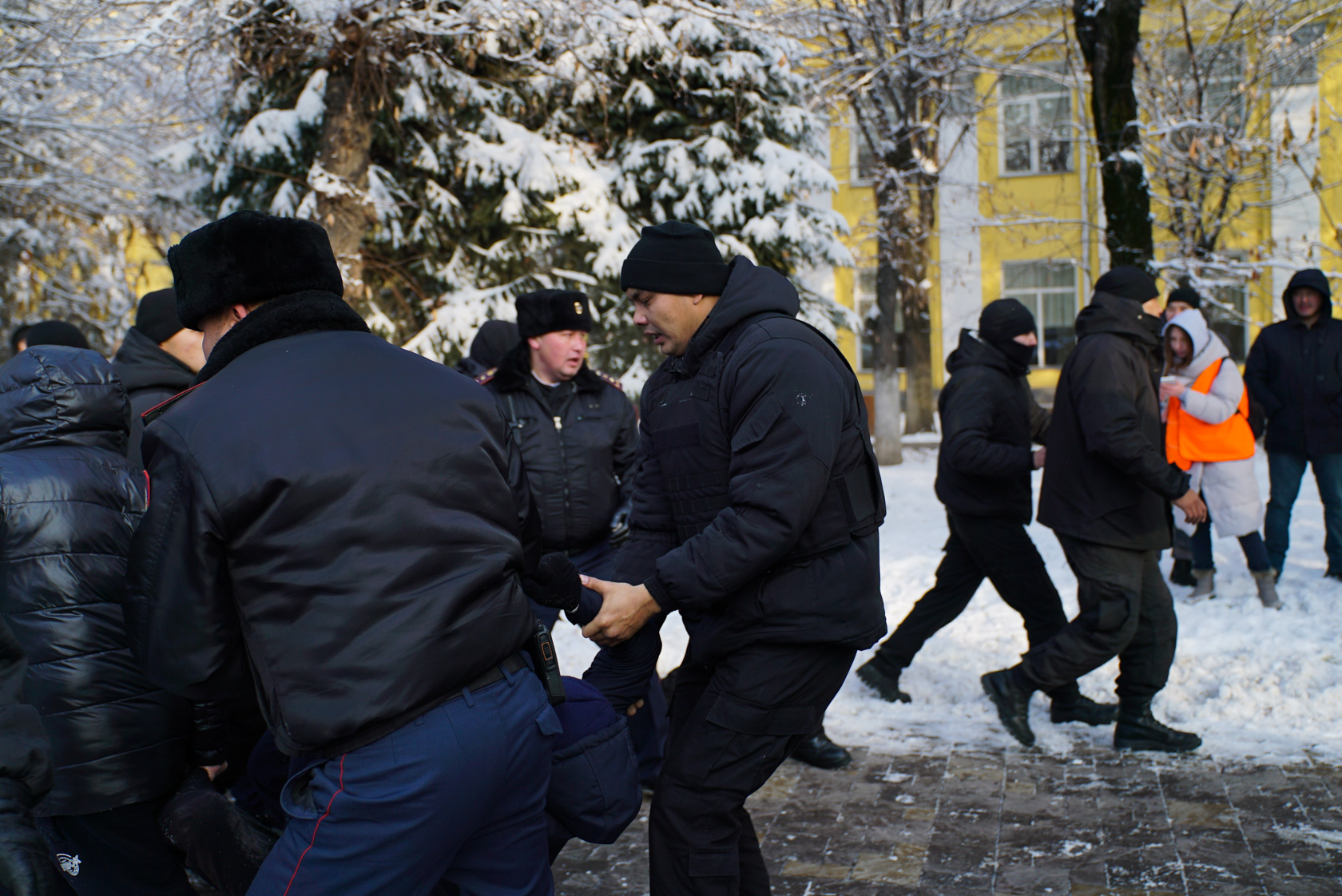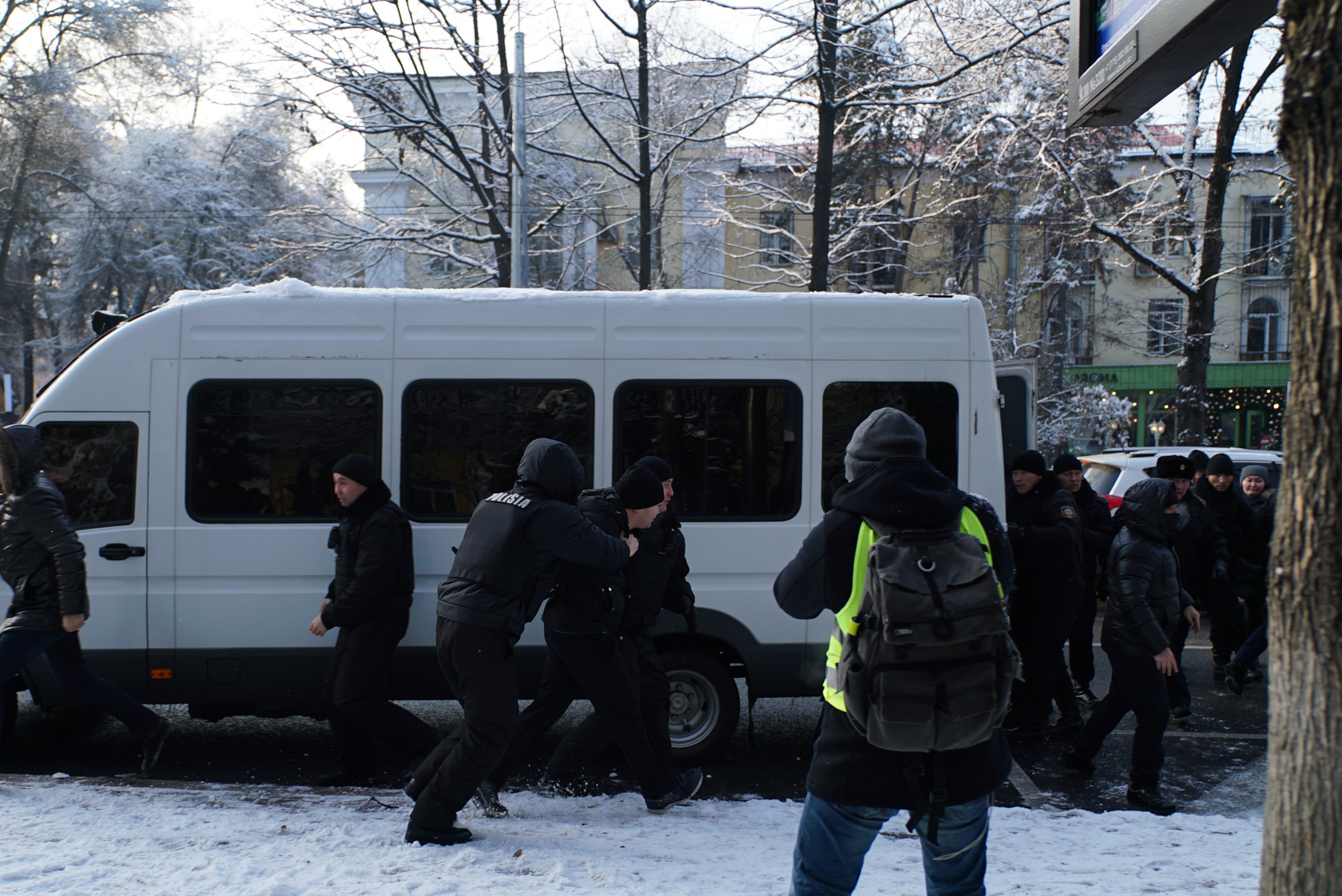 Some activists who escaped arrest and detention tried to break through to Astana Square (Old Square). Significant police forces, dozens of police special vehicles, police buses and special forces summoned to patrol the area of the square.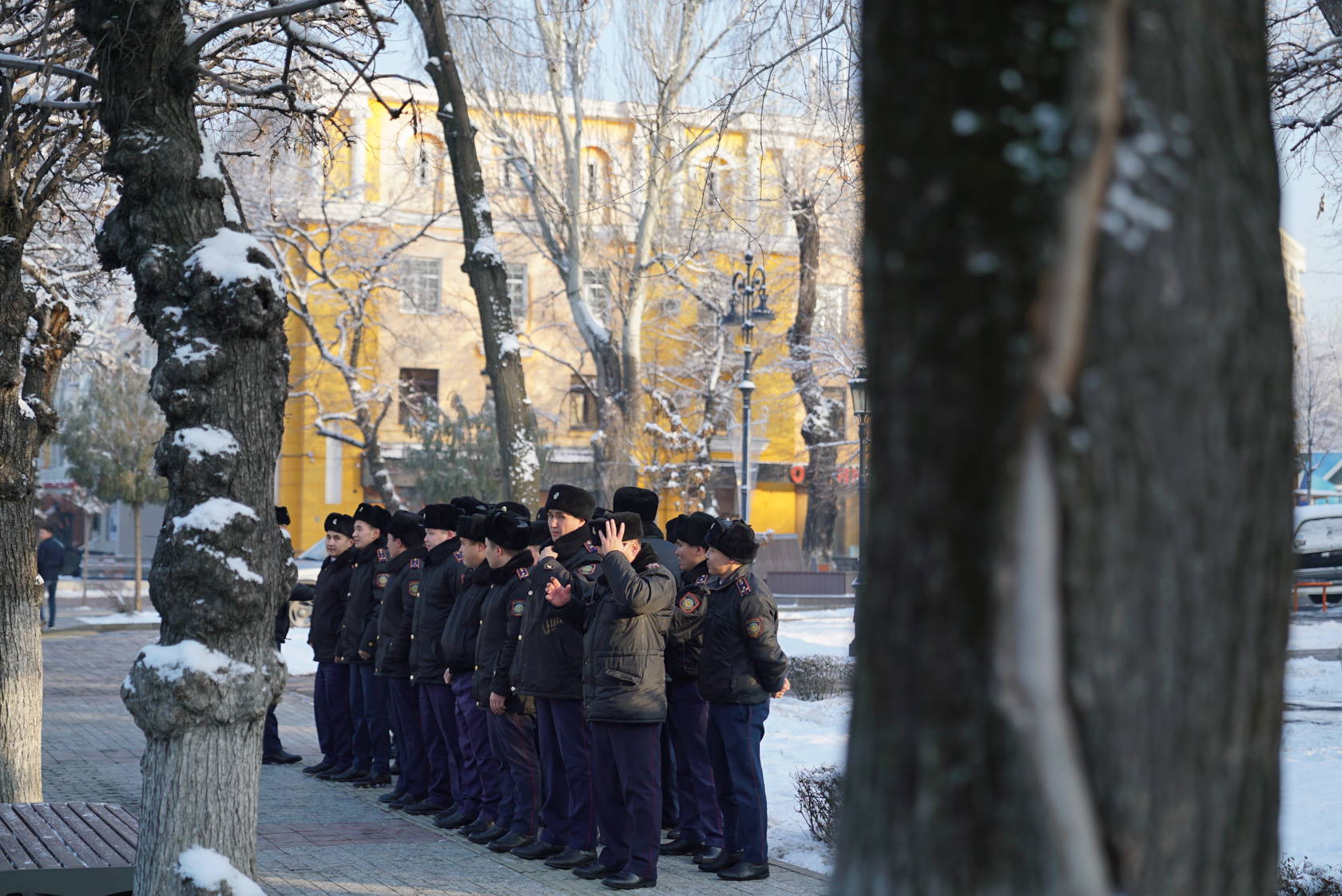 The detainees were taken to various police stations in Almaty. Oyan, Qazaqstan activists, journalists, friends and relatives of the detainees and other citizens gathered at the Medeu district police station in anticipation of the arrest of the detained individuals. Lawyers were not allowed access to the detainees. From time to time, those gathered chanted: "Bostandyq!" (Kaz. "Freedom!"), "Release the illegally detained!", "You are violating the Constitution of Kazakhstan!" They shouted the names of the detained activists in unison. ⠀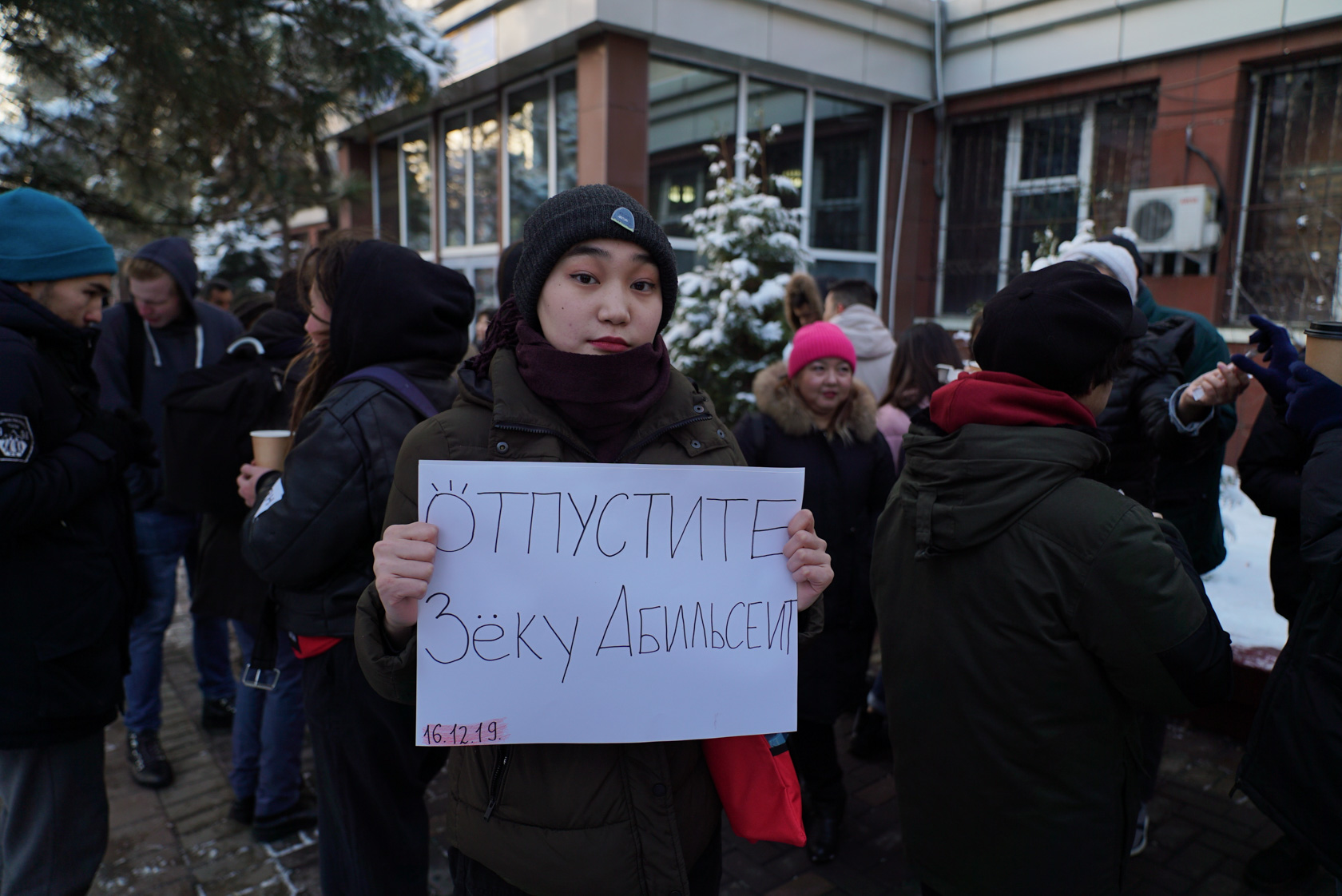 At 17:15, Aizat Abilseitova, an Oyan, Qazaqstan activist, was released after almost two hours of detention in the Medeu District Department of Internal Affairs of Almaty. Lawyers were still not allowed into the building.
Around 18:05, other detained activists from the Oyan, Qazaqstan movement were released.
The exact number of detainees from December 16 is unknown. According to some reports, many activists who participated in the rallies that day still remain in detention; charges were brought against some of them.
---
Context and Background
In March 2019, the 17-year-old artist Medina Bazargalieva held a solo art event, during which she walked along Panfilov Street repeating the phrase, "I have a choice!".
These words have become one of the main slogans of democratic protest in Kazakhstan. Art and environmental activists Asya Tulesova and Beibarys Tolymbekov printed these words on their banner as part of their famous art flash mob "You Can't Run From the Truth". Tulesov and Tolymbekov were detained by the police and arrested for their action. A number of Kazakhstani and international human rights organizations recognized them as prisoners of conscience. Hundreds of civilians, art activists and students in all major cities of Kazakhstan (Almaty, Astana, Shymkent, Uralsk, and others) and other cities of the world (London, New York, Rome, Berlin, and others) protested in solidarity with the detainees. By the end of spring 2019, civil and art protests took shape in "Oyan Qazaqstan", "Republic" and other activist and art groups that began to advocate for freedom of speech, for democratic reforms and against repression. They began to hold protests and actions of solidarity with detained activists.
In the spring and summer, over 4000 people were arrested and detained in Kazakhstan. According to Kazakhstani and international organizations and the UN, these arrests and detentions violated basic democratic principles, the Constitution of the Republic of Kazakhstan and international norms on freedom of peaceful assembly. 2019 in Kazakhstan was characterized by government repression against the media and freedom of speech.
Police and special units were used against journalists and activists, as well as thugs for hire. In addition, all major social networks and instant messengers in Kazakhstan were subject to widespread blocks by the government.

All Photos by ÅDÅMDÅR / CA
Use is only possible with the written consent of ÅDÅMDÅR / CA