What? OLD WORLD ORDER / NEW WORLD ORDERS
Where? Artmeken Gallery (Almaty, Kazakhstan)
When? September 21 — October 20, 2019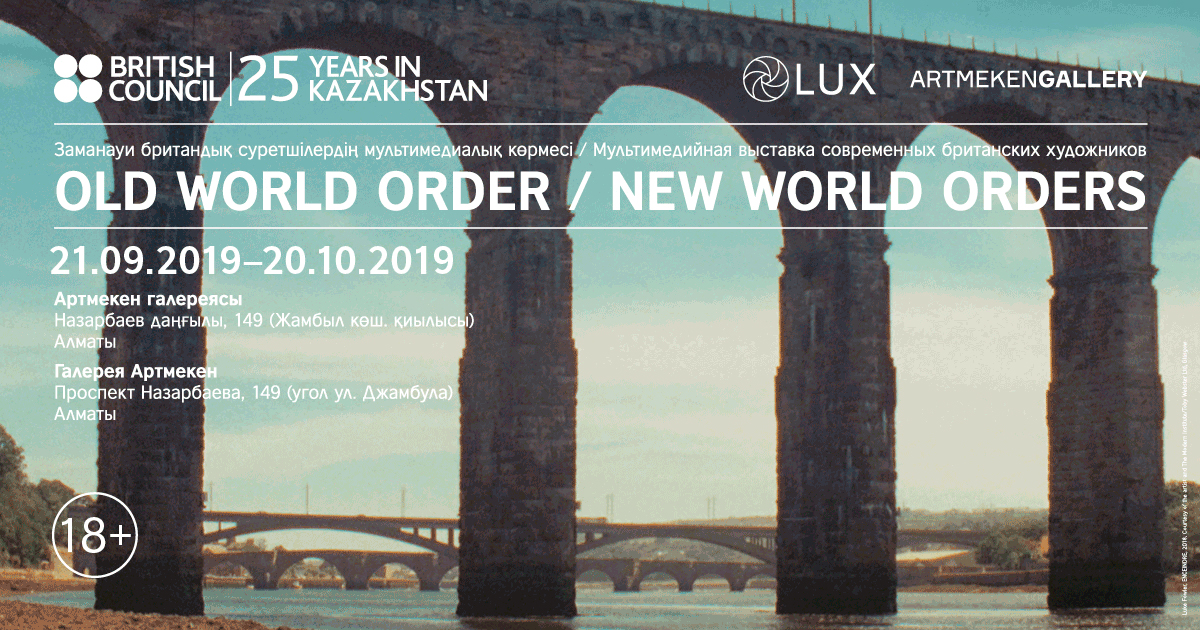 OLD WORLD ORDER / NEW WORLD ORDERS, an exhibition of moving image by contemporary British artists, opened in Almaty. The works are from the British Council collection and LUX, an international arts agency. The exhibition is taking place at the Artmeken Gallery from 21 September to 20 October.
The setting presents works by six British artists contemplating on material and immaterial cultural heritage, contemporary culture, common identity, and societal solidarity using the biographic and documentary genres of film-making, poetry, and imagination.
According to the curators, an exhibition of video images requires a different approach to watching and understanding them. It becomes a complicated, multidimensional, polyphonic, critical and controversial space representing contemplations by contemporary British artists about the European and national identity, internationalism, the history of races and cultures, localism, and globalism.
The curators in Kazakhstan are Tendai John Mutambu (UK), an invited curator from the British Council, and Valeria Ibrayeva (Kazakhstan), a curator of many exhibitions in and beyond the country and author of articles, catalogues and books about contemporary art of Kazakhstan and Central Asia.
"This exhibition imposes a host of requirements for its audience as it provokes thoughts and makes visitors dwell on not only the situations presented by the artists and the curator, but extend this reflection on their own country and society. It does not propose any clear conclusions or summaries, or any certainty or instructions. A visitor is invited to come to their own findings and feelings and become an actual co-creator and co-author of the setting," Valeria Ibrayeva comments.
Rowan Kennedy, Director of the British Council in Kazakhstan: "We are delighted to present OLD WORLD ORDER / NEW WORLD ORDERS in Almaty as part of our celebrations of the British Council's 25th anniversary in Kazakhstan. Building mutual understanding between our countries by means of art is one of our key areas of work. In addition to demonstrating works by contemporary British artists, this project provides an opportunity for curators in Kazakhstan to exchange experience with their colleagues from the UK."
The exhibition includes public talks by media artists and researchers whose works reflect its themes, which will take place every Wednesday, at 7:30 p.m., at the Artmeken Gallery.
25 September, Wednesday, 7:30 p.m.
Zoya Falkova, one of the most prominent activists involved in the creative processes in Kazakhstan and abroad
Hybrid Epistemes of Post-Colonialism
2 October, Wednesday, 7:30 p.m.
Saule Dyussenbina, an artist displaying her works in Kazakhstan and at international exhibitions
GIF Animation as a Means to Construct History
9 October, Wednesday, 7:30 p.m.
Yerbossyn Meldibekov, a renowned international artist whose works were purchased by major public collections such as the Russian Museum in St. Petersburg, the Yarat Centre in Baku, the Singapore Museum of Contemporary Arts, and the Progetto 107 Centre of Contemporary Art in Turin, among others
Mutations and Transformations in the Era of Post-Truth
16 October, Wednesday, 7:30 p.m.
Yelena and Victor Vorobyov, artists with a well-deserved international reputation, participants in the Istanbul, Moscow, Sydney and (repeatedly) Venice Biennales
Document and Metaphor
The exhibition will take place from 21 September to 20 October. Entry is free of charge.
Address: Artmeken Gallery, 149 Nazarbayev Ave., Almaty
Opening hours: 12:00 – 7:30 p.m. from Tuesday to Sunday (Monday is a day off)
For further details, please contact Daniyar Duimagambetov, Marketing Manager at the British Council in Kazakhstan
Tel. +7 701 765 05 10
Email Daniyar.Duimagambetov@britishcouncil.org