Today, March 8, on International Women's Day, the largest march for women's rights in the history of independent Kazakhstan took place in Almaty. The protest was organized by the feminist initiatives of Kazakhstan: KazFem, Feminita, Femagora, Femsreda, and the public foundation Svet (Light).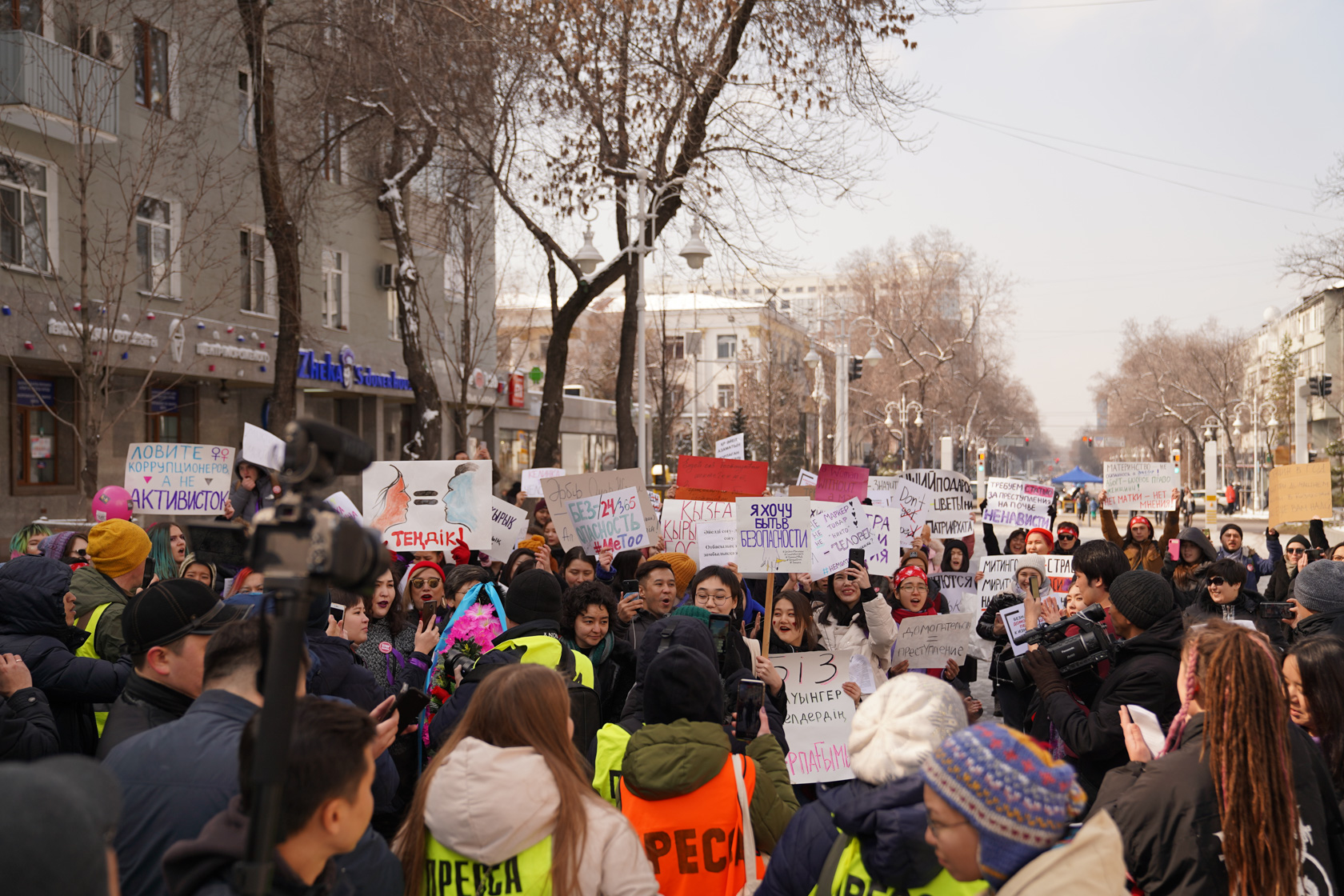 The feminist initatives announced major demands at the march, including: ending early parole for rapists, passing a law on sexual harassment, and criminalizing domestic violence. The march's slogan was "Every woman matters!"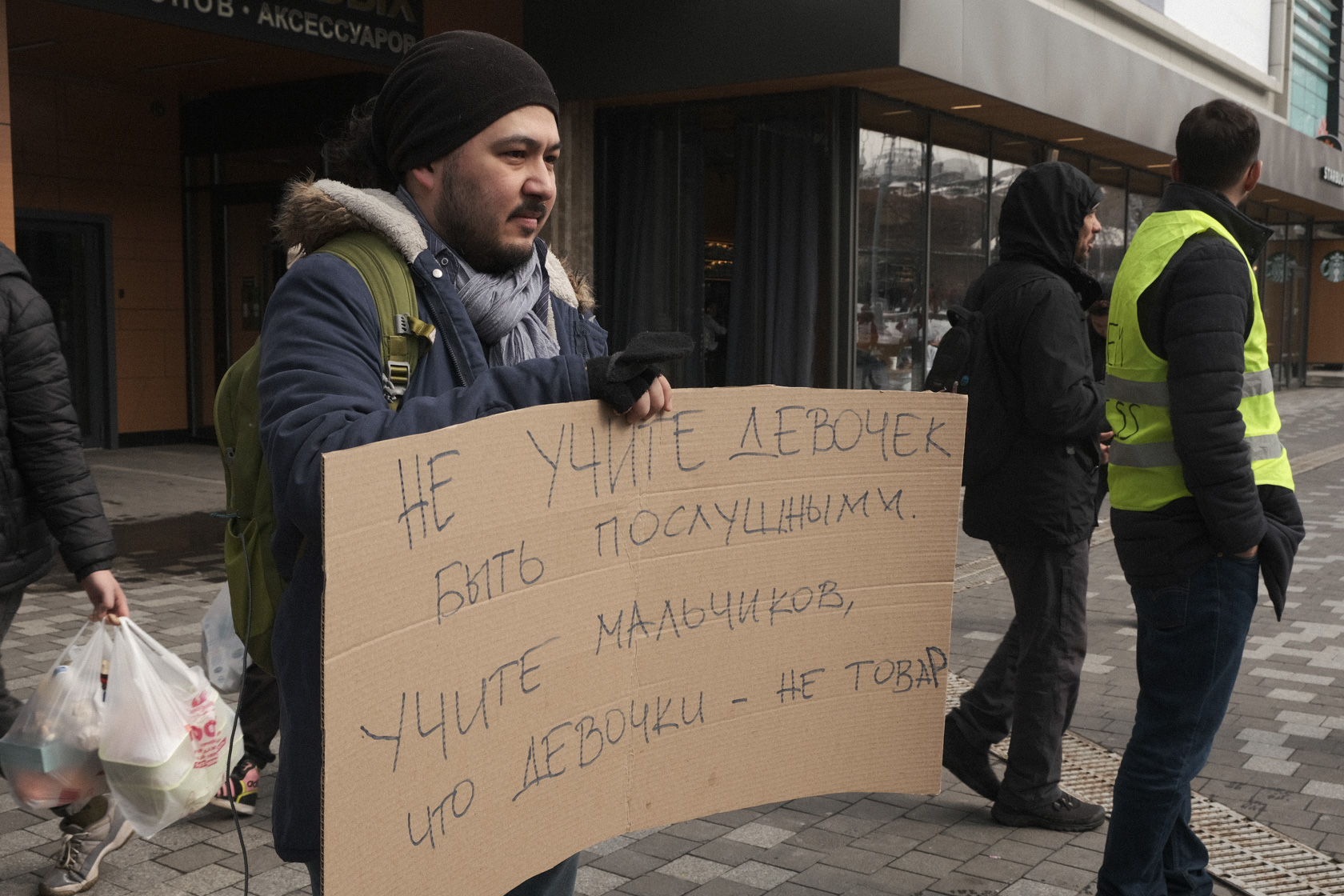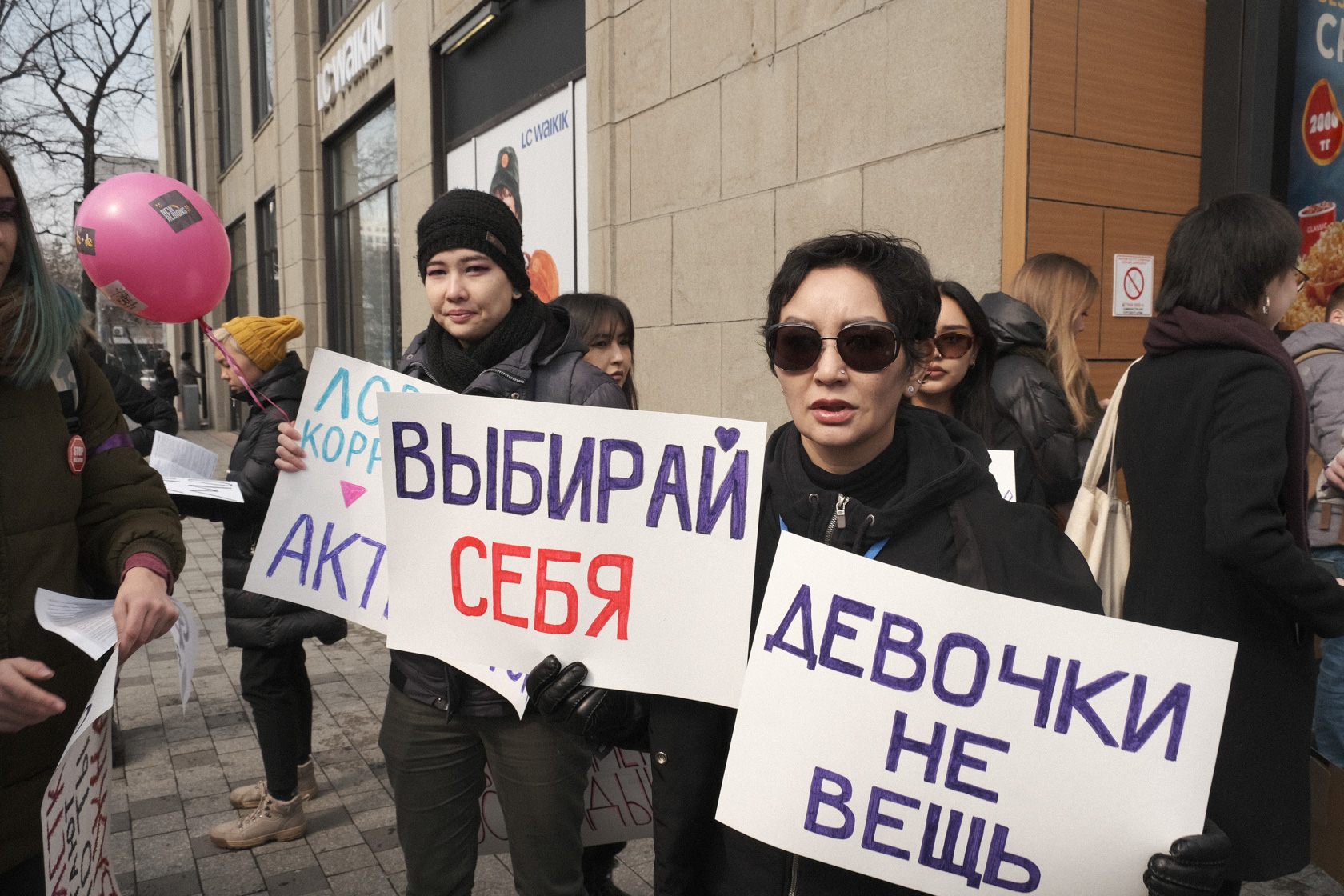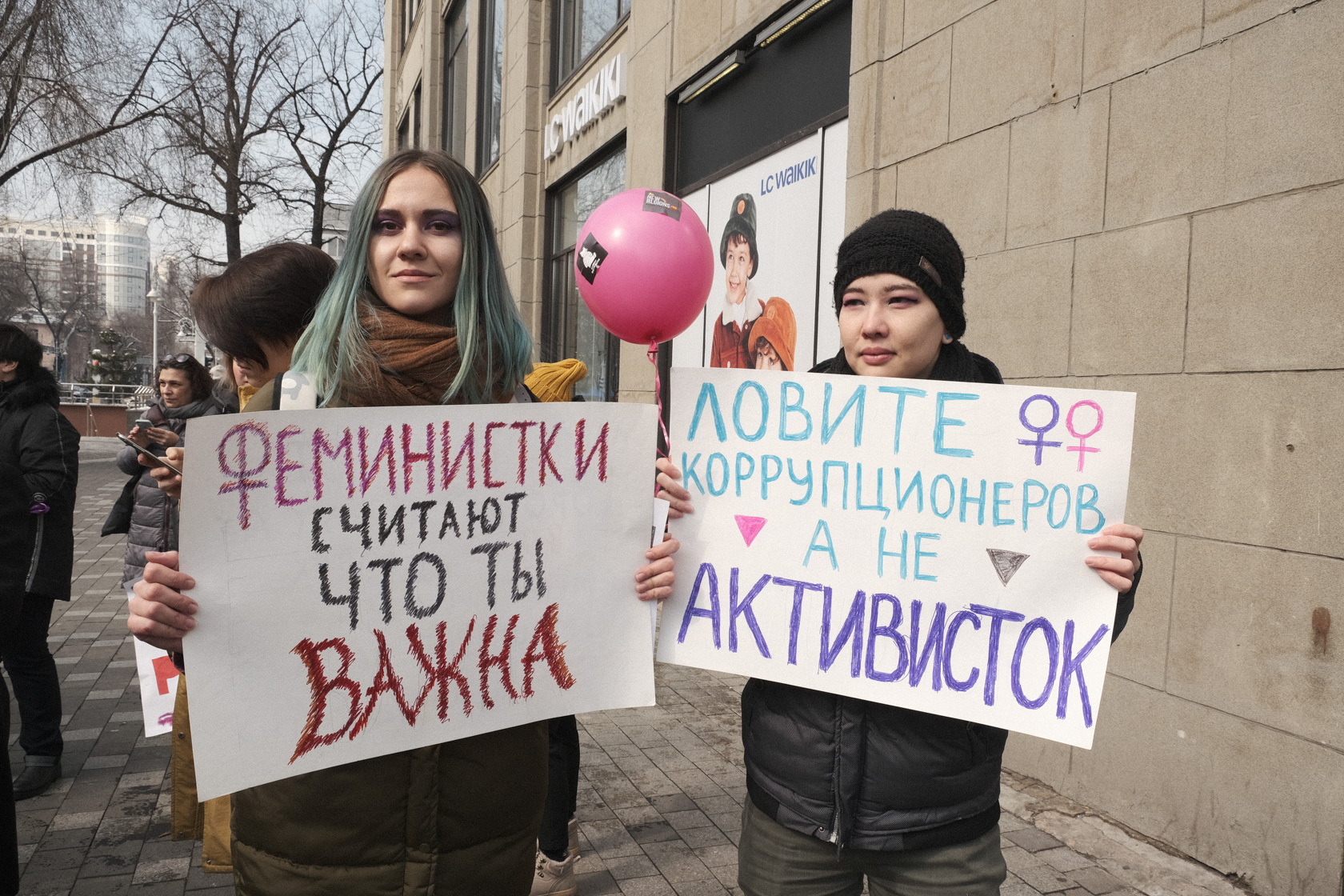 The march started on Zhibek Zholy (Arbat) street, and the participants continued down Panfilov and Kabanbay Batyr streets. At the head of the column, Gulzaida Serzhan and Leila Makhmudova carried a funeral wreath, in memory of all victims of domestic violence. The colors of the march were black, as a sign of mourning for the victims of domestic violence, and purple, symbolizing feminism.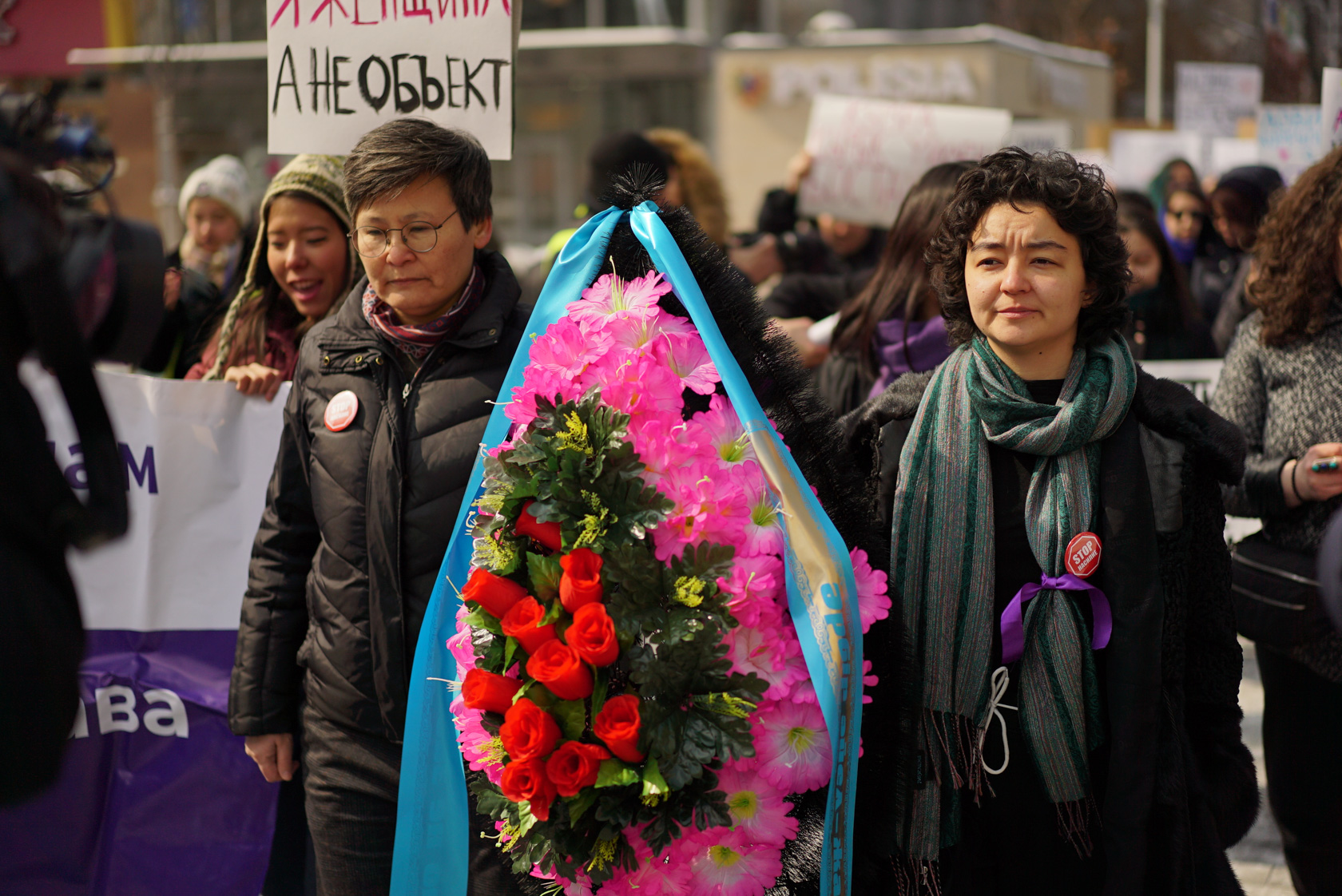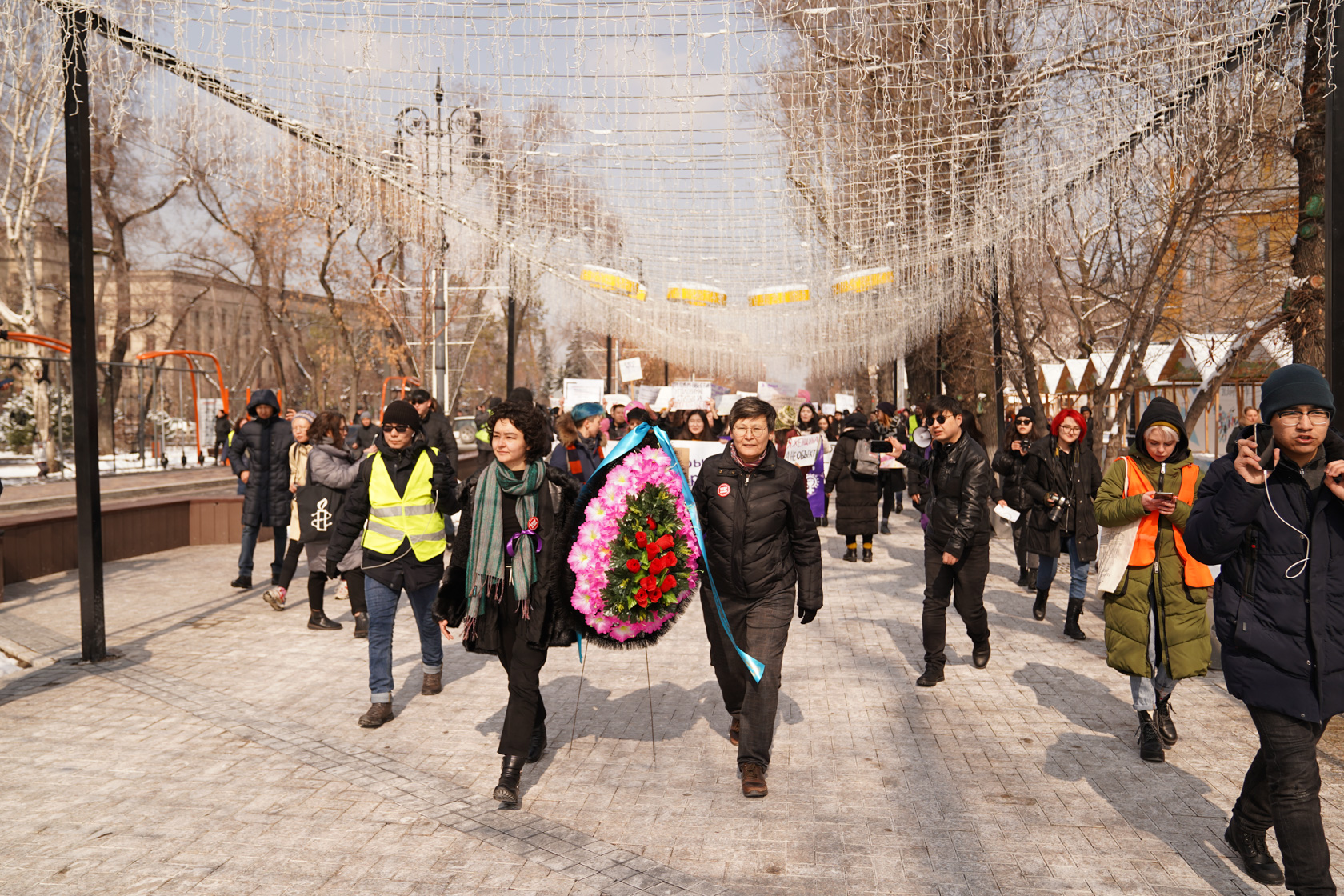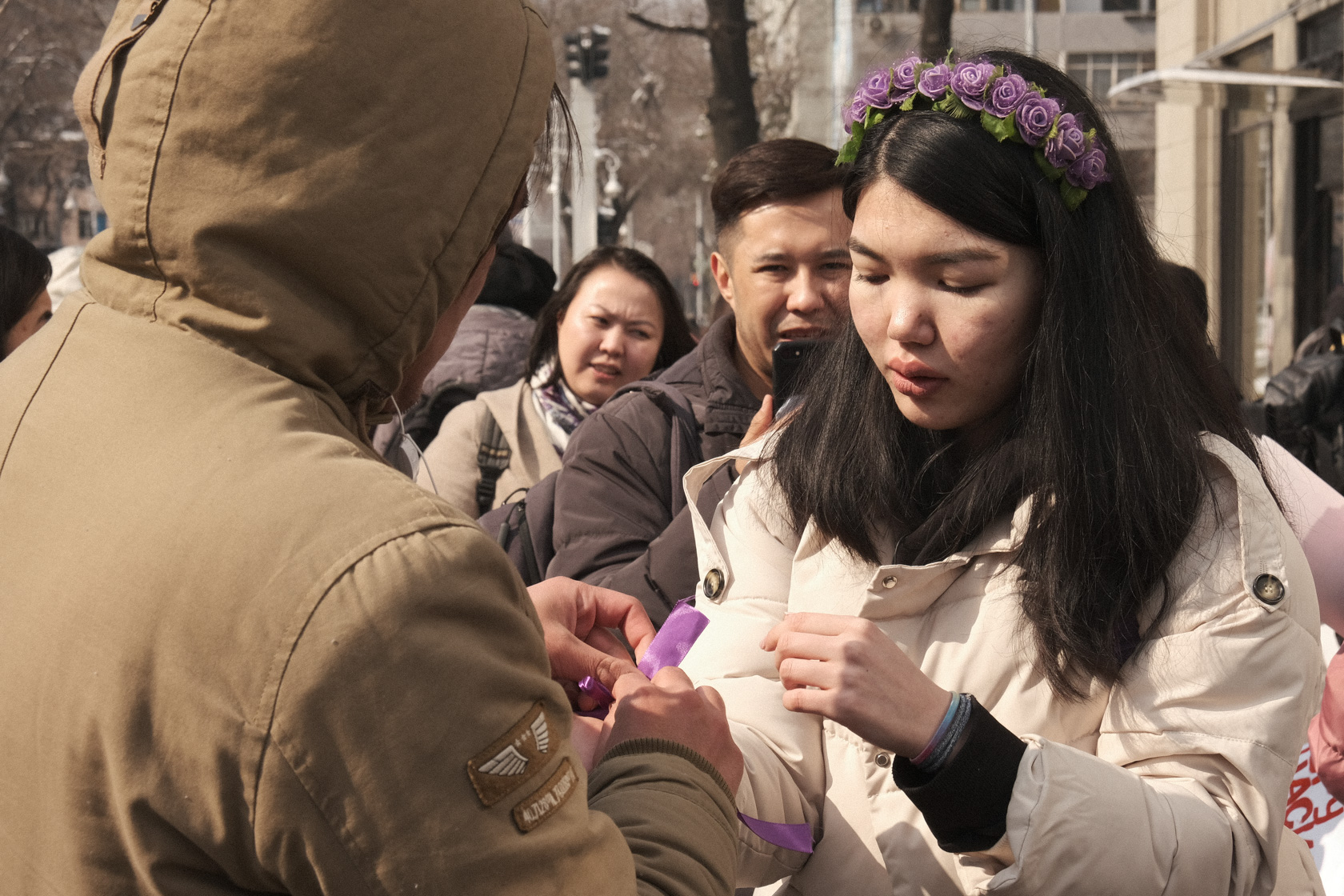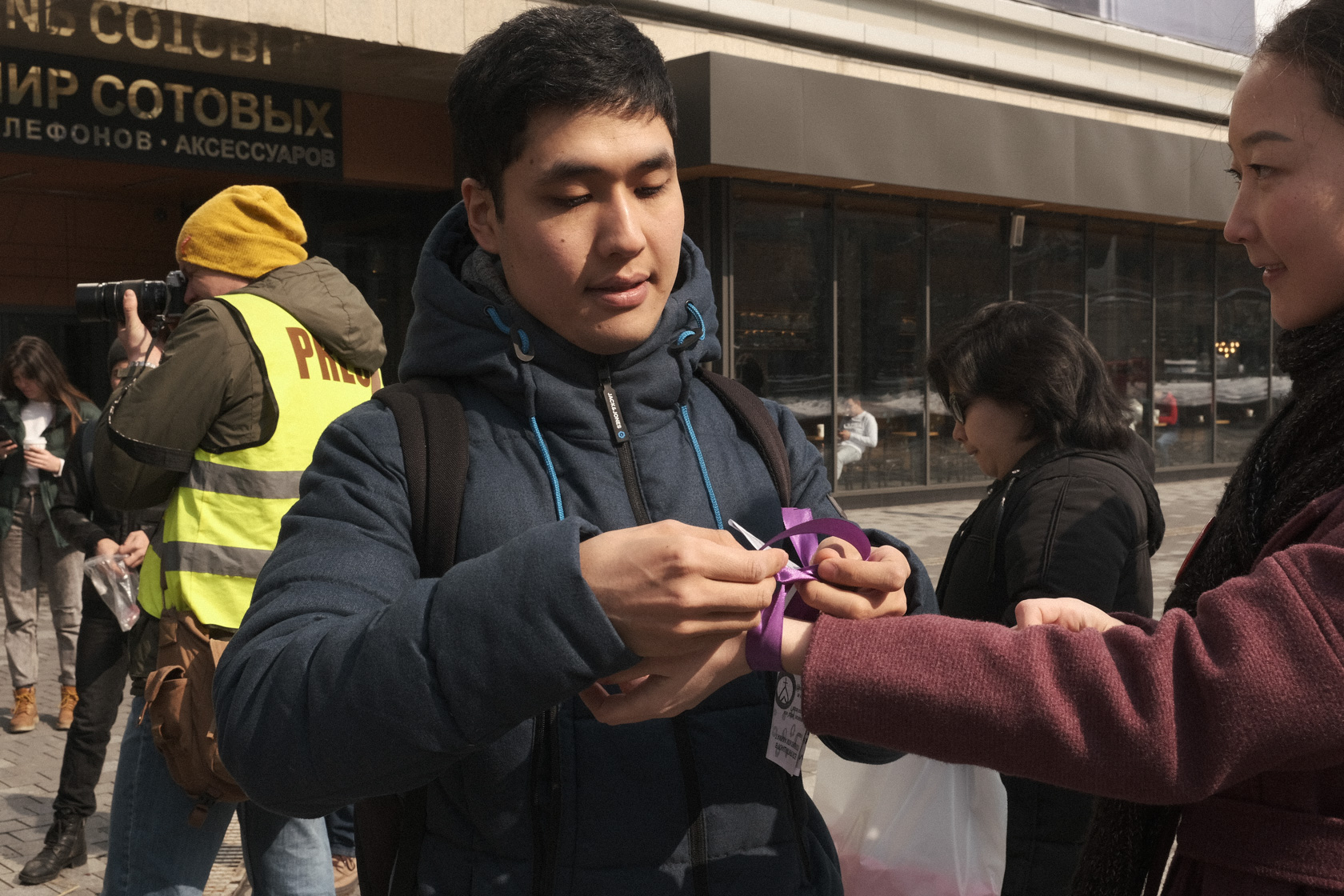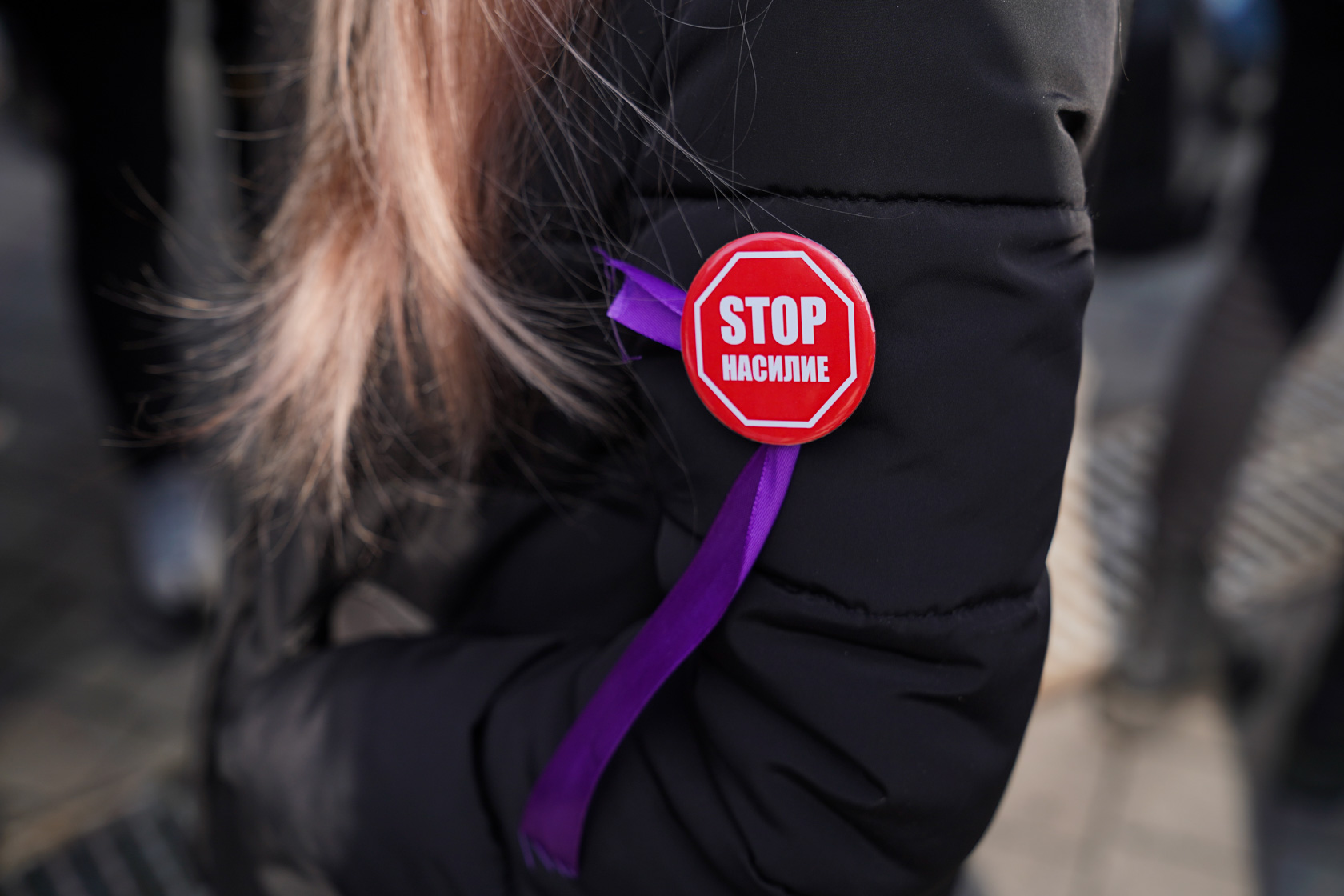 According to the organizers, the march and its location were not sanctioned by the city akimat, but the activists did submit a notification to the akimat and government authorities of Almaty. However, before the start of the protest, an employee of the city akimat addressed the participants with an order to disperse, since the protest was not sanctioned by the city authorities. In response, the participants chanted in unison, "Freedom, sisterhood, feminism," and "Die, patriarchy!" Throughout the entire route, many law enforcement officers in street clothes and medical masks were observed near the procession.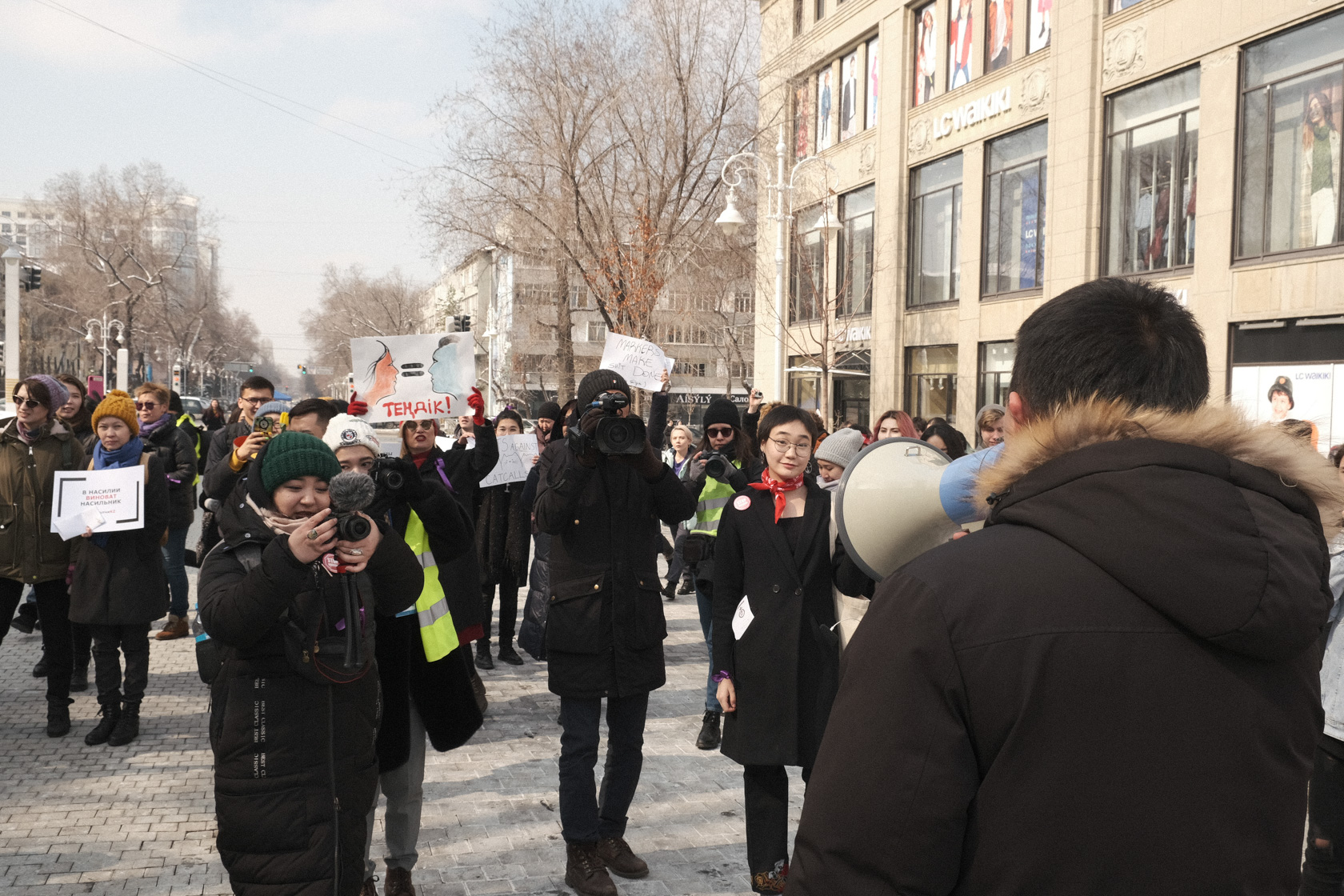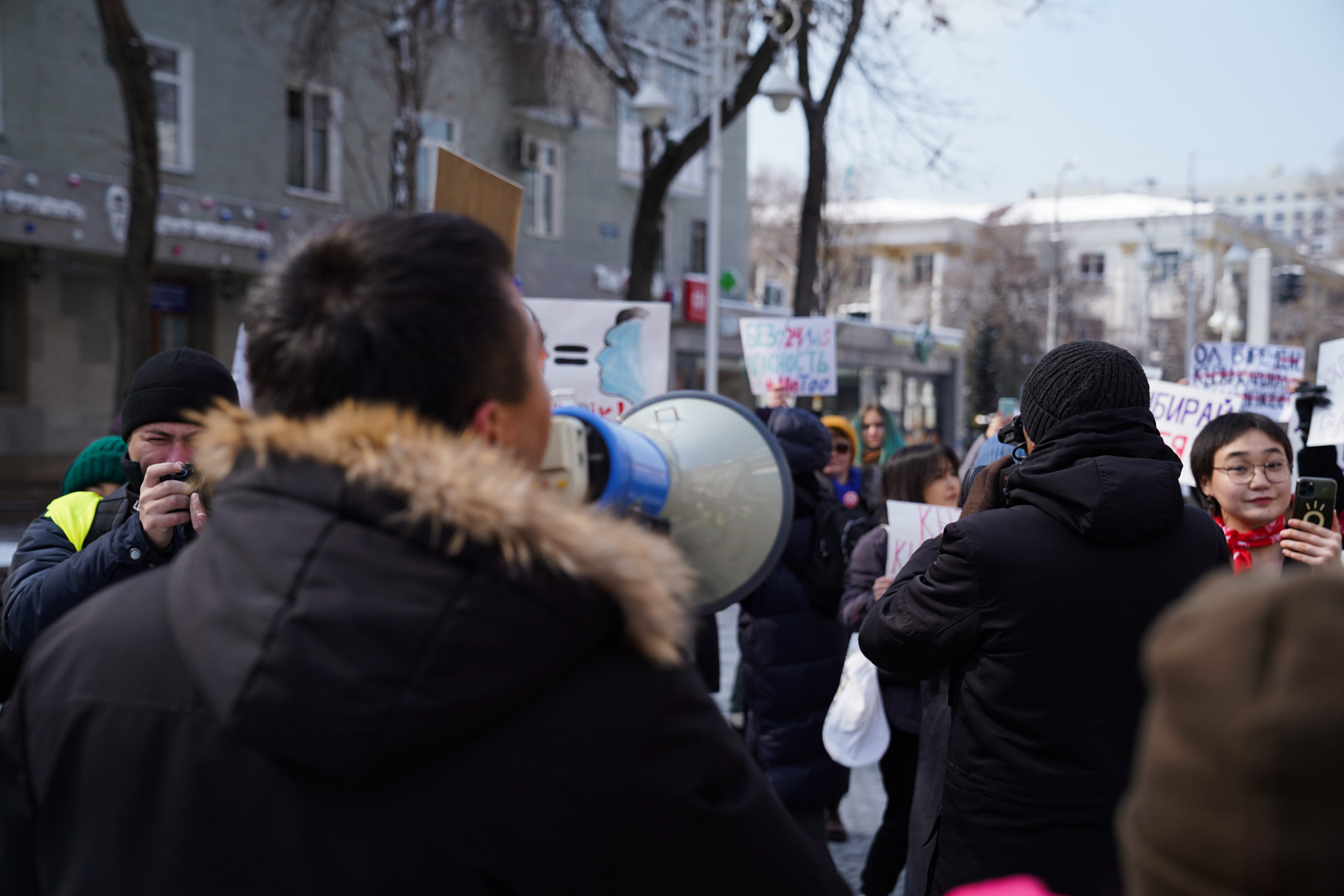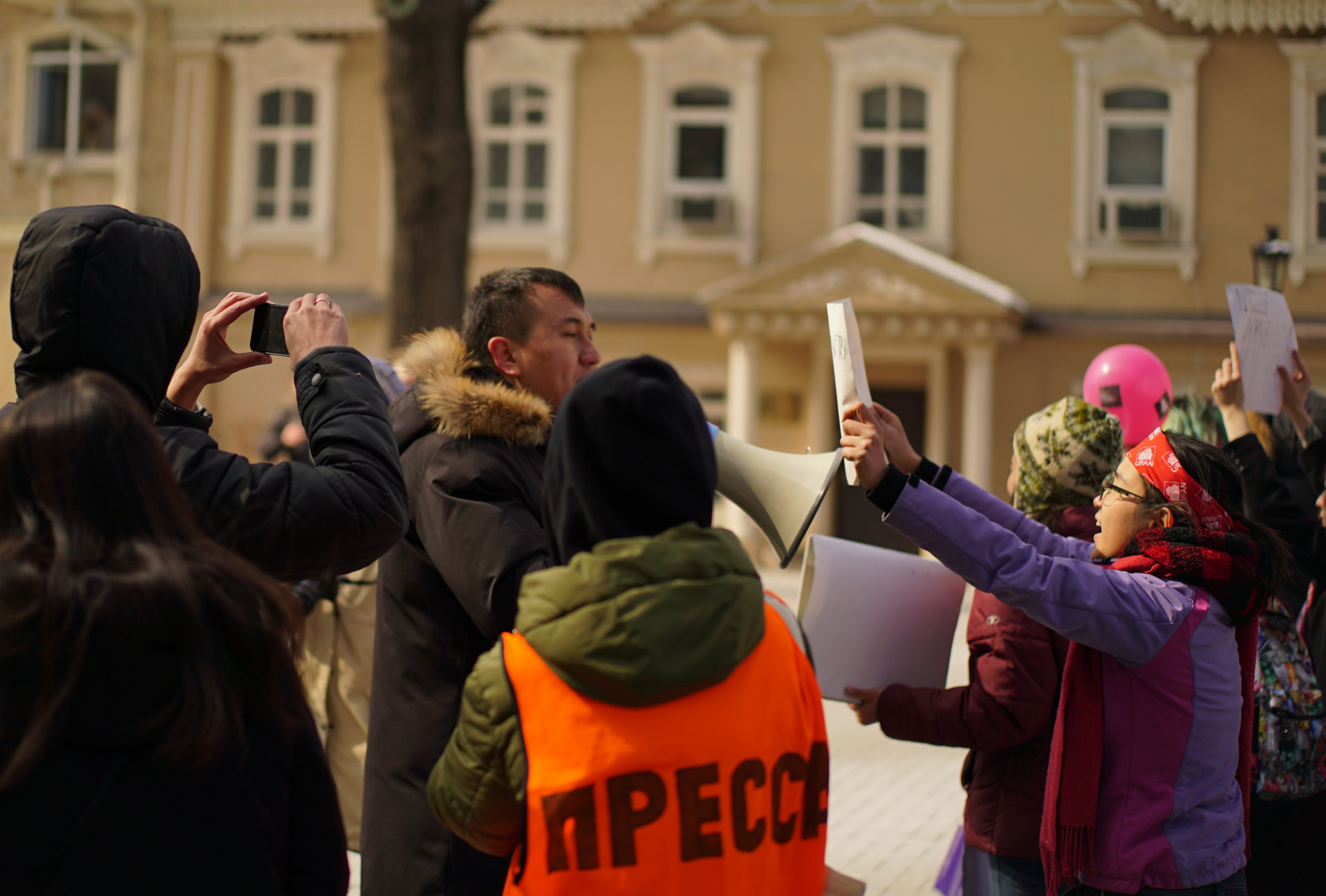 Representatives of multiple generations and diverse professions took part in the march. Famous young cultural, sports, and civic activists also supported the march, including: feminist activists Leyla Makhmudova, Fariza Ospan, Arina Osinovskaya, Benazir Kulmyrza, Mira Ungaro, Kazakhstan's champion in boxing, karate, and hand-to-hand combat Mariya Makatrevich, actress Aisulu Azimbayeva, artist Saule Suleimenova, artist and filmmaker Suinbike Suleimenova, filmmaker and art activist Aigul Nurbulatova, musician Sultan Pankirey, photographer Baurjan Bismildin, blogger and media activist Marzhan Ualikhan (@alpystogyz), and many others. The marchers were accompanied by human rights defenders Tatiana Chernobil and Rustam Kypshakbayev, as well as members of the press.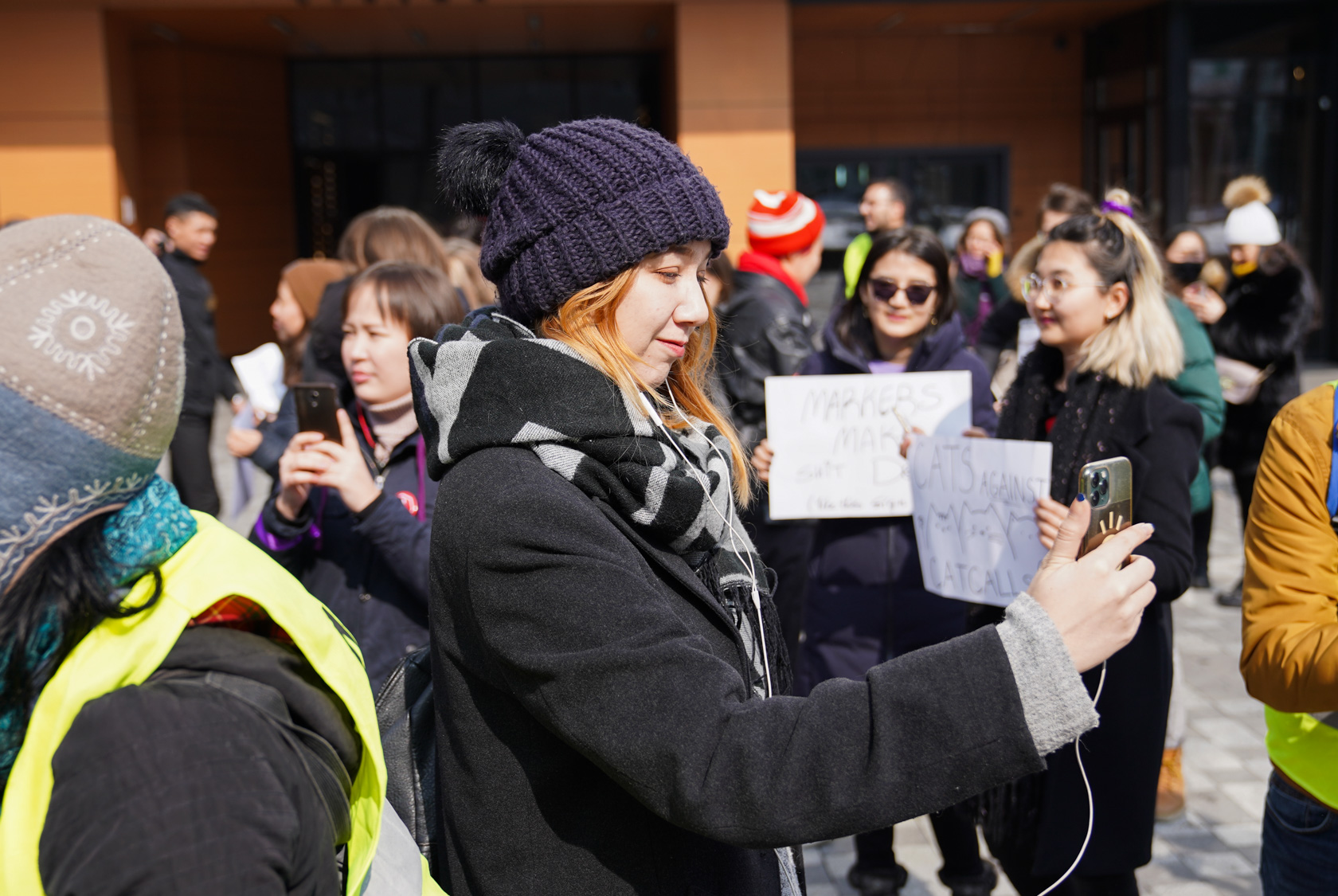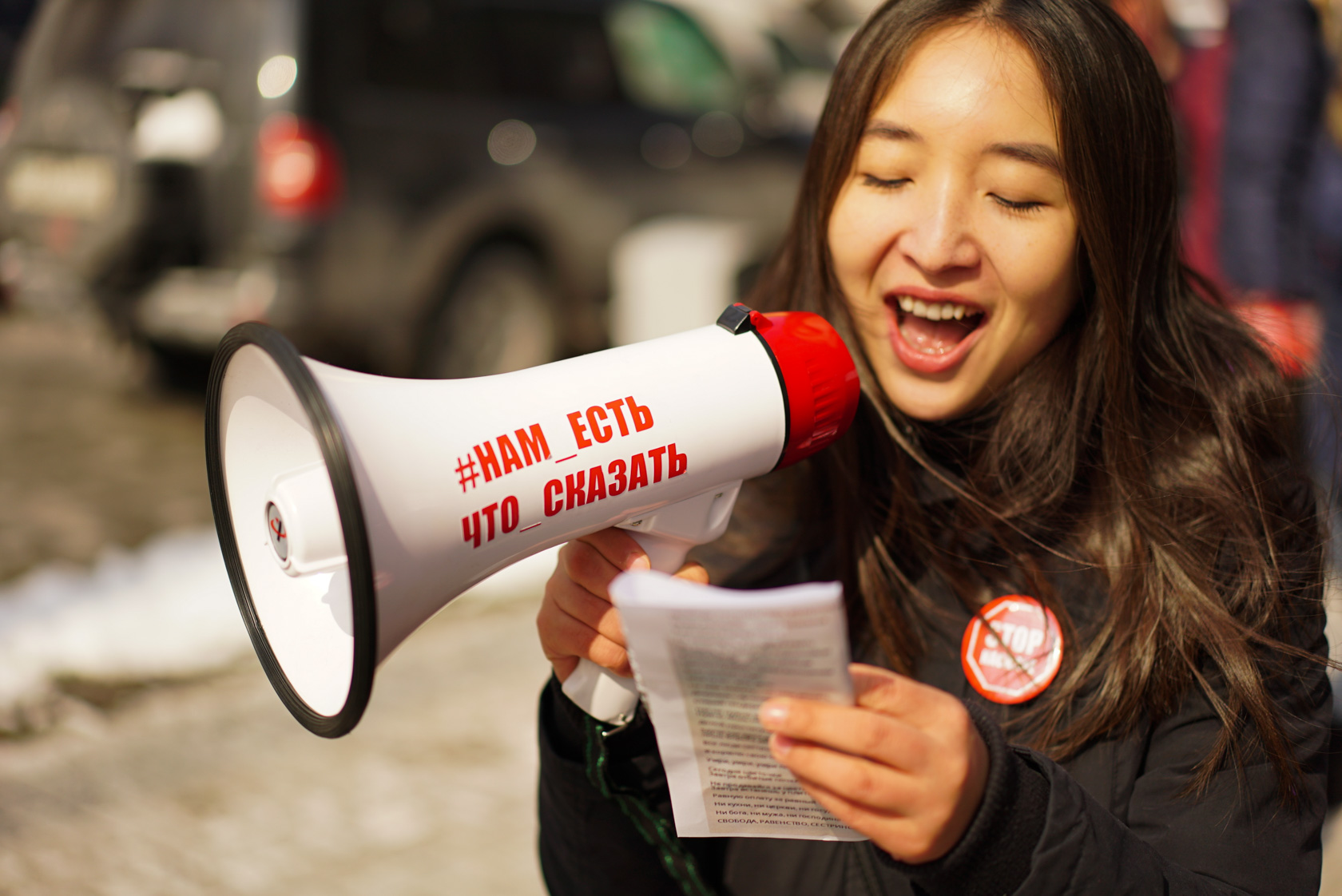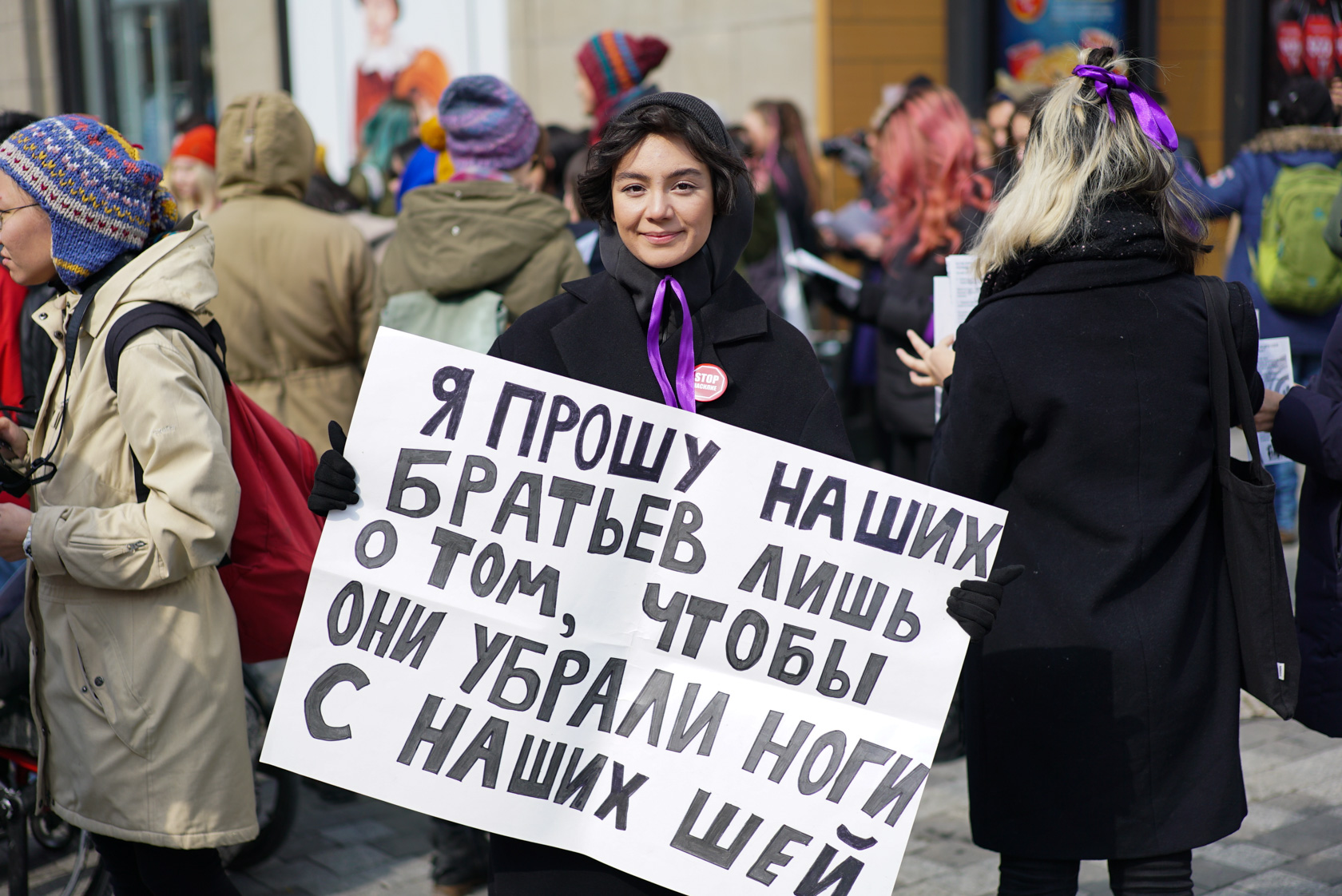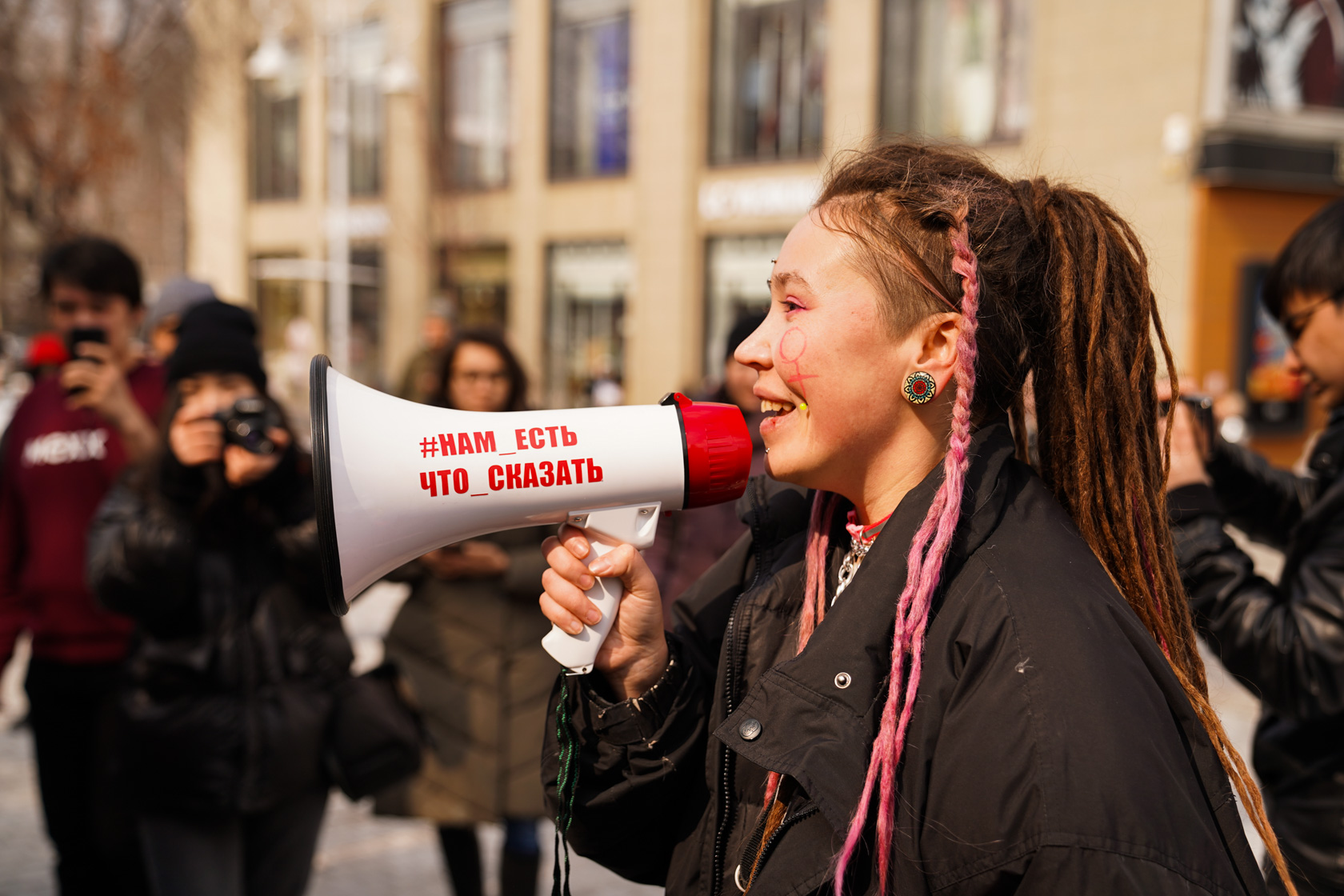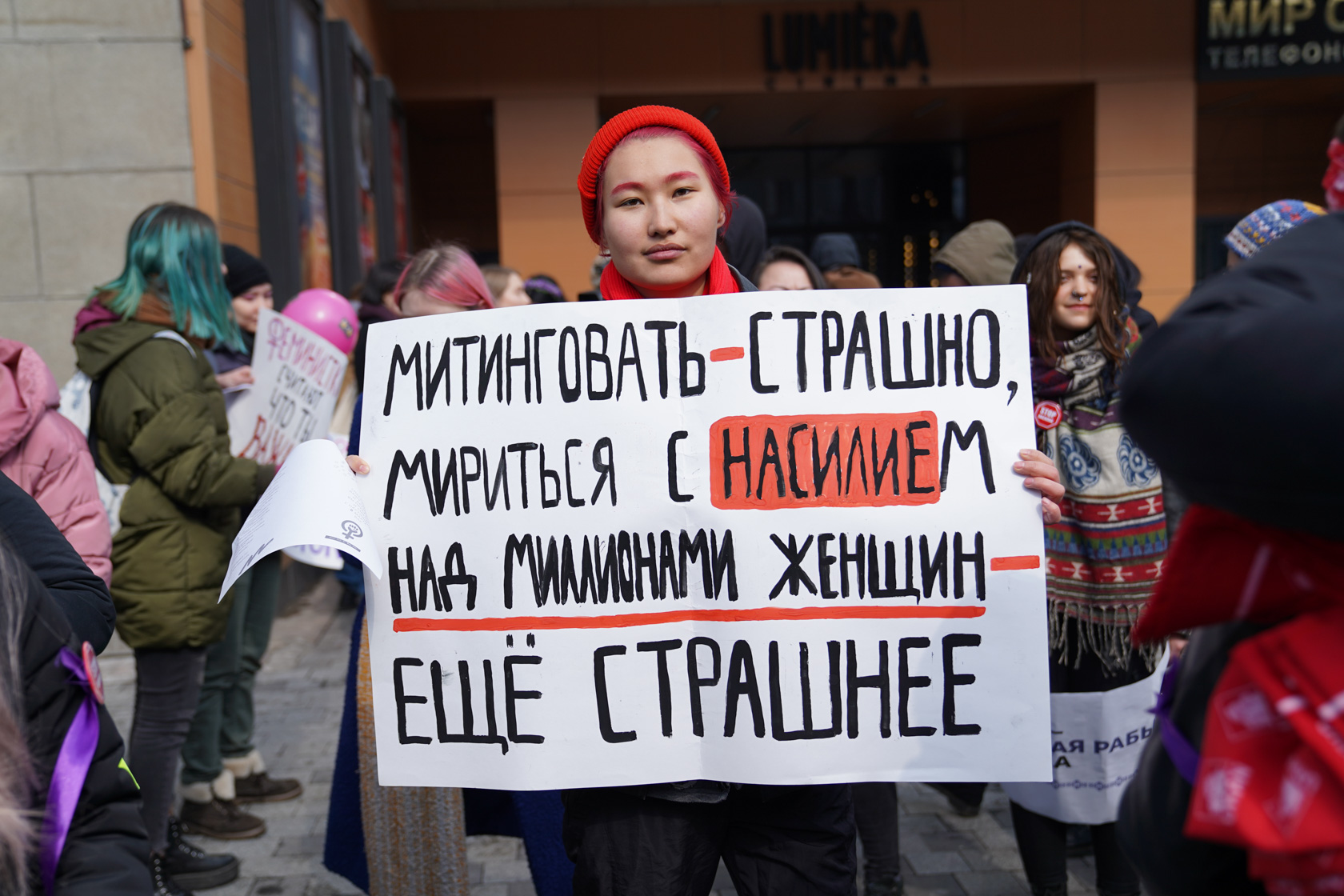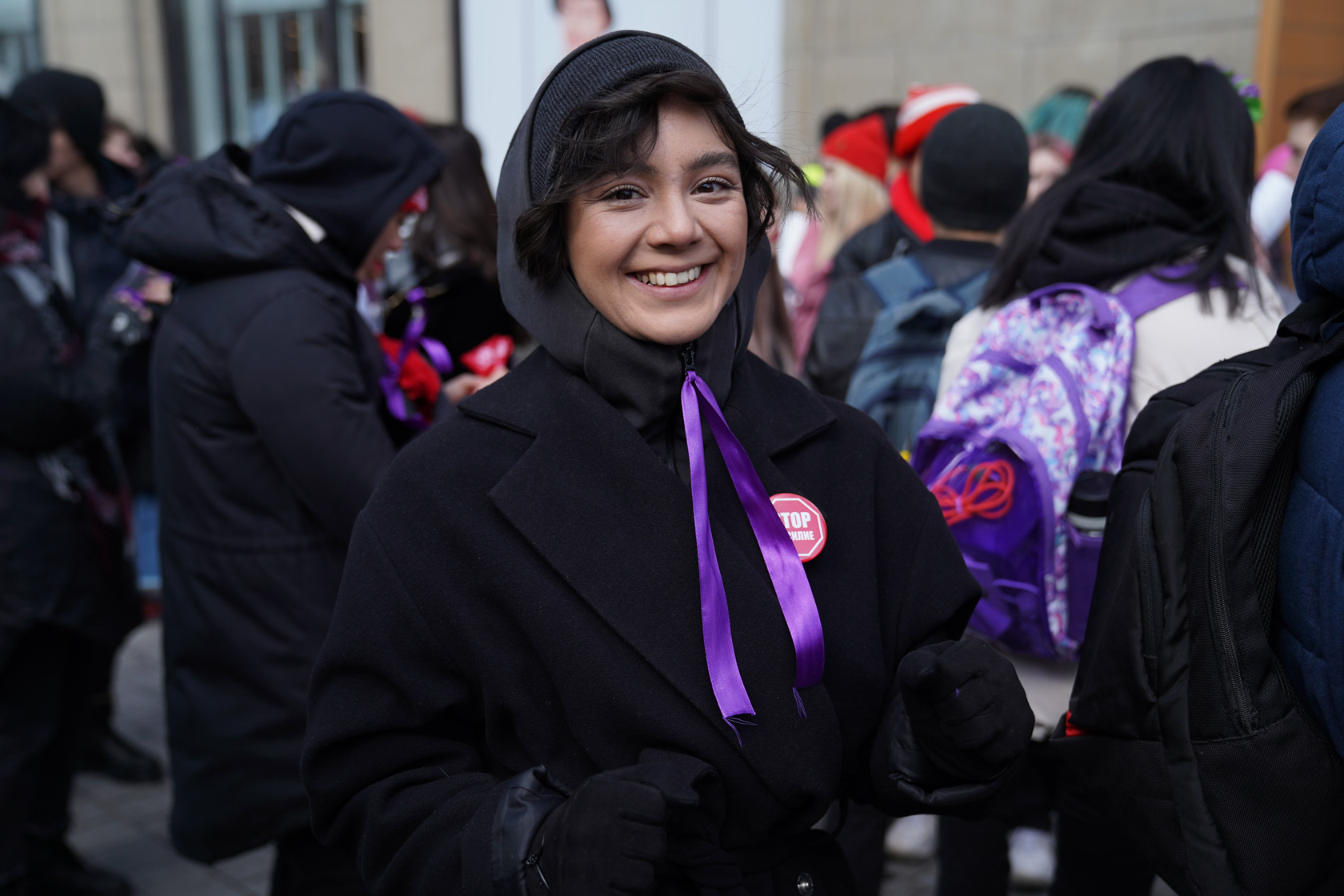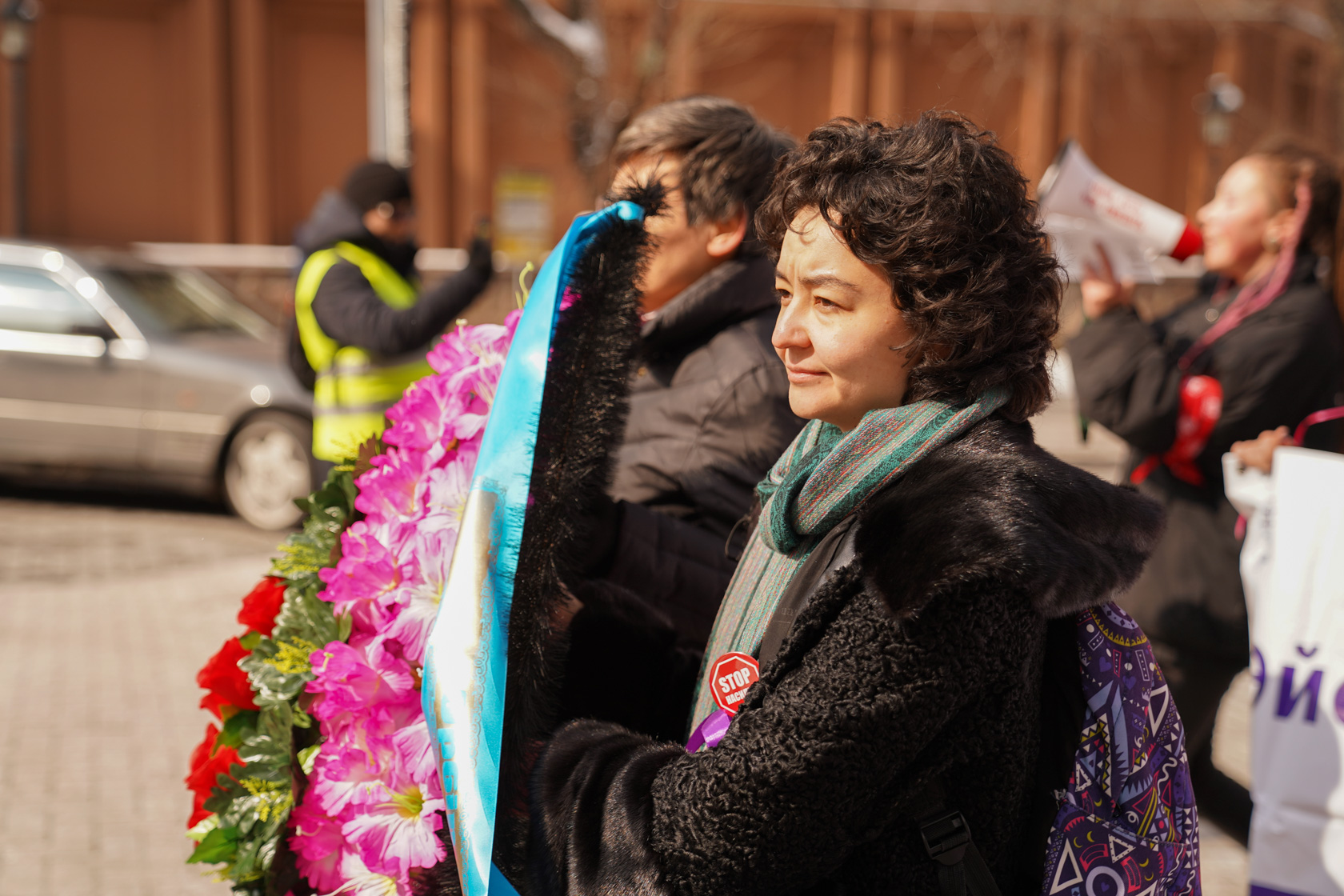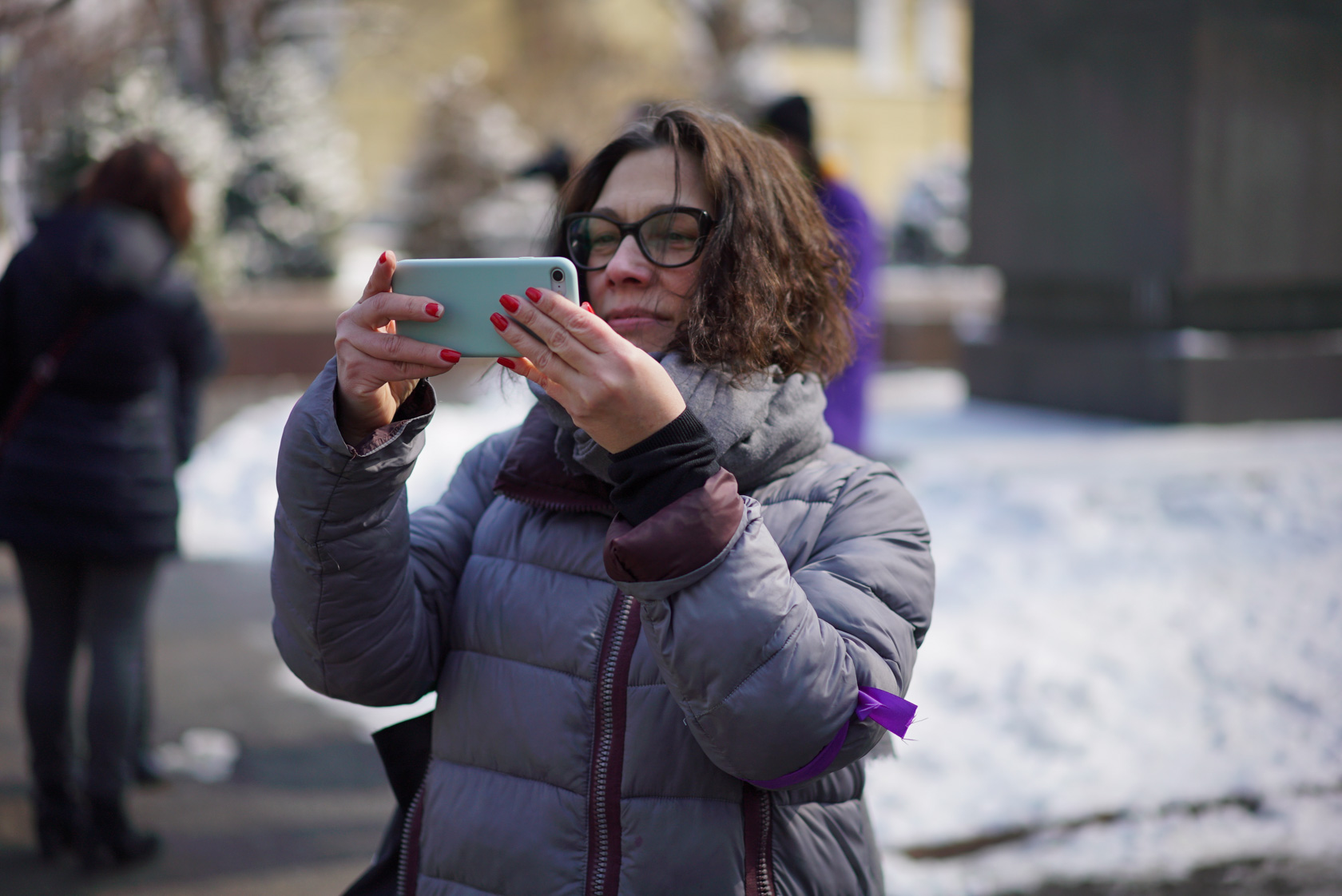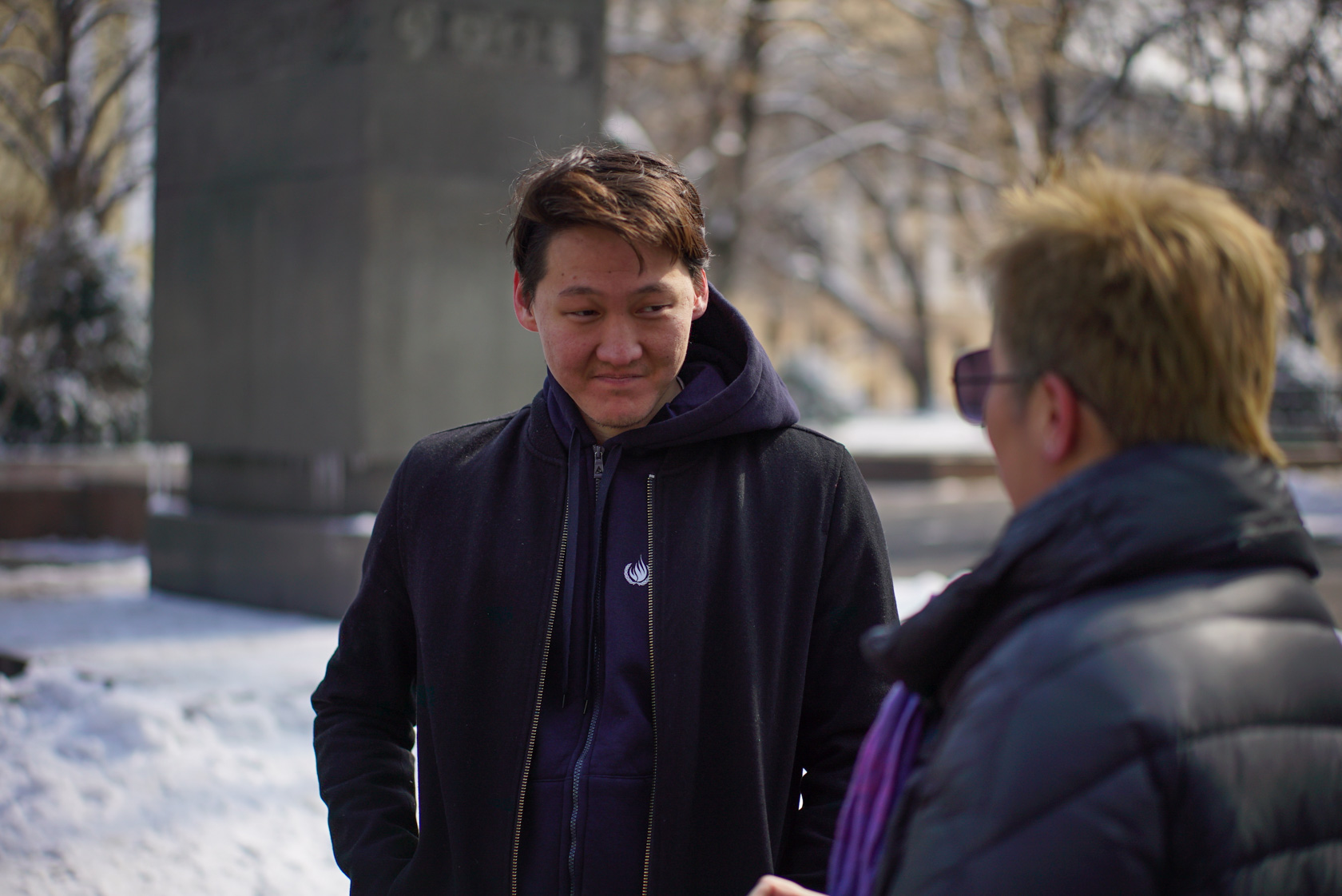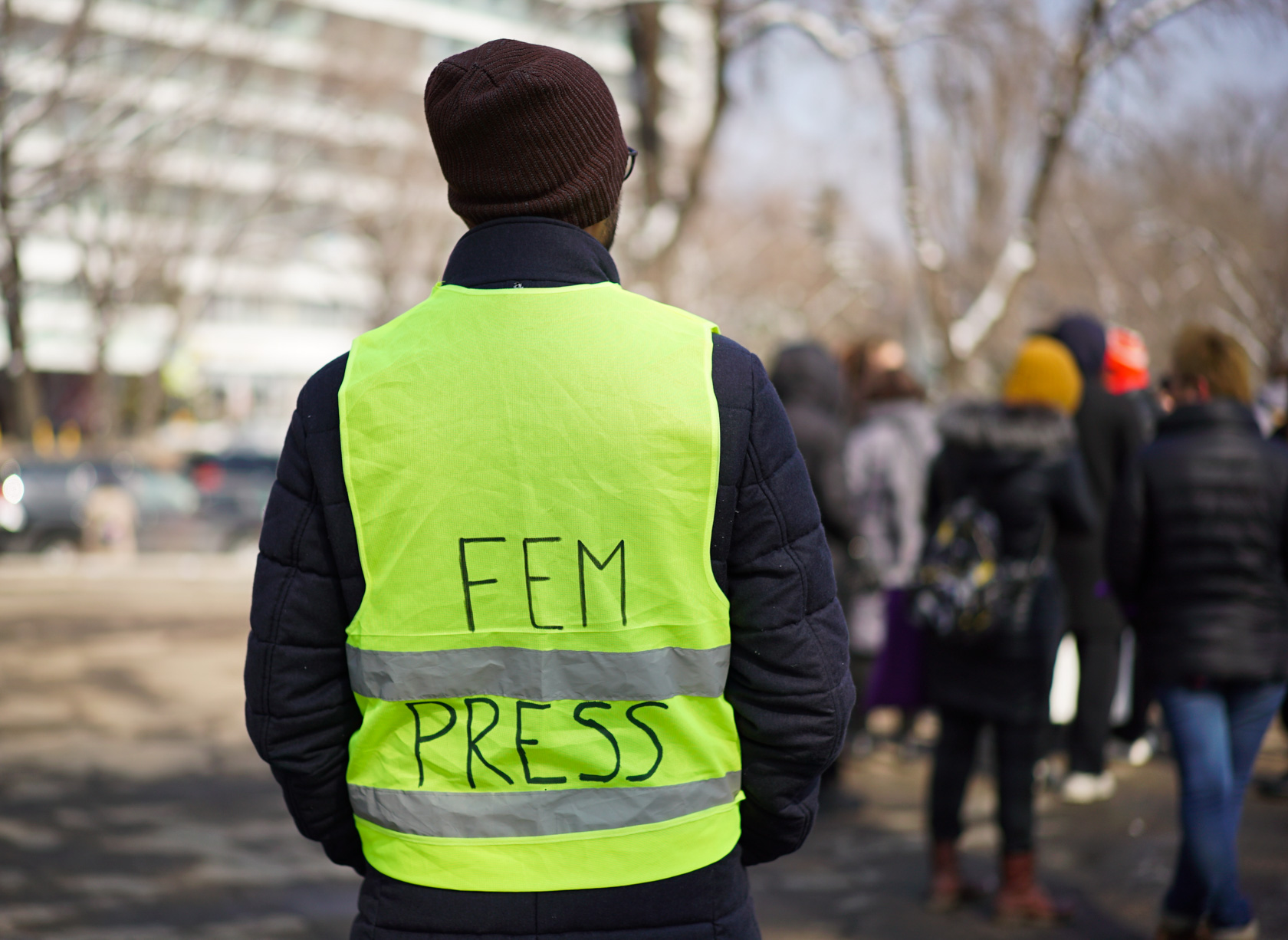 Previously, some participants were subjected to illegal, unconstitutional detention due to their participation in other peaceful demonstrations (Suinbike Suleimenova, Aigul Nurbulatova, Fariza Ospan, Arina Osinovskaya, Aizat Abilseitova, and others).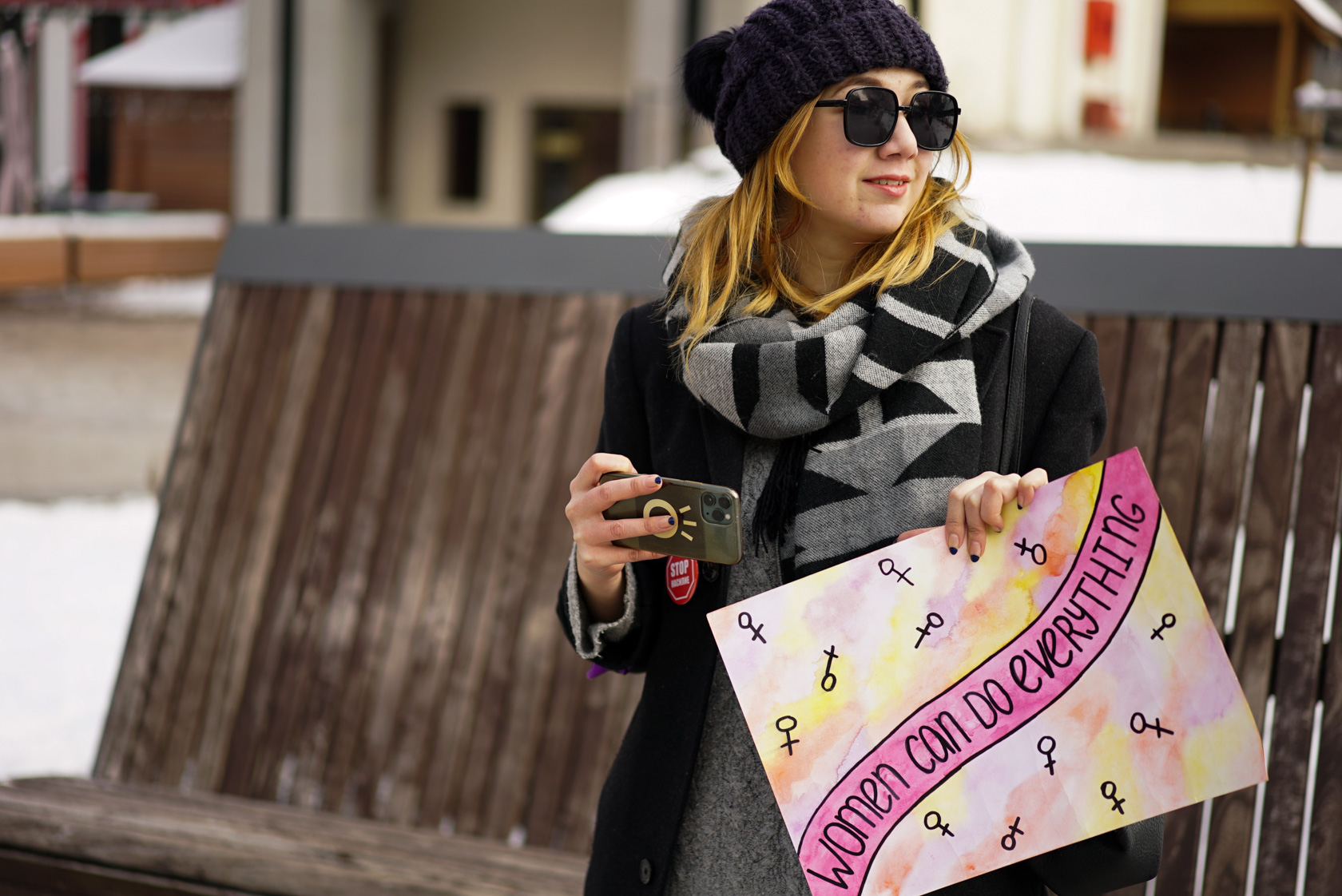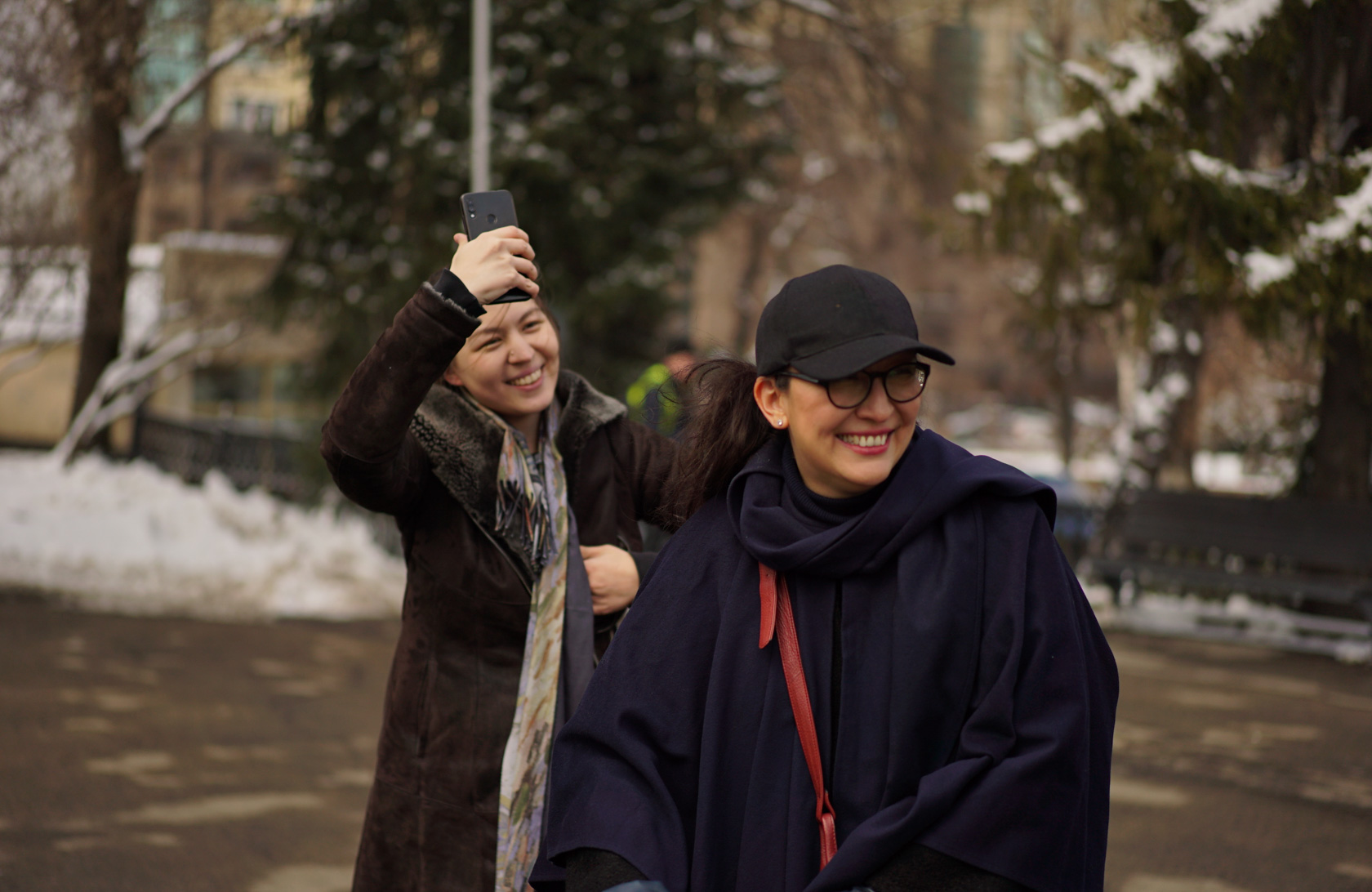 The march participants carried signs with demands and slogans and chanted in Russian and Kazakh:
"Freedom, sisterhood, feminism," "My body, my business," "You don't give birth, you don't get to decide," "Die, patriarchy," "Every woman matters," "We don't need to be protected, we only need not to be attacked," "All people are sisters," "If he beats, he goes to jail," "Flowers are for flower-beds; rights are for women," "A girl is not a guest; a girl is forever," "Kitchen and fashion—this isn't freedom," "Memorize this like two plus two: only struggle gives us rights," and others.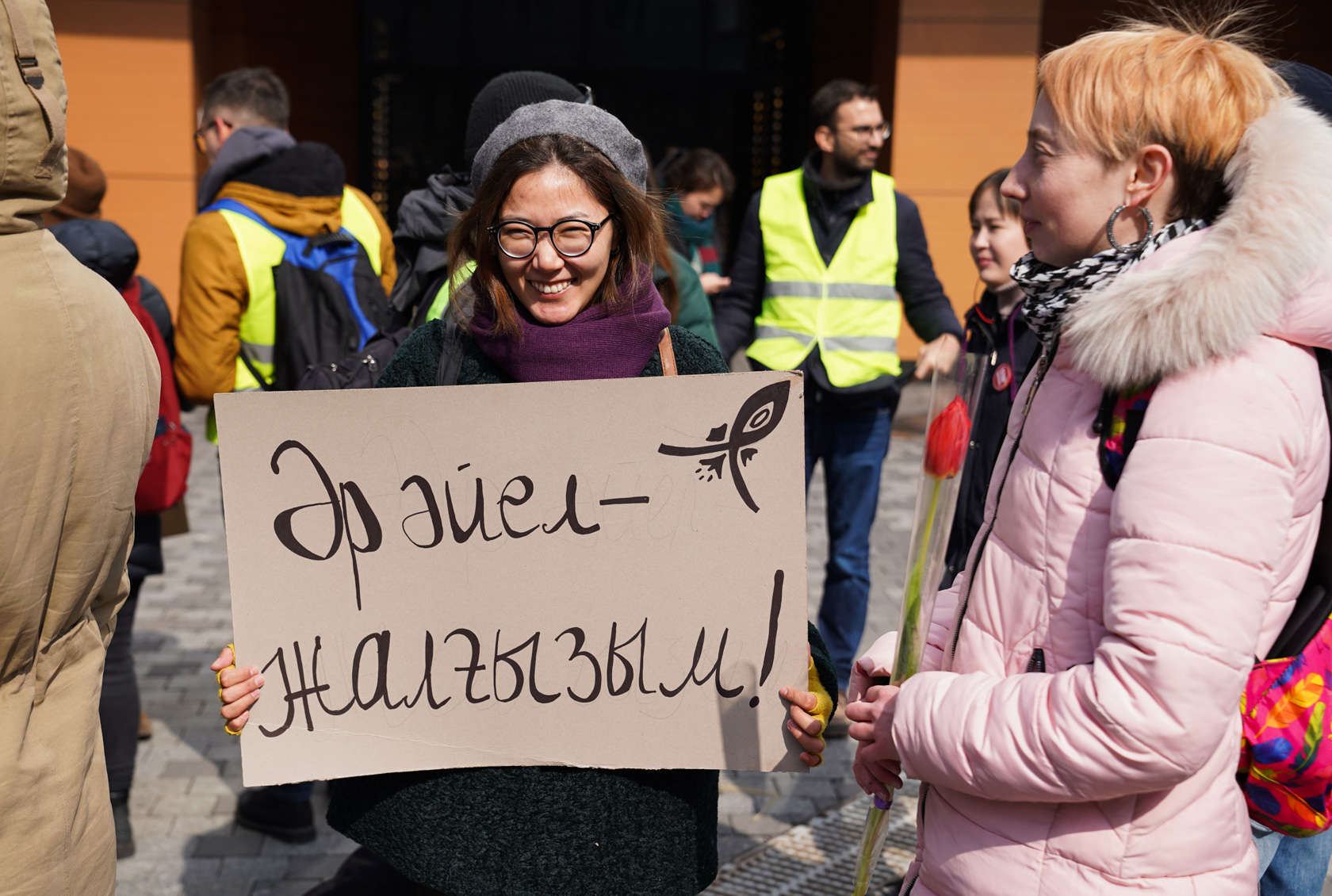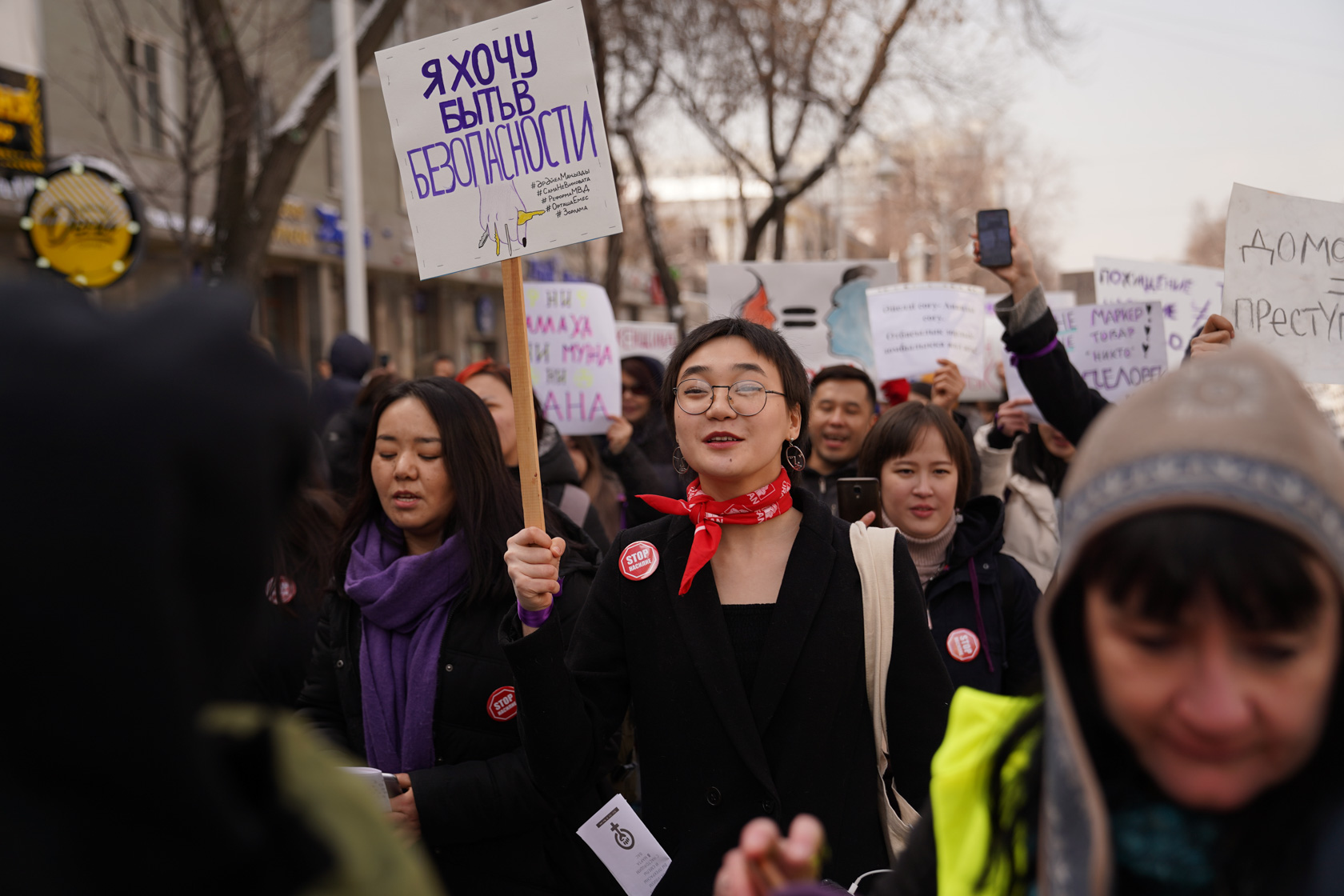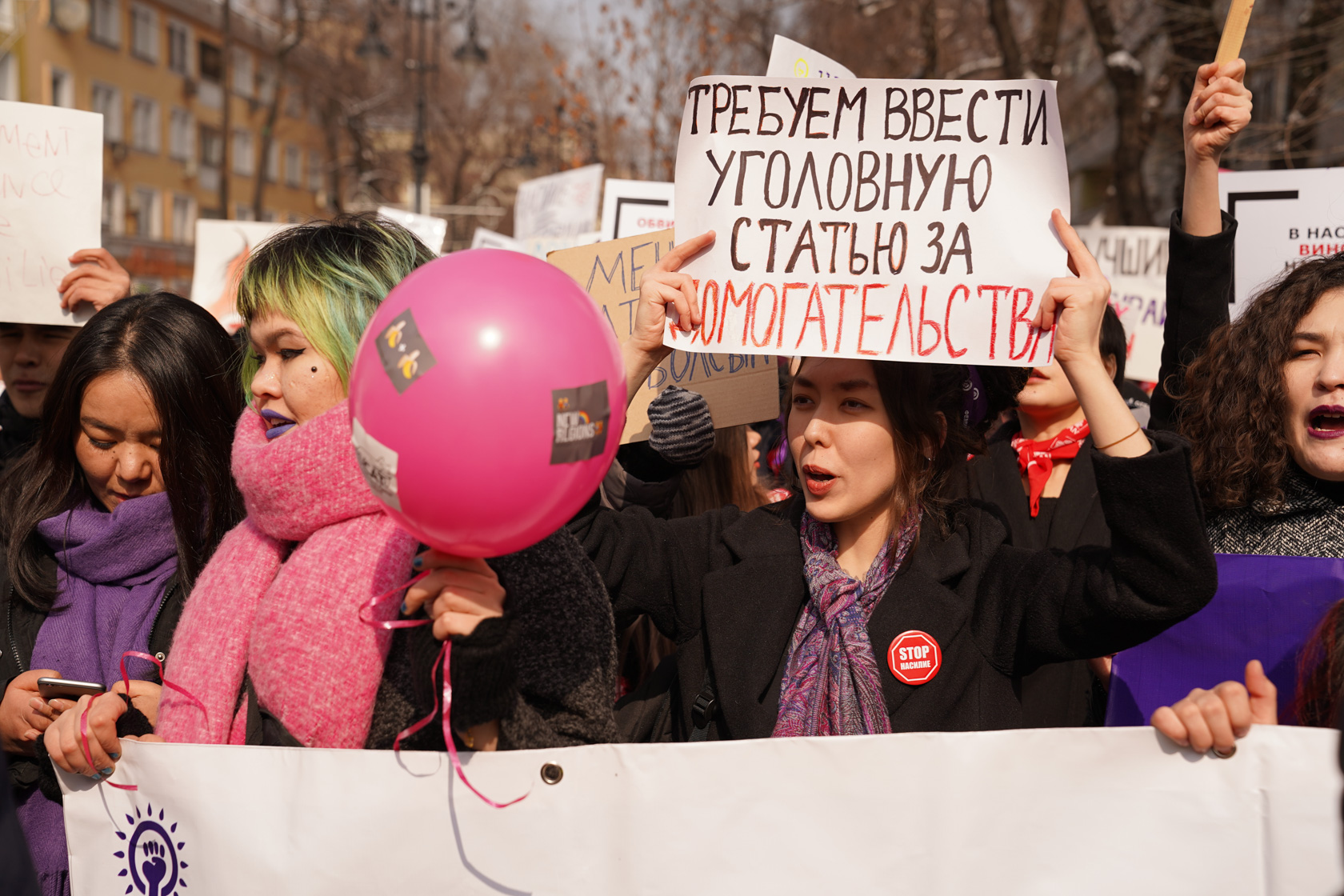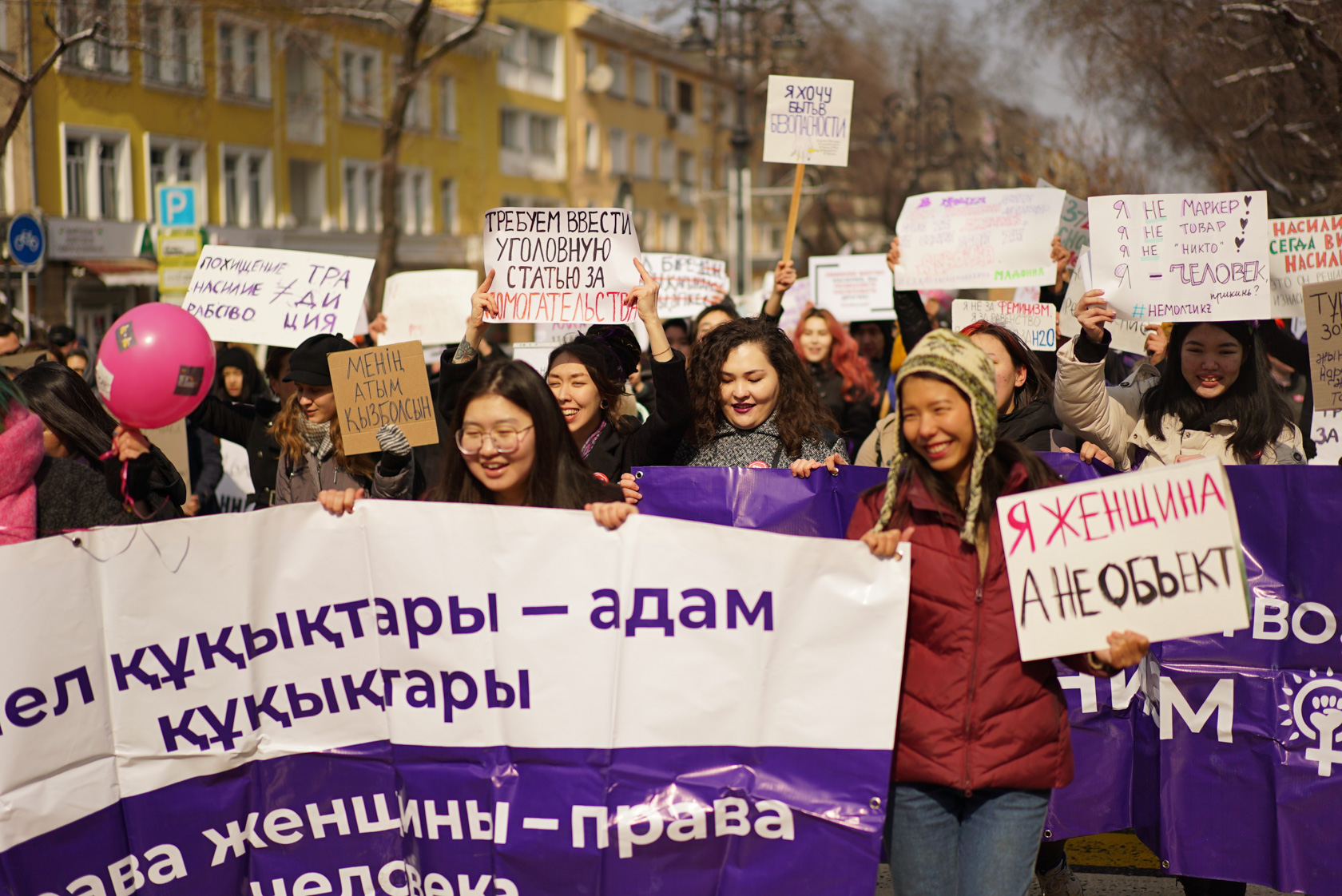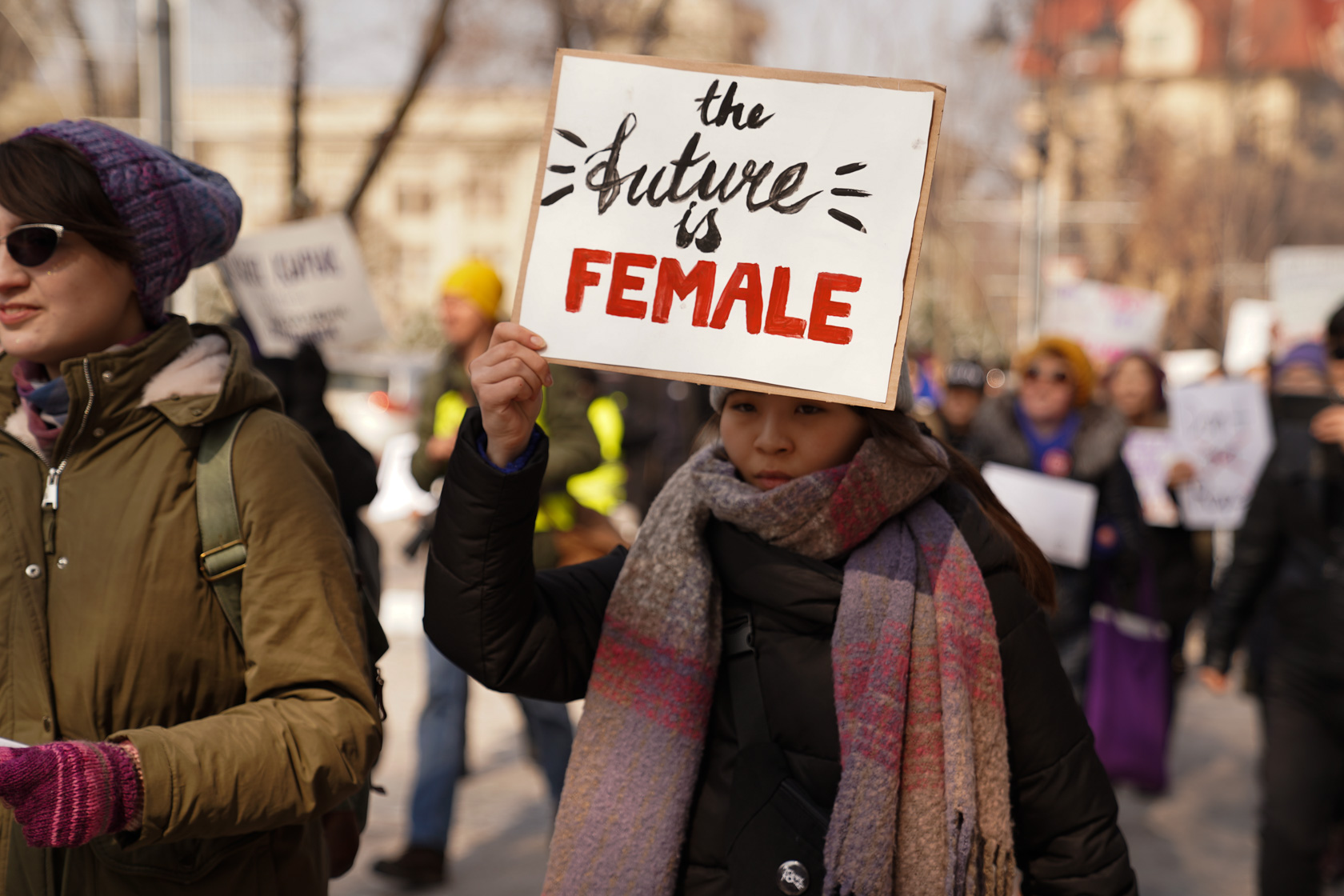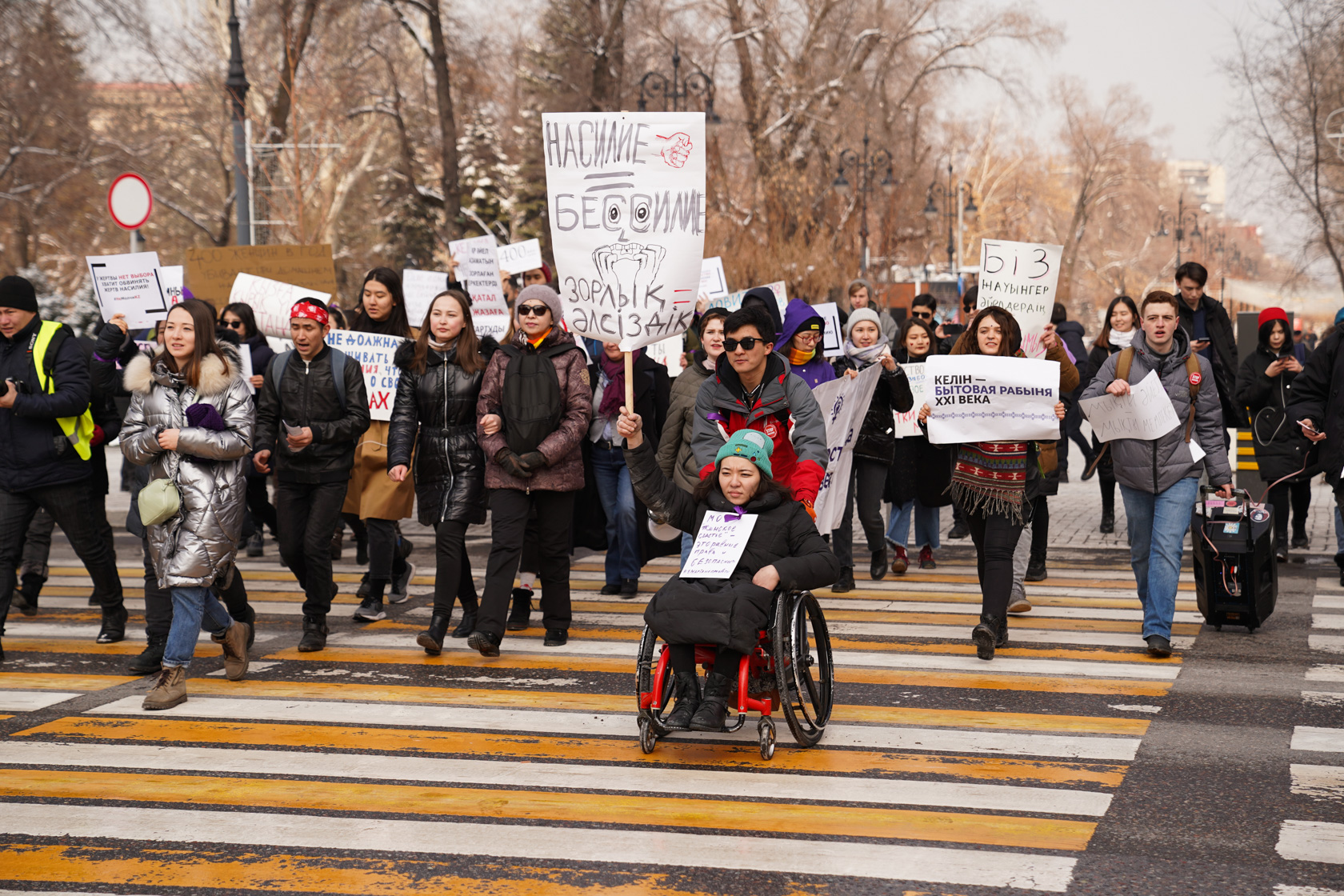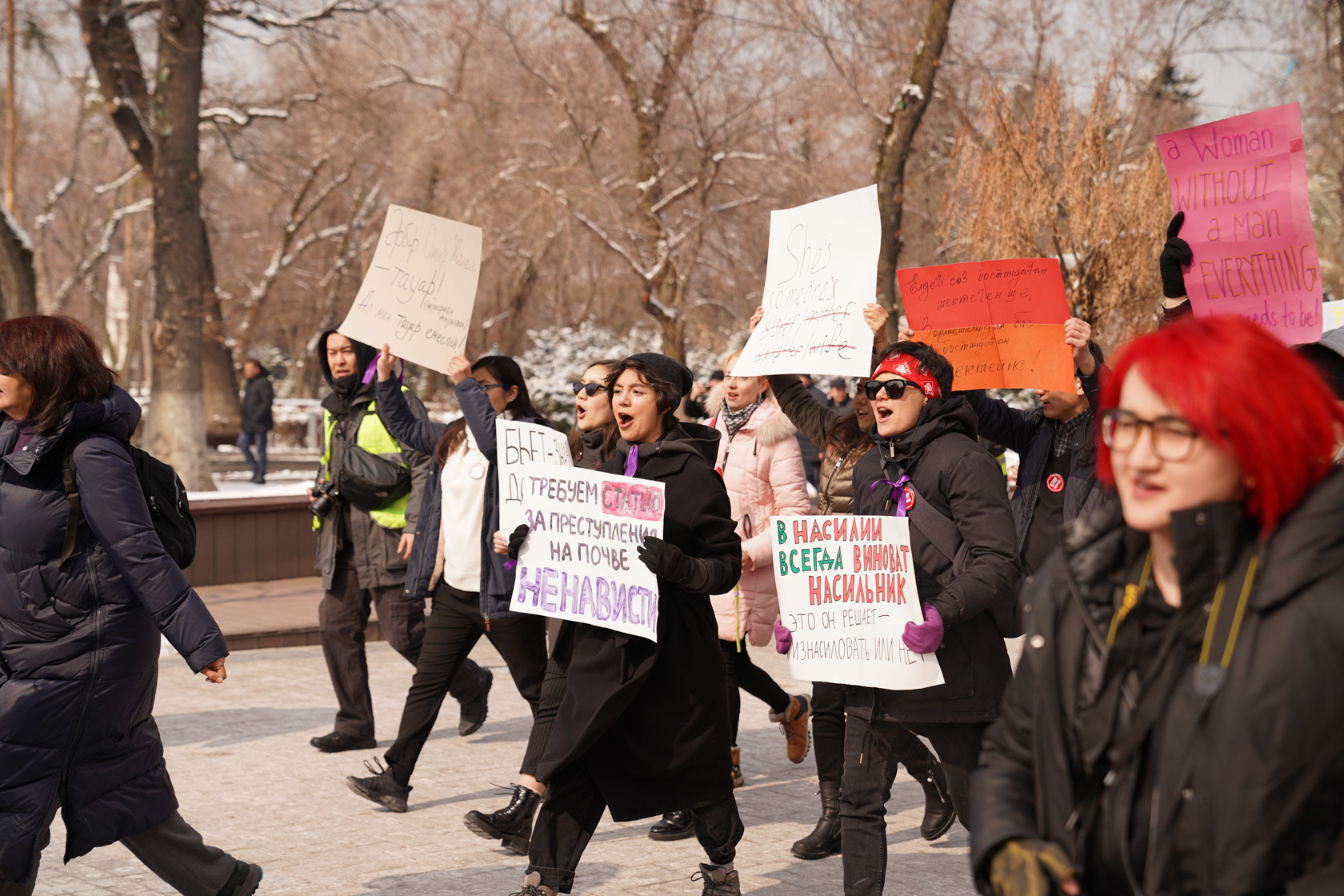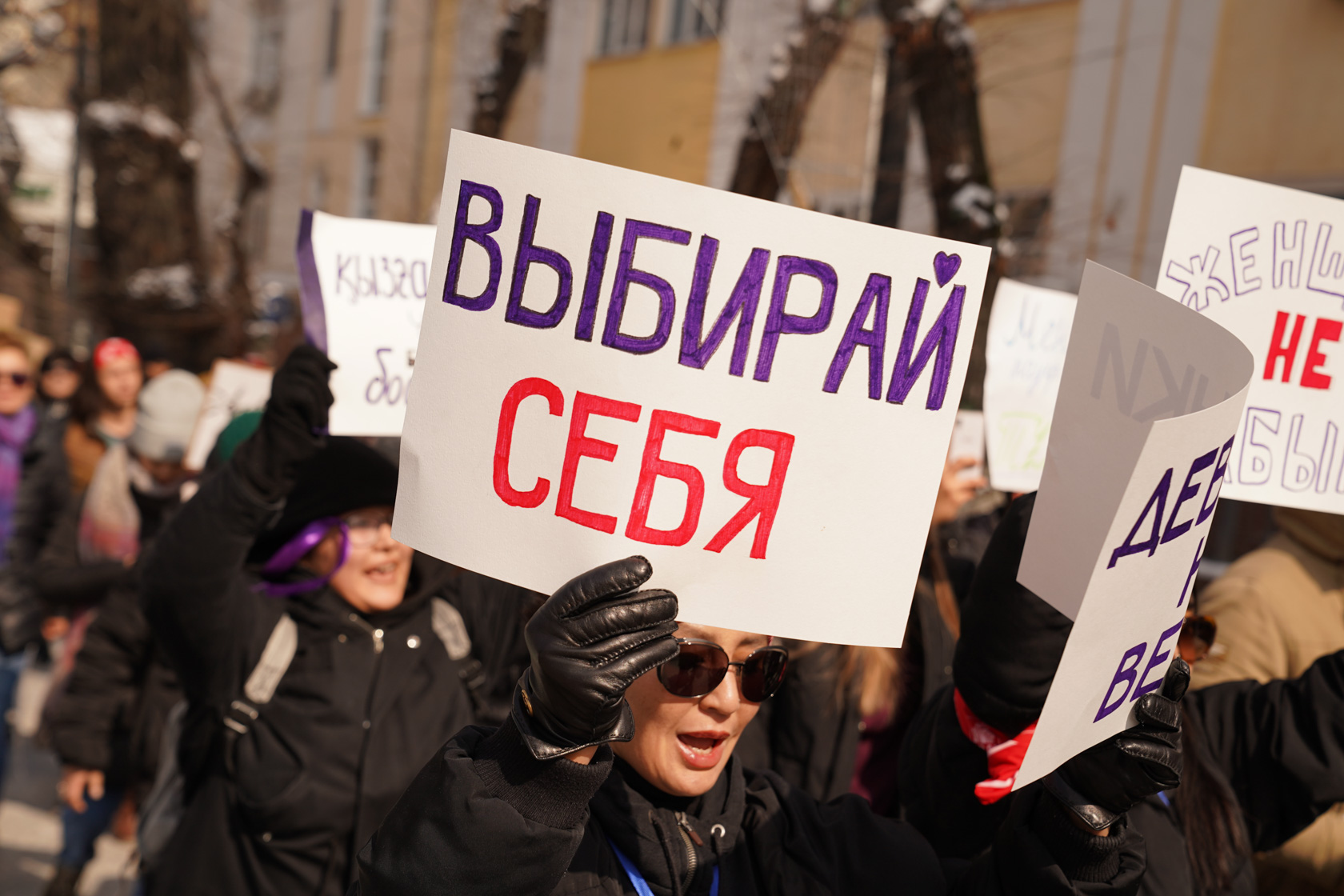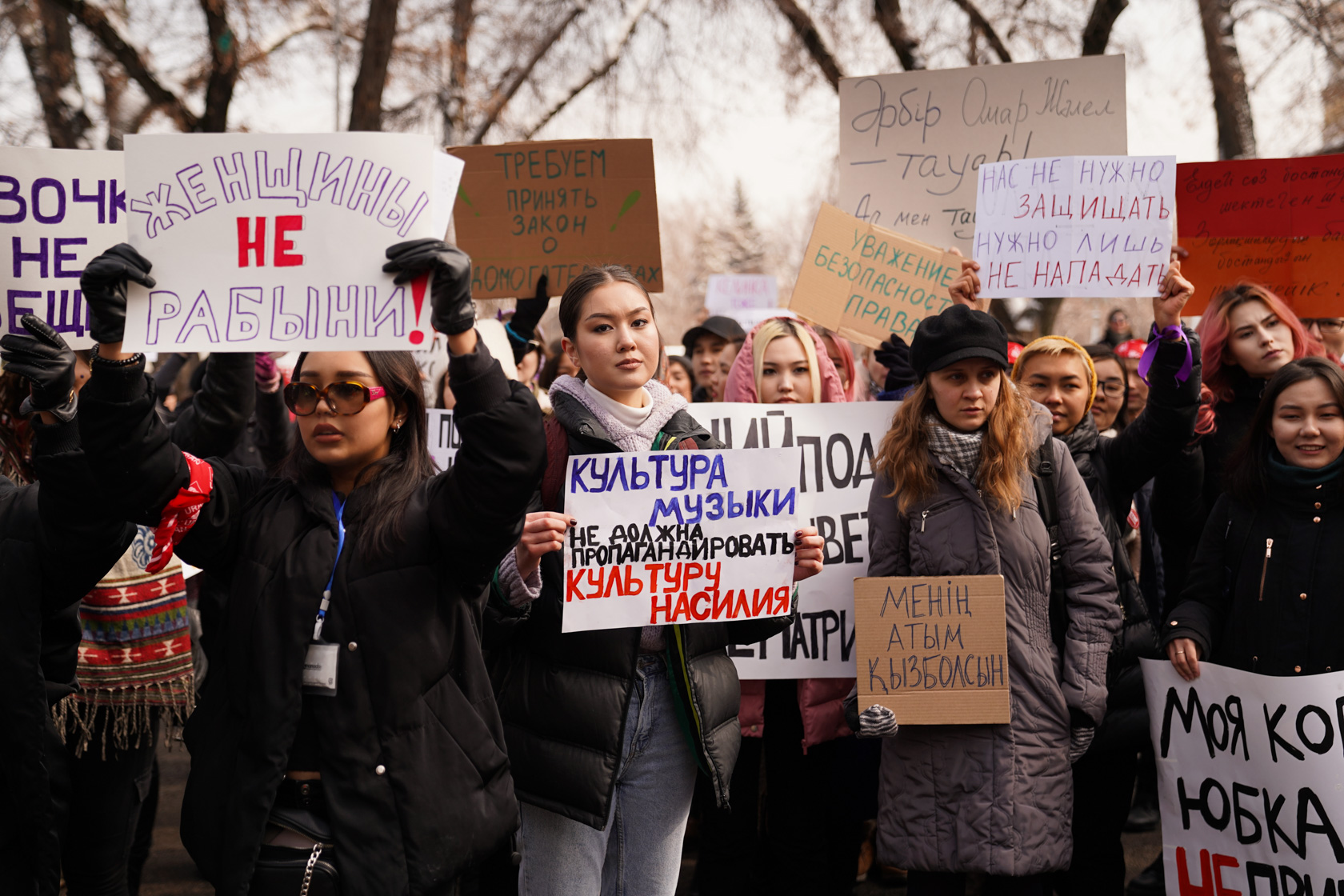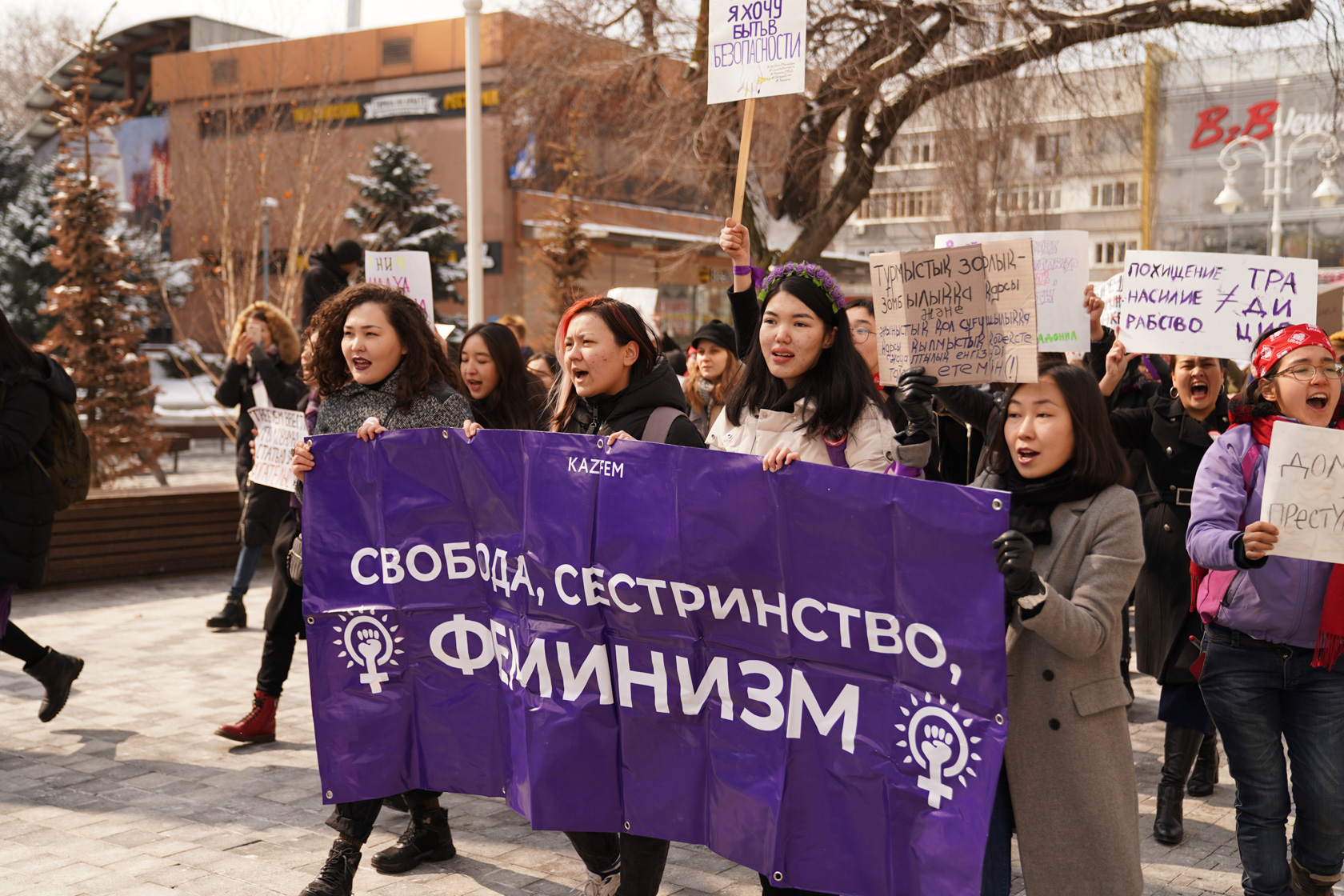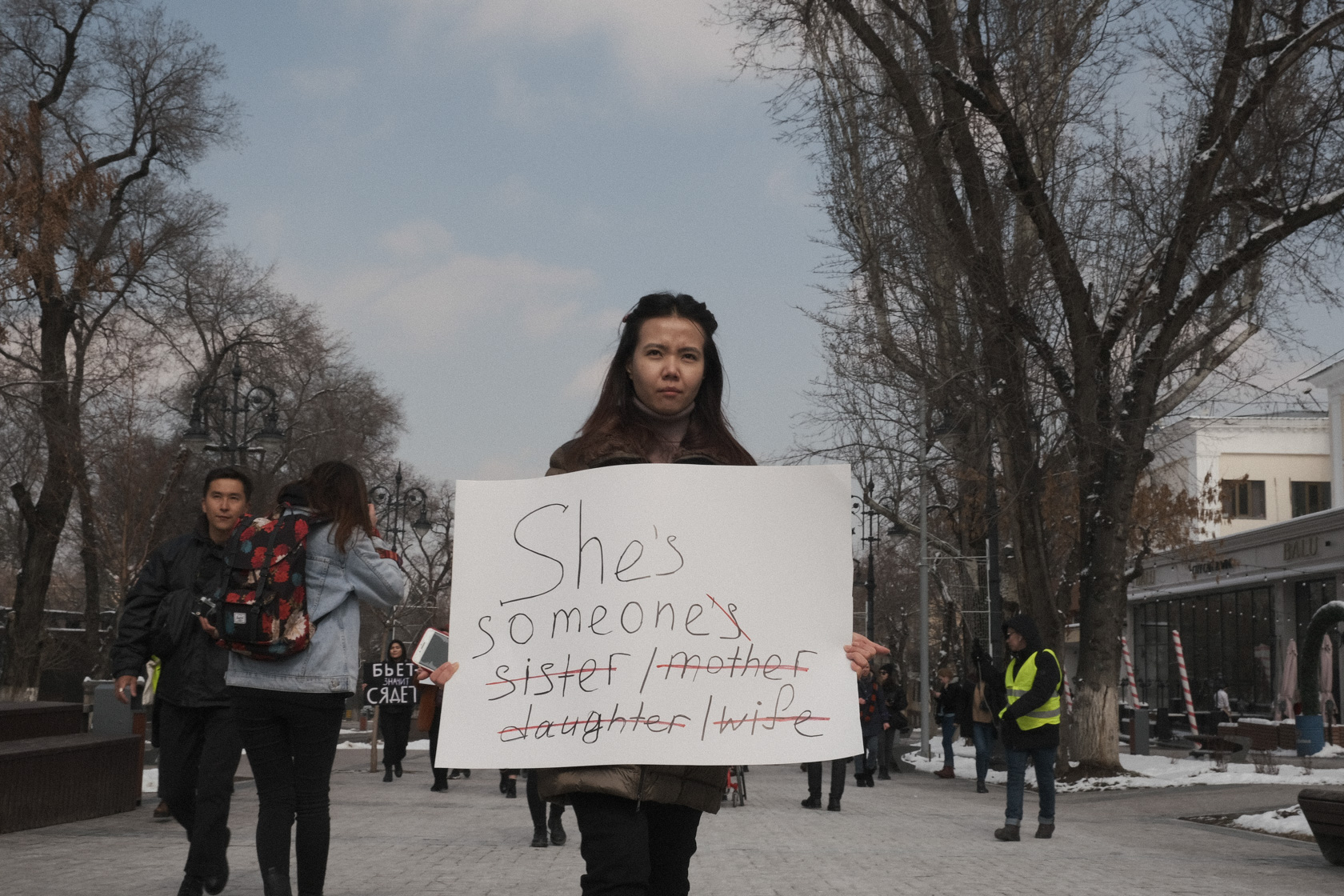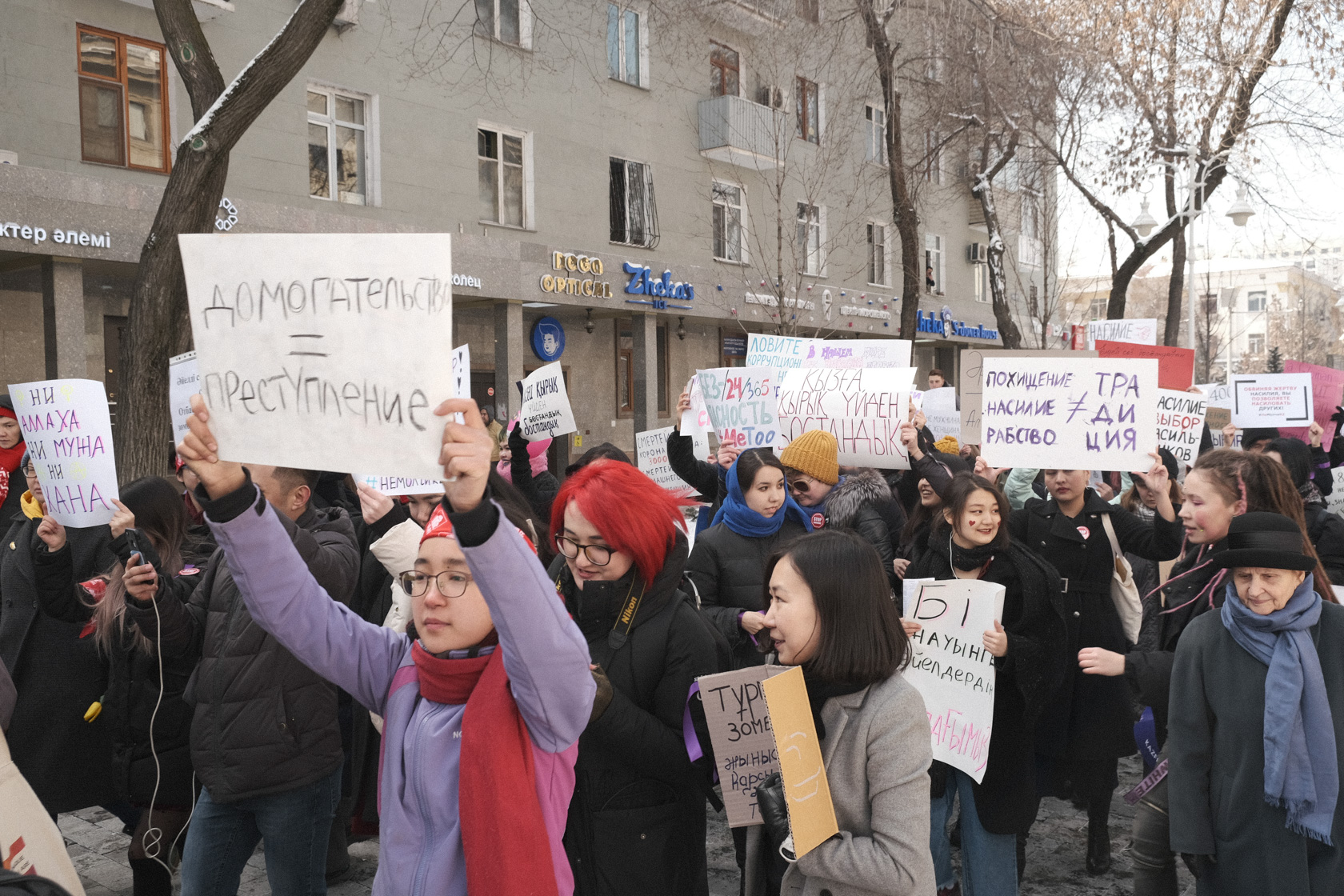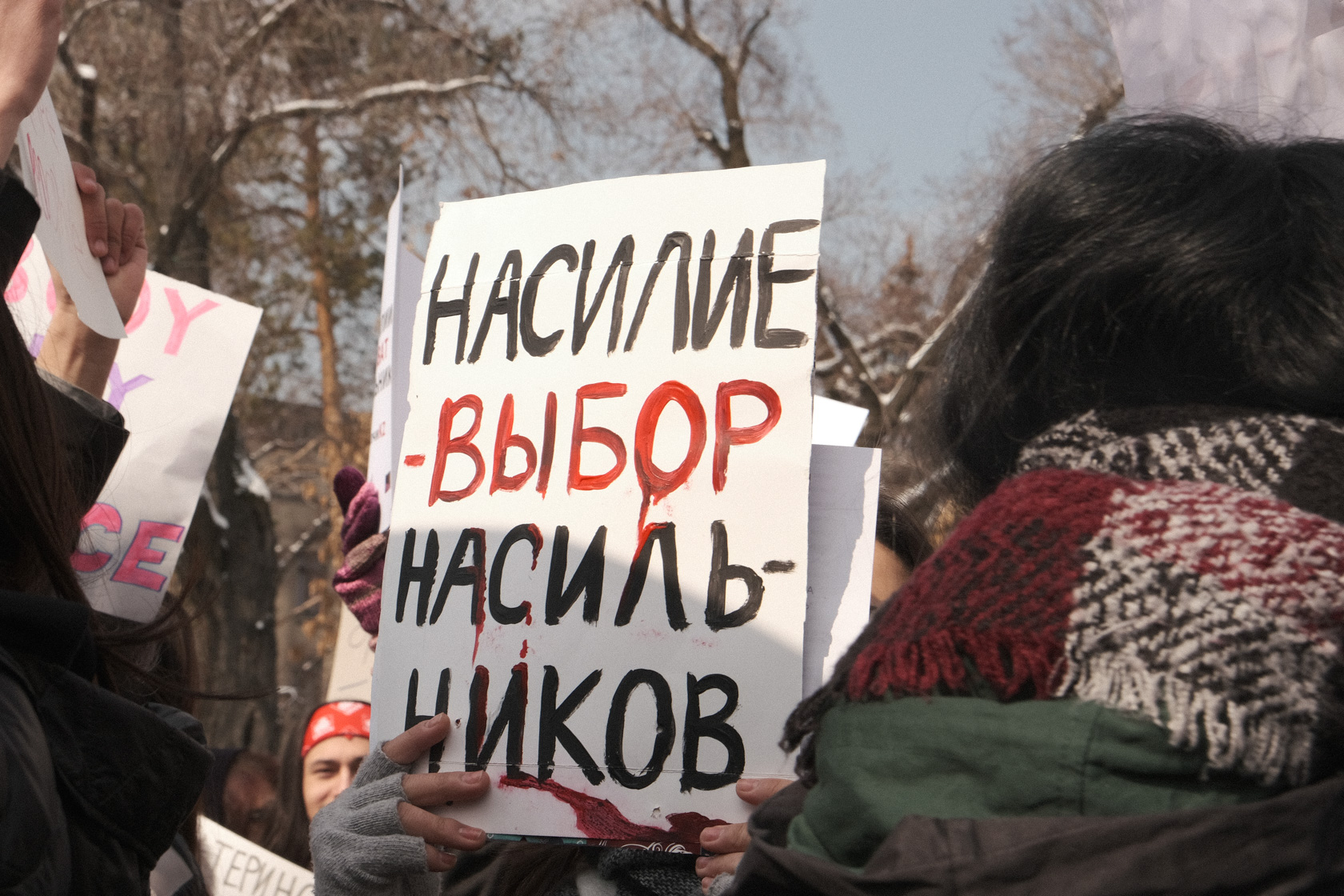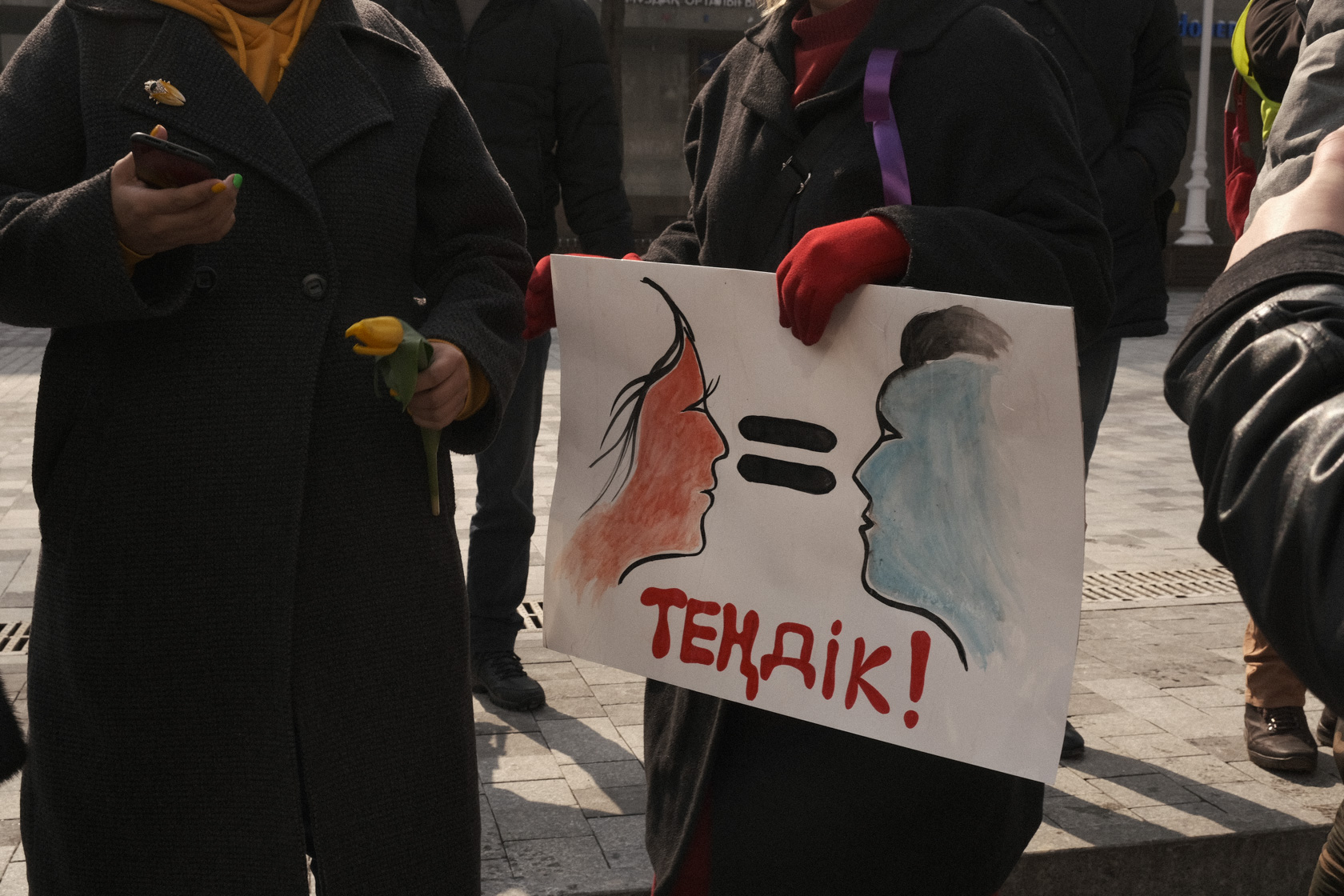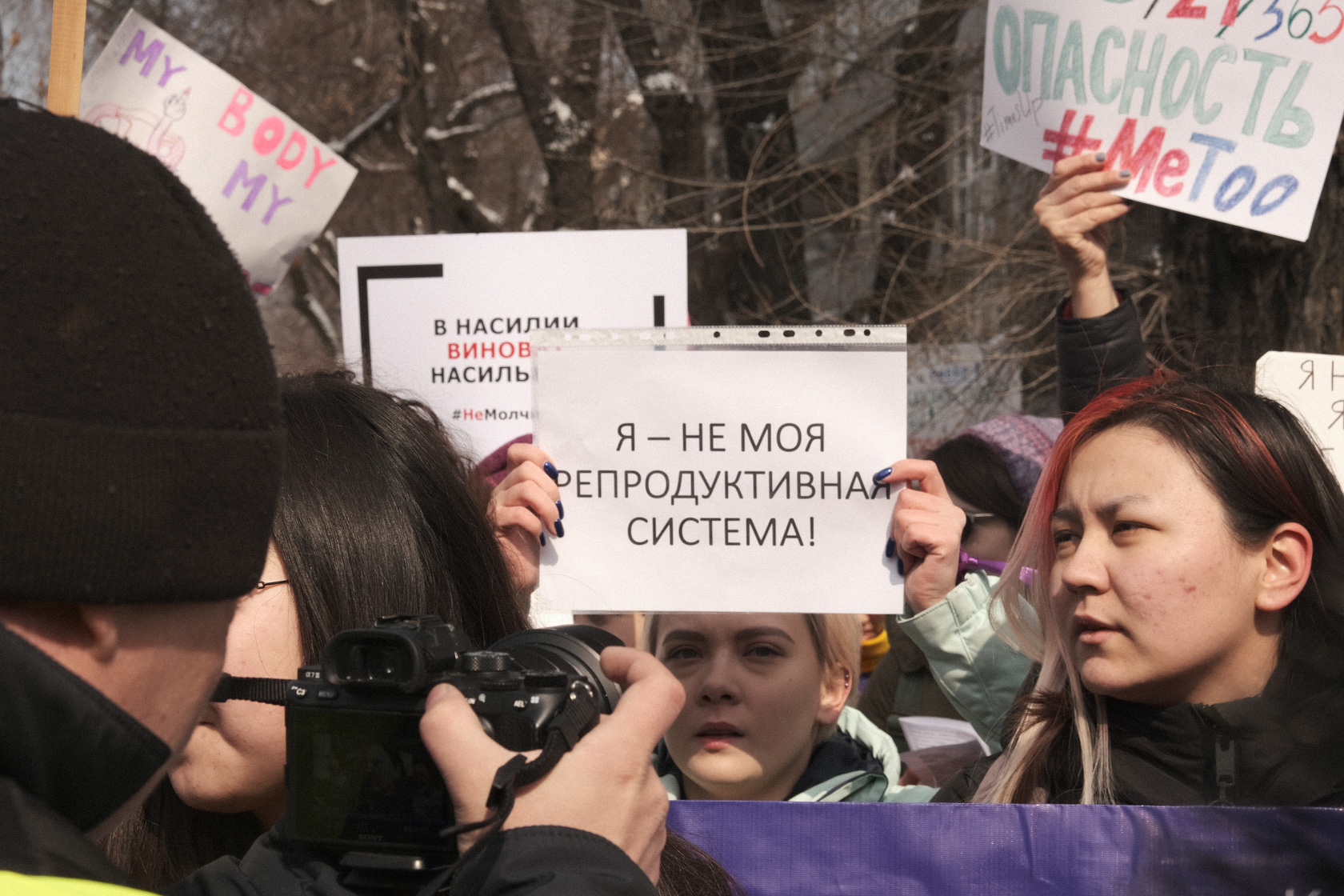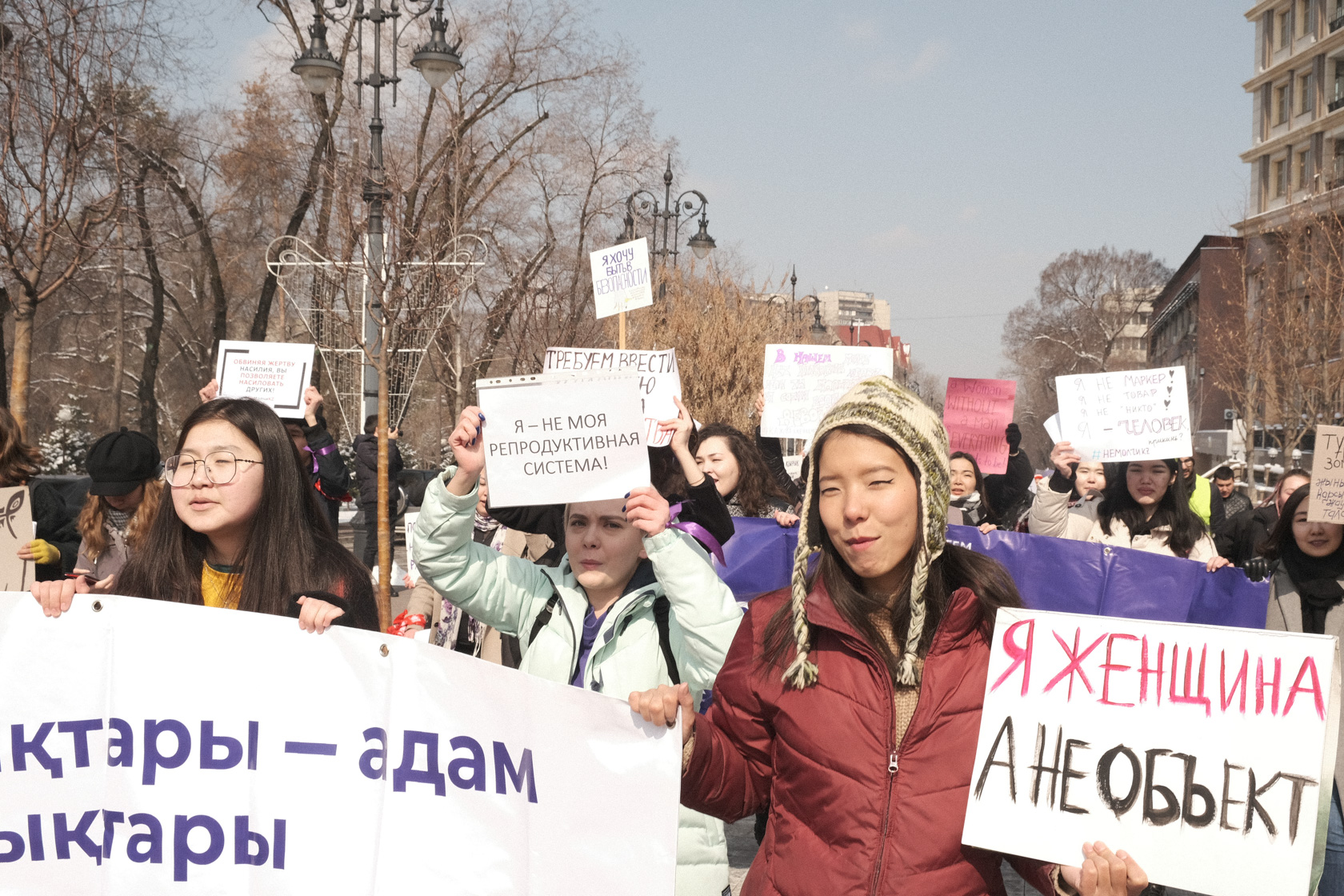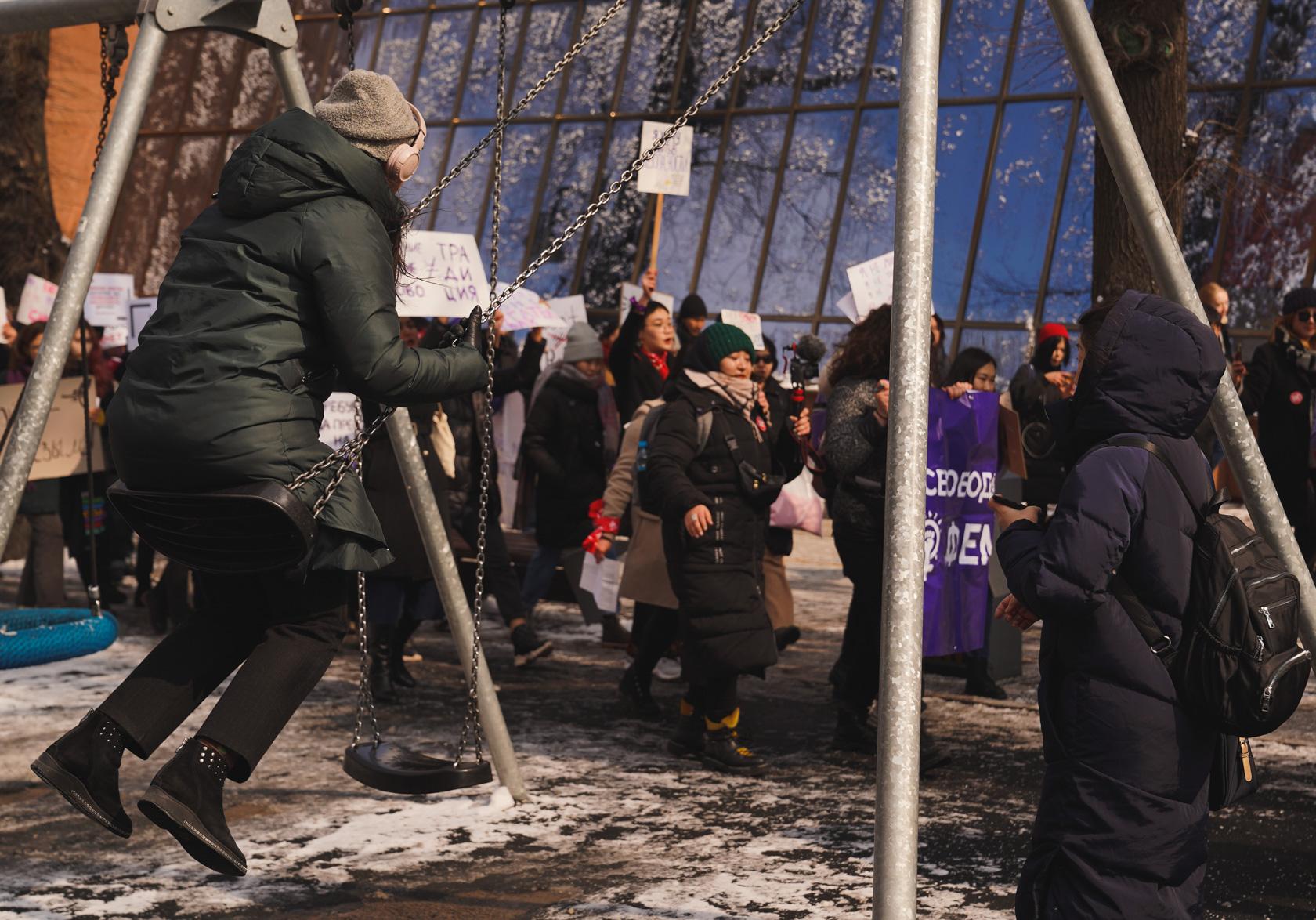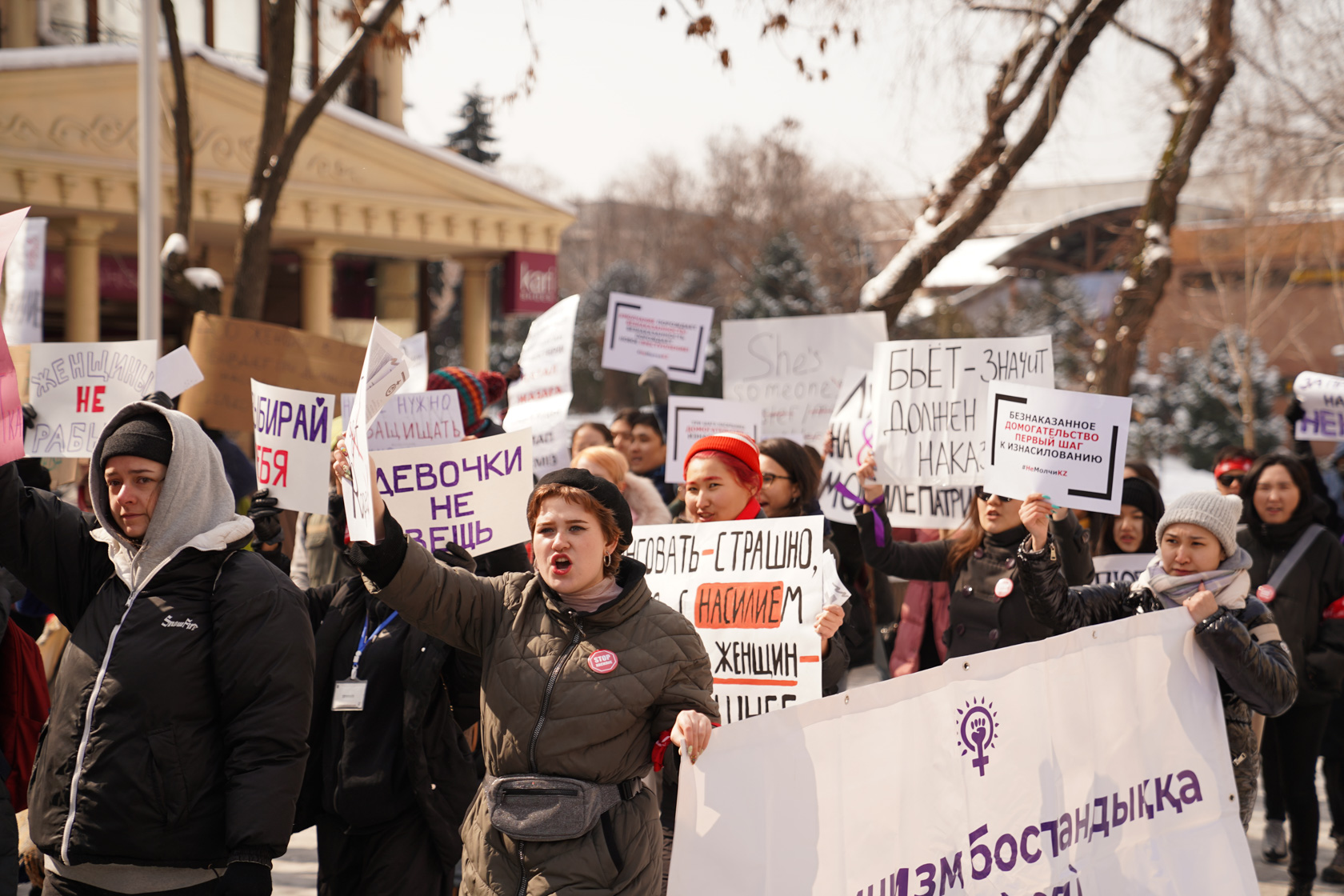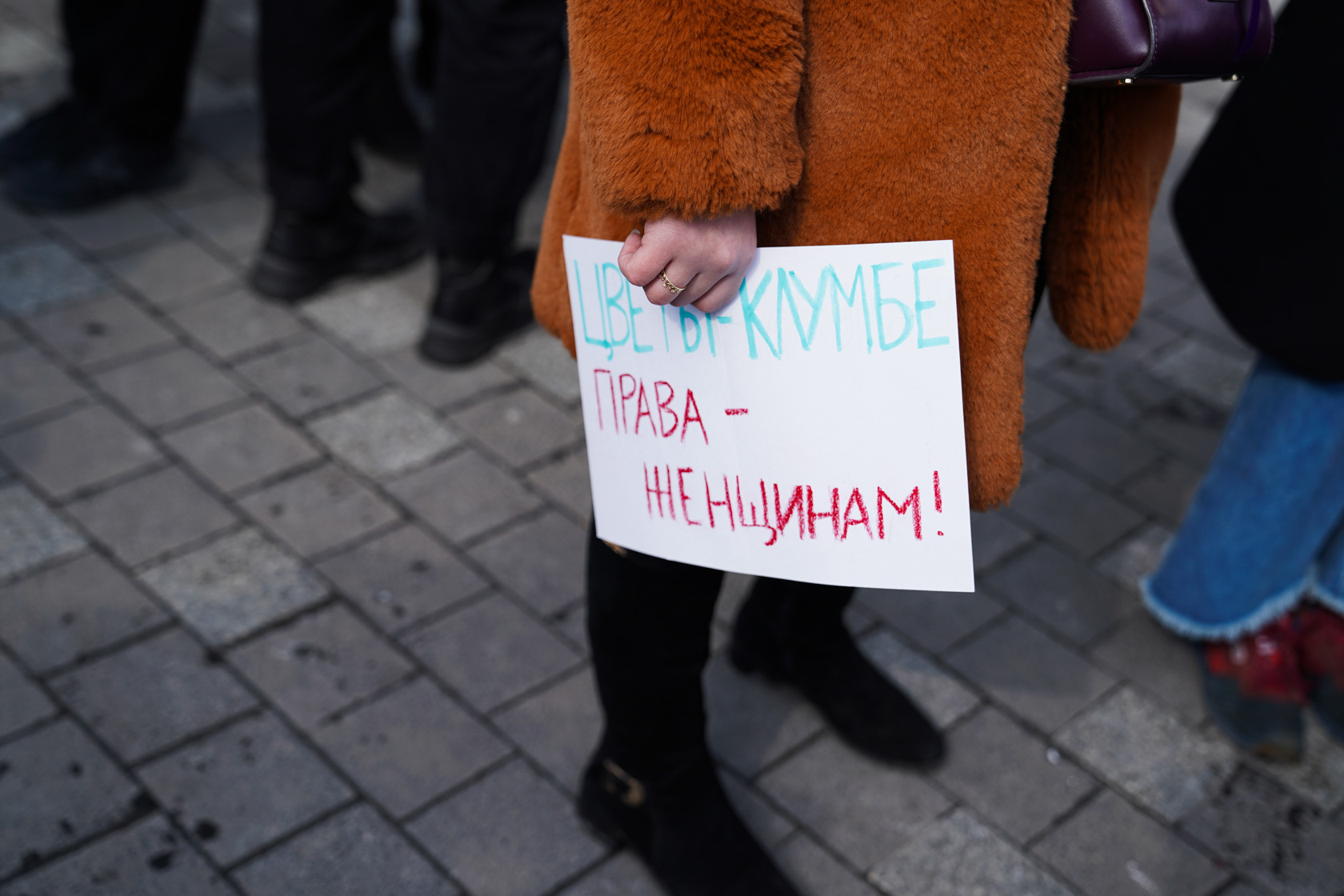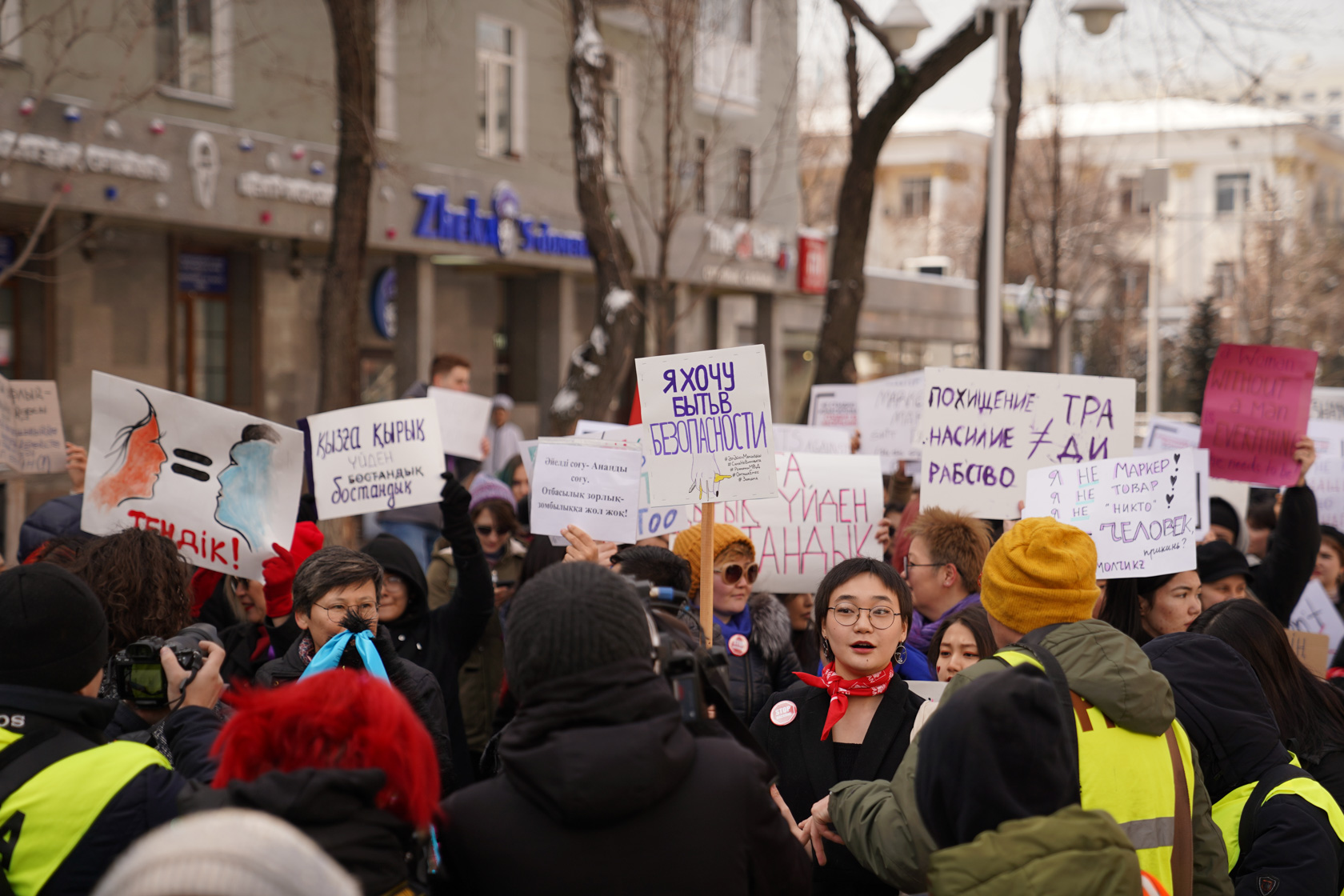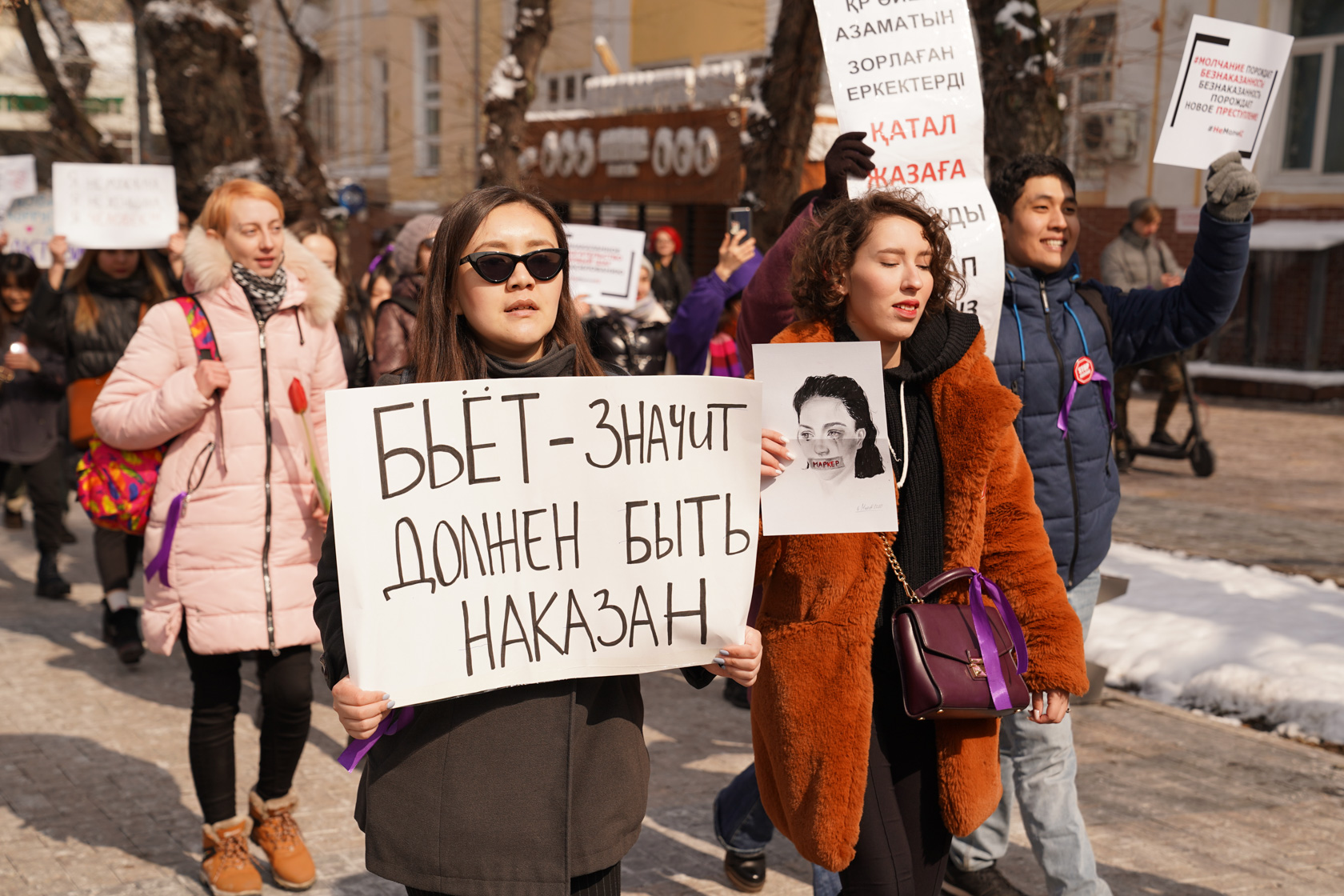 At the intersection of Panfilov Street and Kabanbay Batyr, the procession stopped to sing the Judy Collins song "Bread and Roses," which has become a kind of feminist hymn, in unison.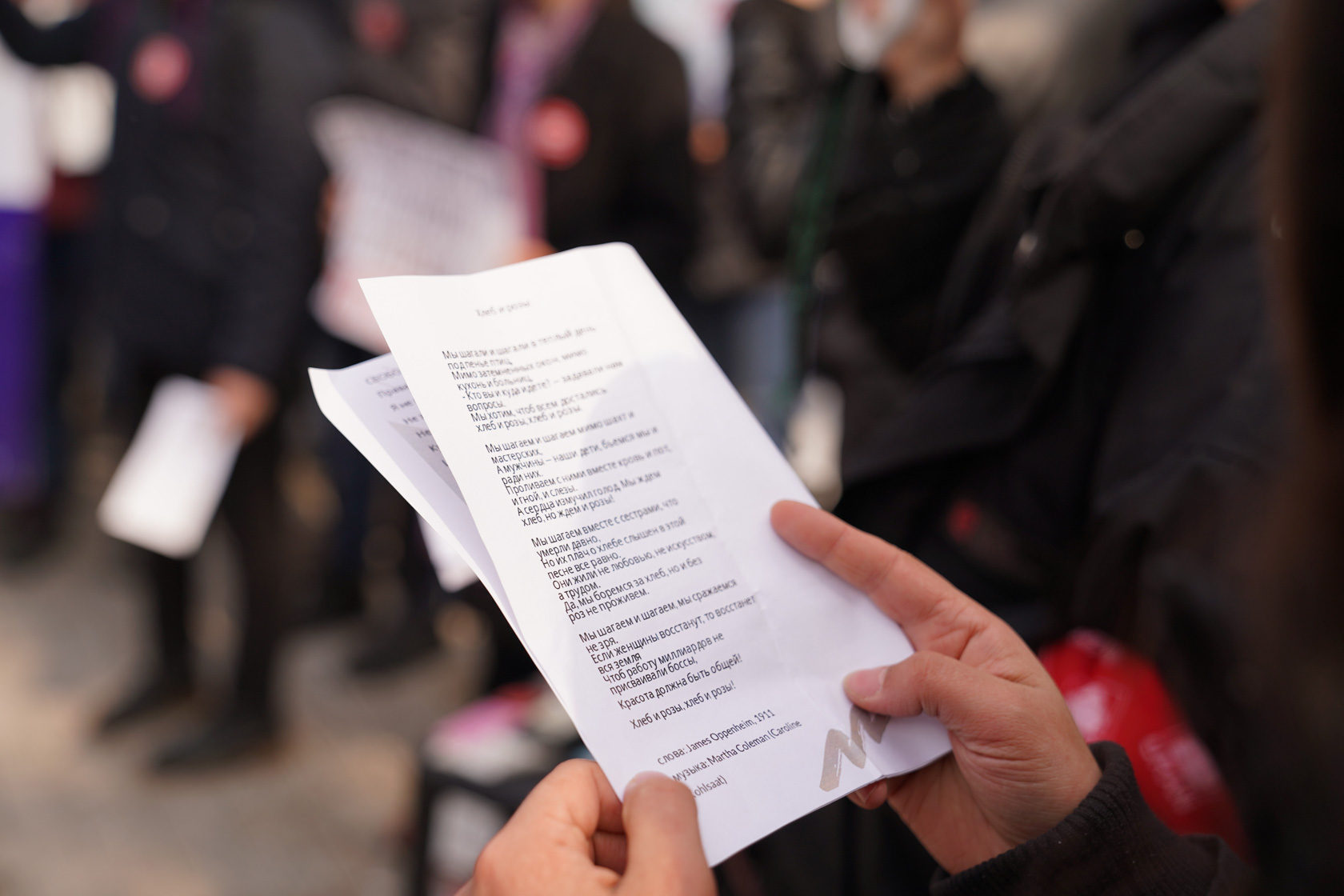 The march concluded at 12:50 PM at the Zhambyl monument at the intersection of Kabanabay Batyr and Bayseitovaya Street, where the organizers burned a wreath to symbolize the burning of the patriarchy. In all, around 200 people took part in the march.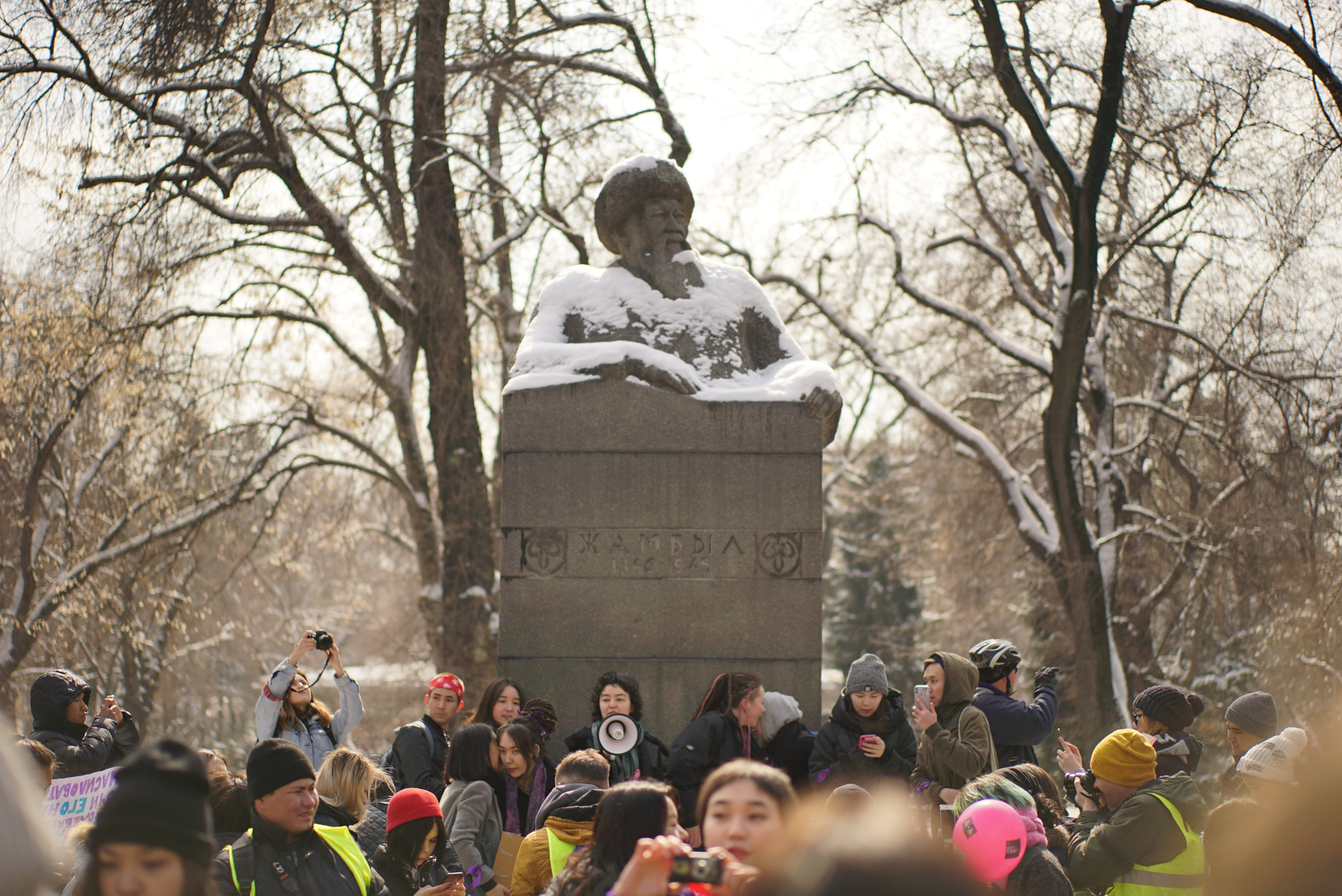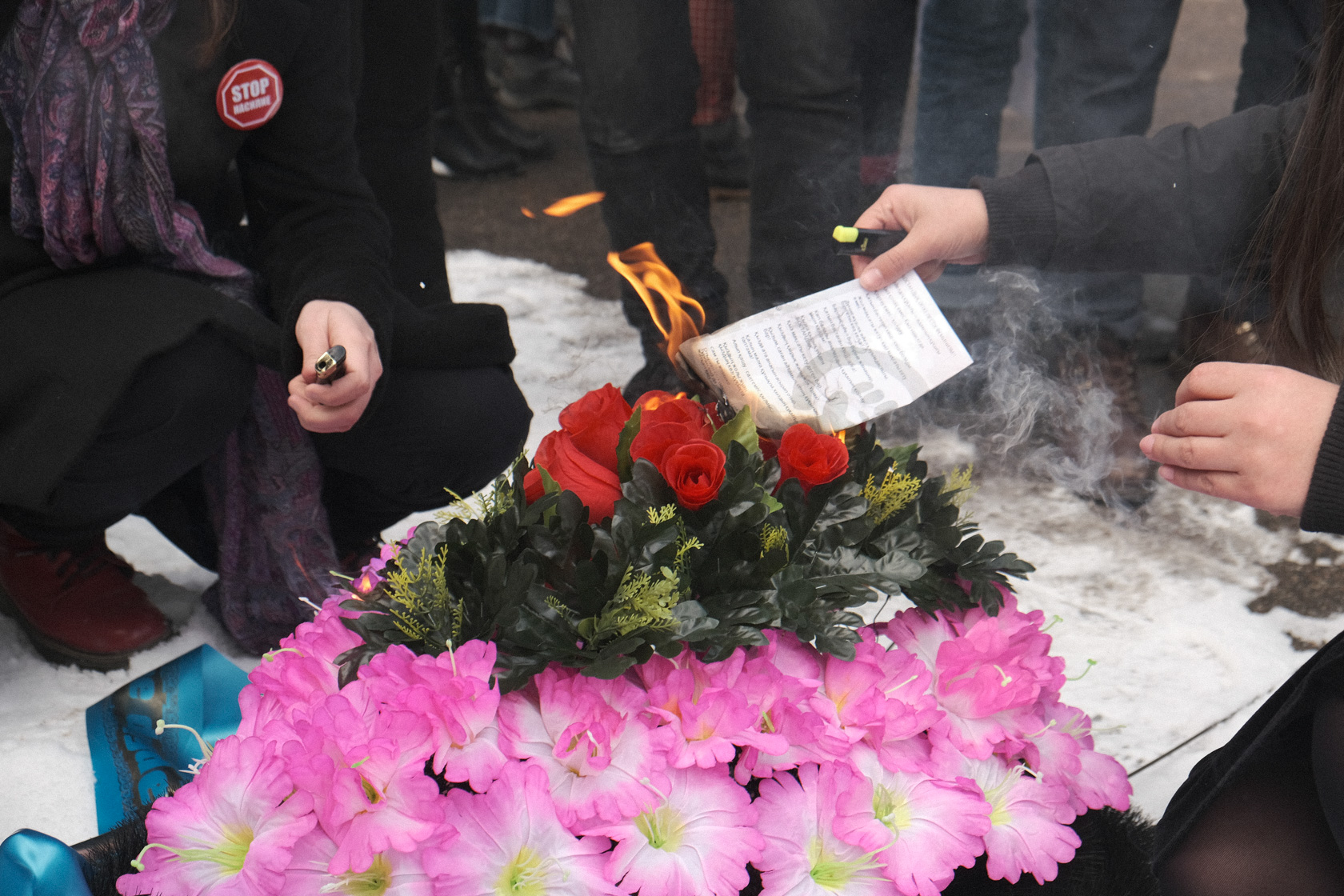 At its conclusion, the organizers read the march's manifest aloud:
"Today, on this historic day, we, the feminist initiatives of Kazakhstan—KazFem, Feminita, Femagora, Femsreda, and the public foundation Svet, joined together to affirm the rights of women.
We are all women.
We are Kazakhstani women.
All of us have experienced life in a country where we do not feel safe, and where the law does not protect us.
Safety is a basic need for every person, and it is safety that we lack. Domestic violence occurs behind closed doors in houses and apartments, and more than 400 women a year die from it. This is why we burn this wreath with flowers next to residential buildings where, perhaps, right now some woman is suffering beatings and does not know whom to turn to for help. With the burning of this wreath, we wish to convey that on this day, the eighth of March, we demand respect for our rights, not flowers once per year. Not when women experience systemic violence on all other days of the year.
At the beginning of the march, we read the names of murdered women—women we could not save from death in their own homes, who are not among the living, but whom we remember and grieve.
According to official statistics, every day five women are raped in this country. Almost every woman is afraid to walk home alone at night, travel in a train compartment with male passengers, or walk into an elevator or building entrance with strangers.
We feel that we are in danger, and we want it to stop. For a population of 18 million, our country only has 40 crisis centers, half of which do not provide shelter. Is that enough when every fifth woman suffers from violence occurring in the family? Should a man who beats his wife get off with a warning and a small fine? Should laws, instead of defending women, always be softened to the benefit of rapists?
We:
—demand that rapists not be let out on early parole
—demand that a law on sexual harassment be passed
—demand the criminalization of domestic violence and that perpetrators be punished
Every woman has the right to safety and the defense of her rights. Every woman matters!"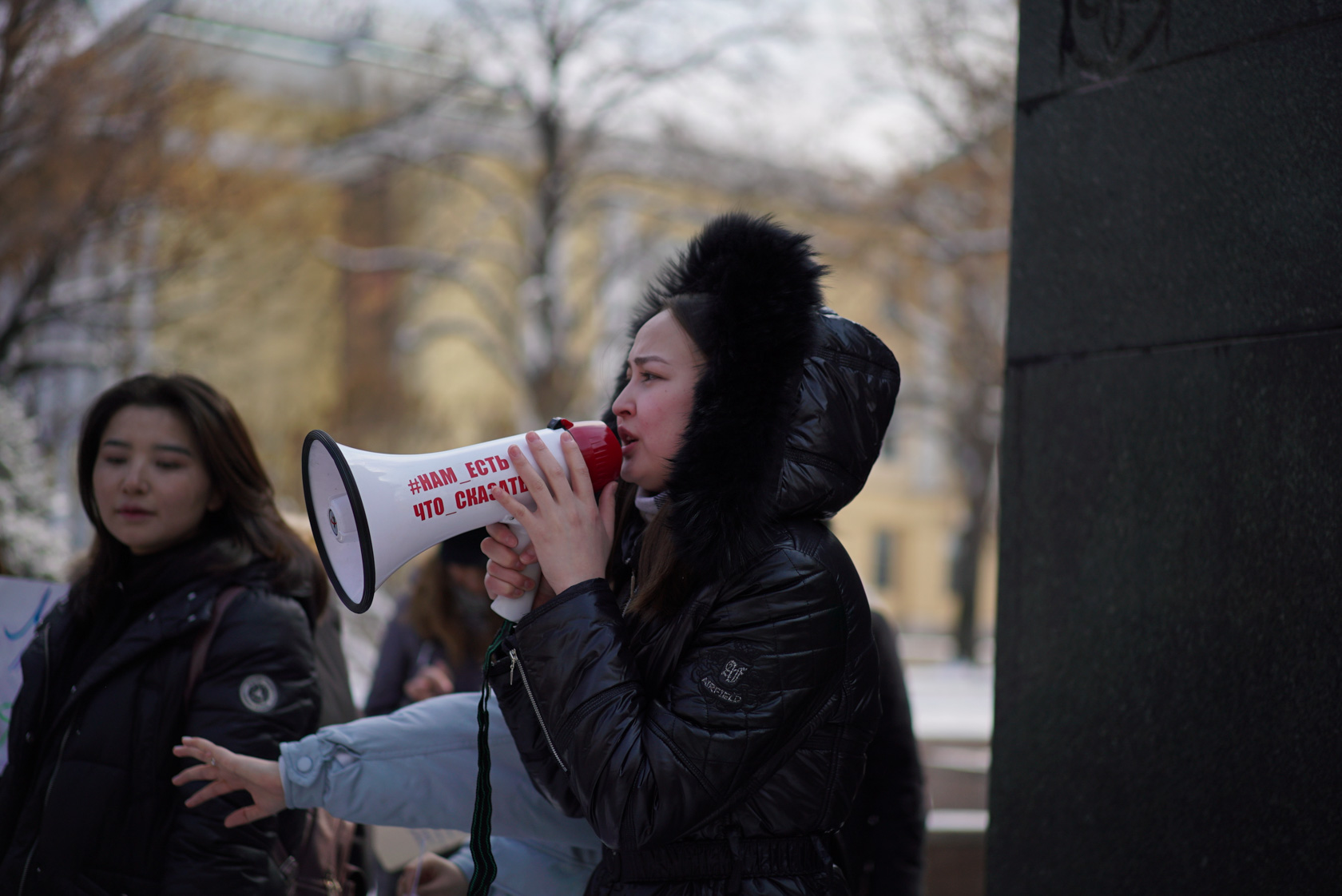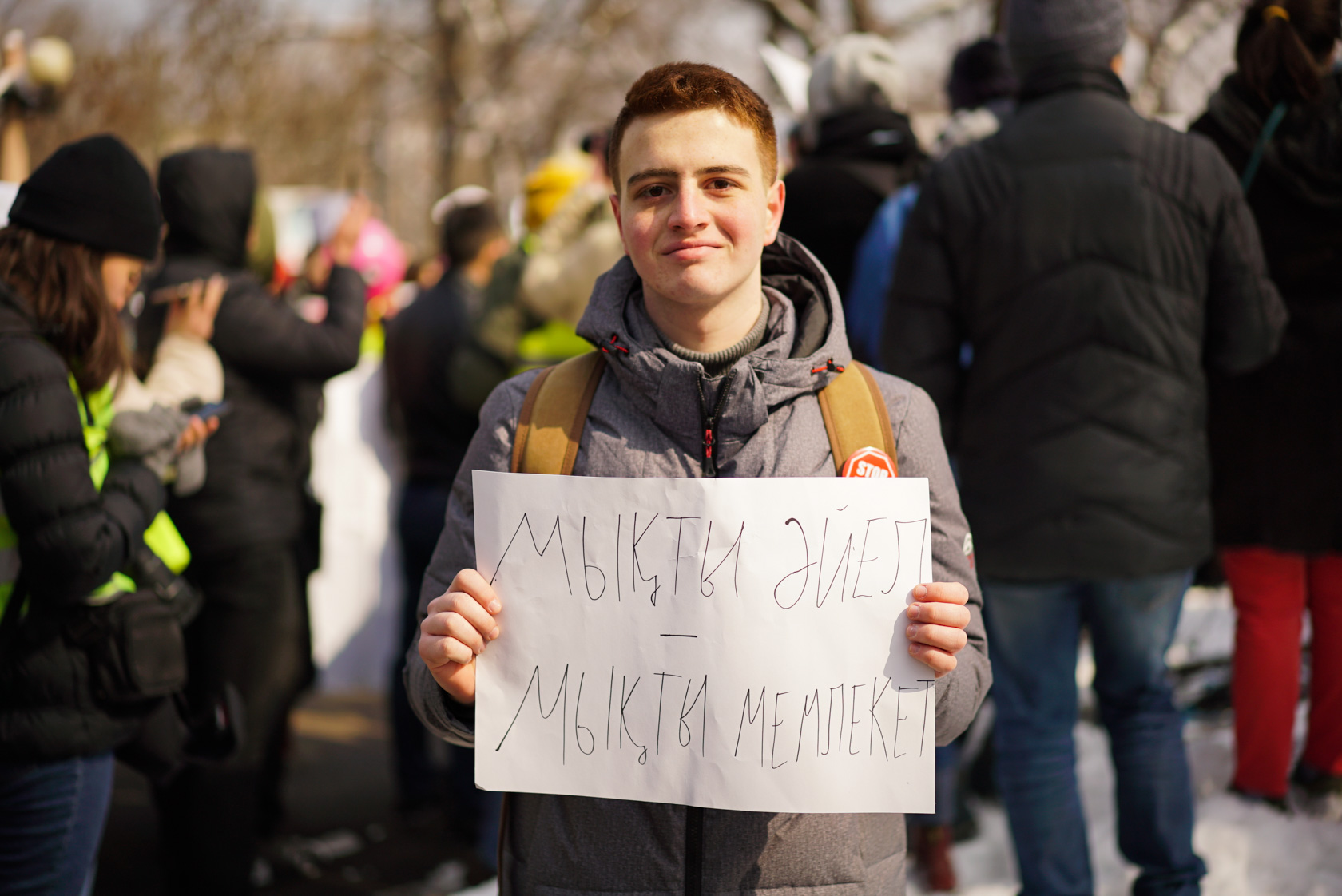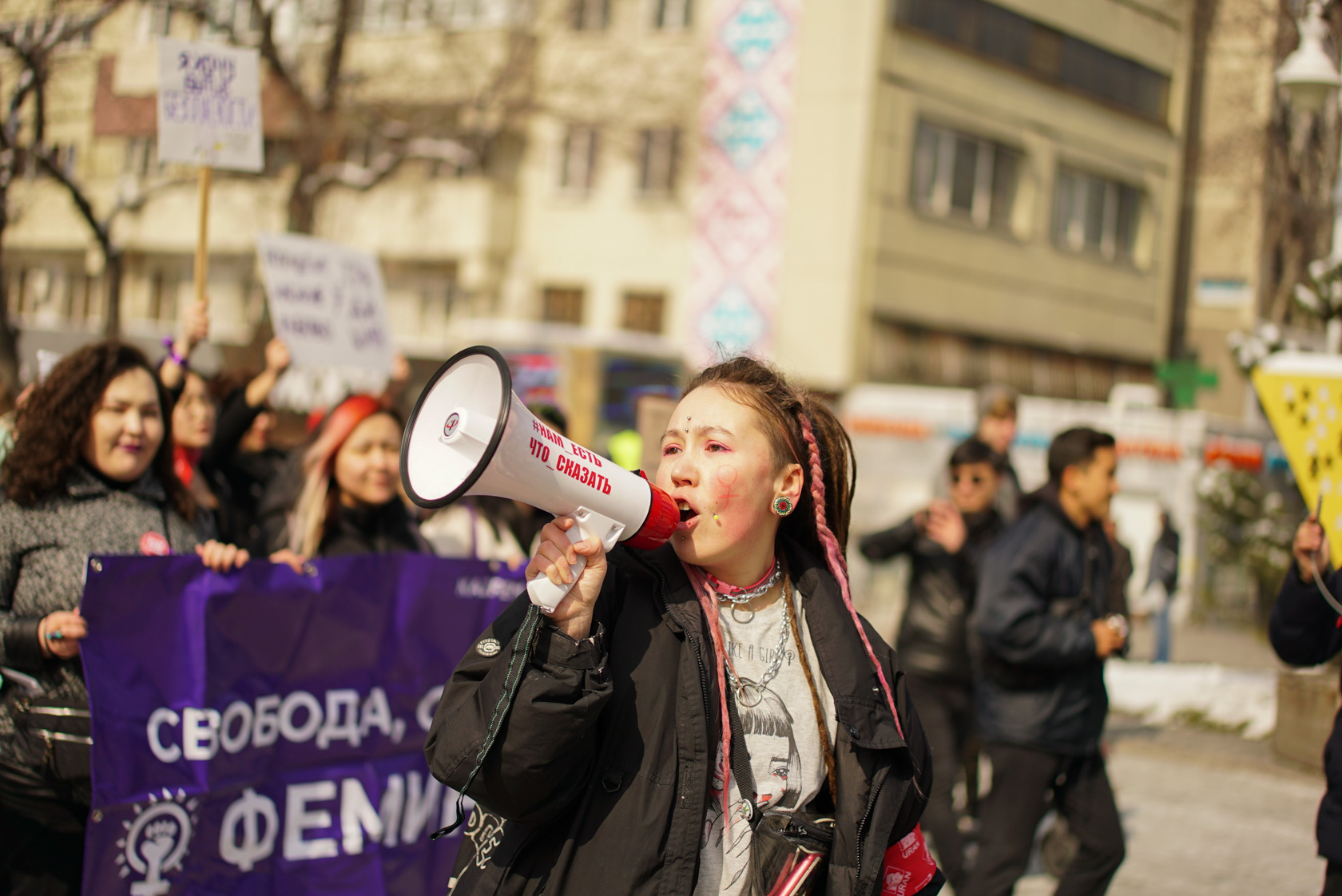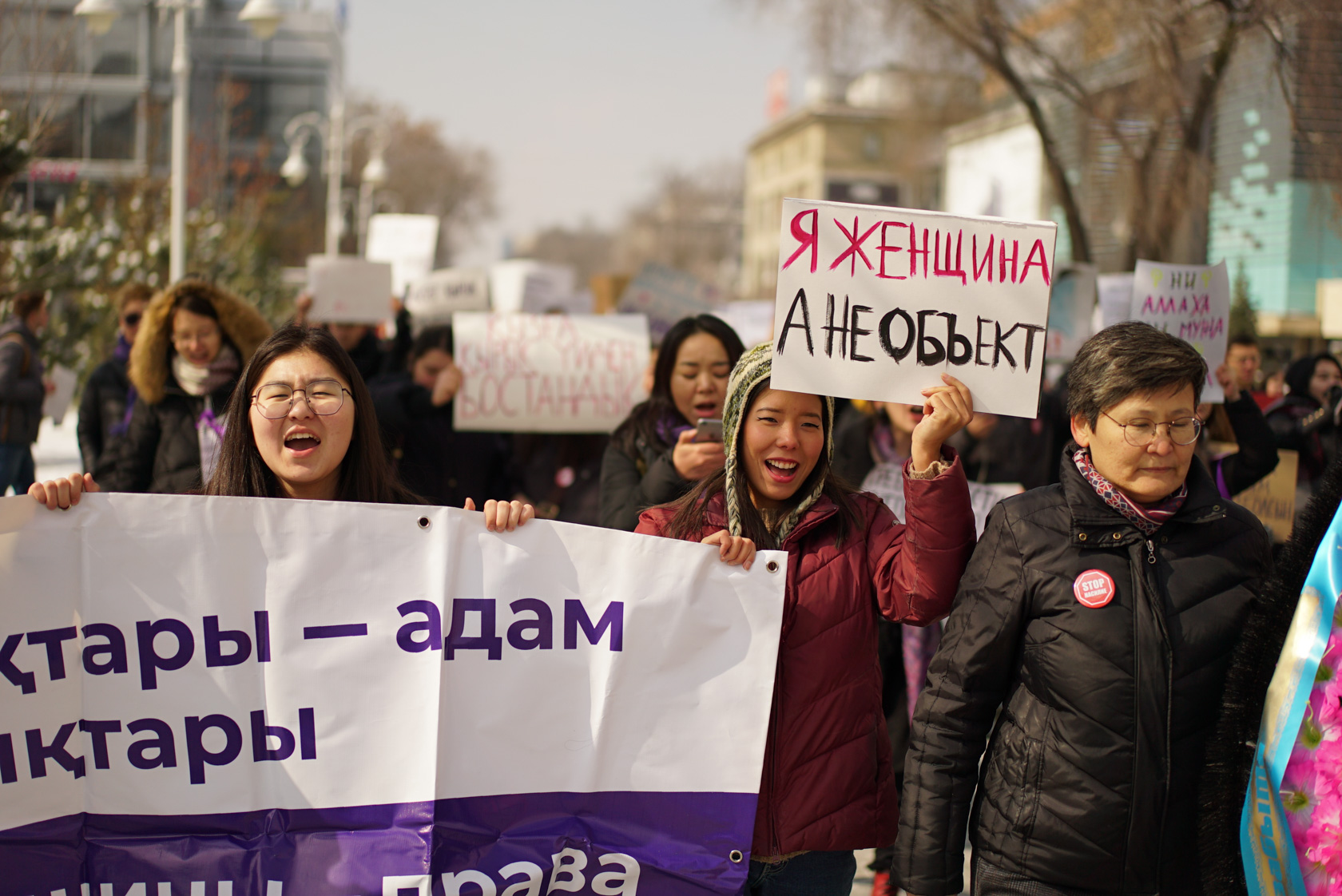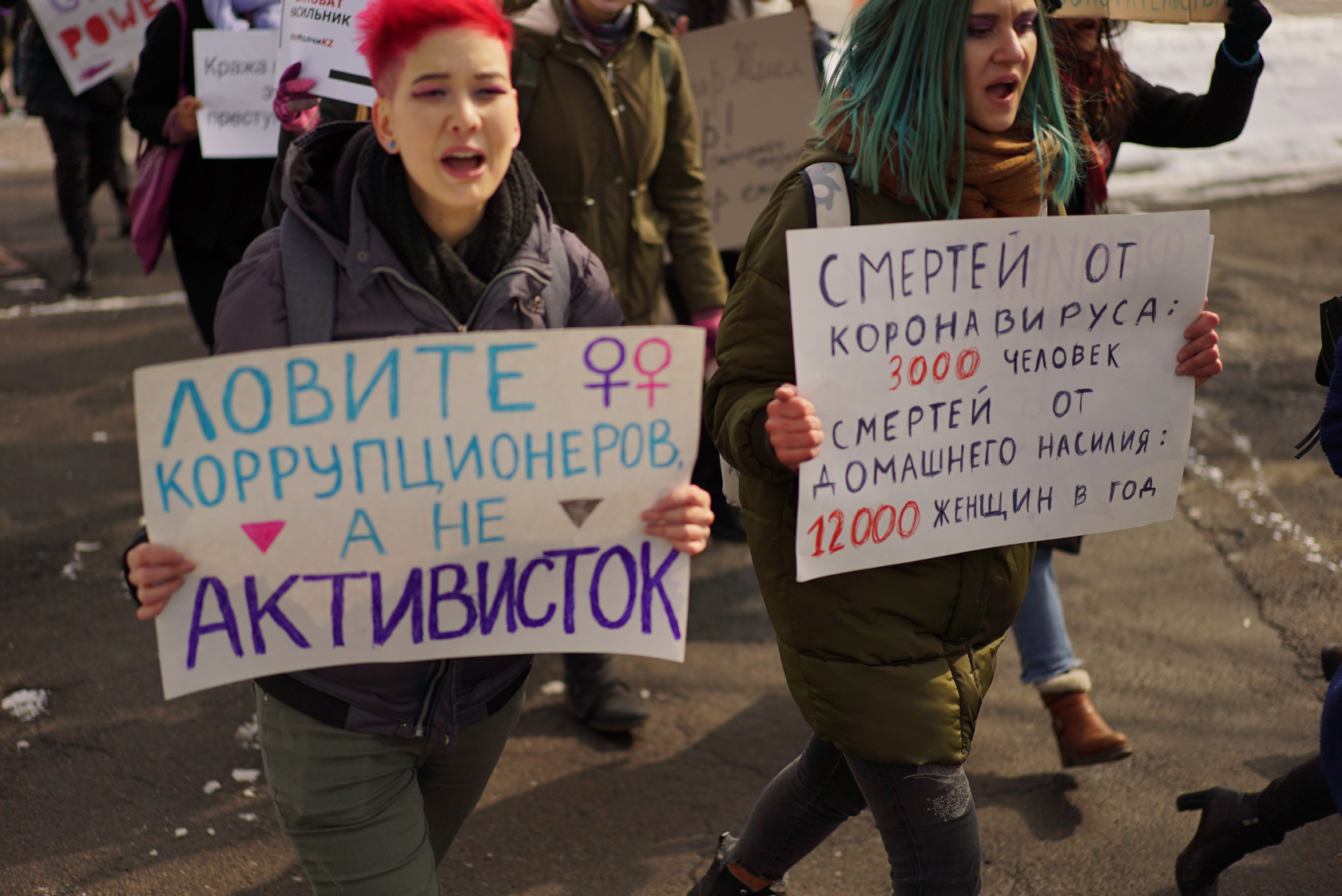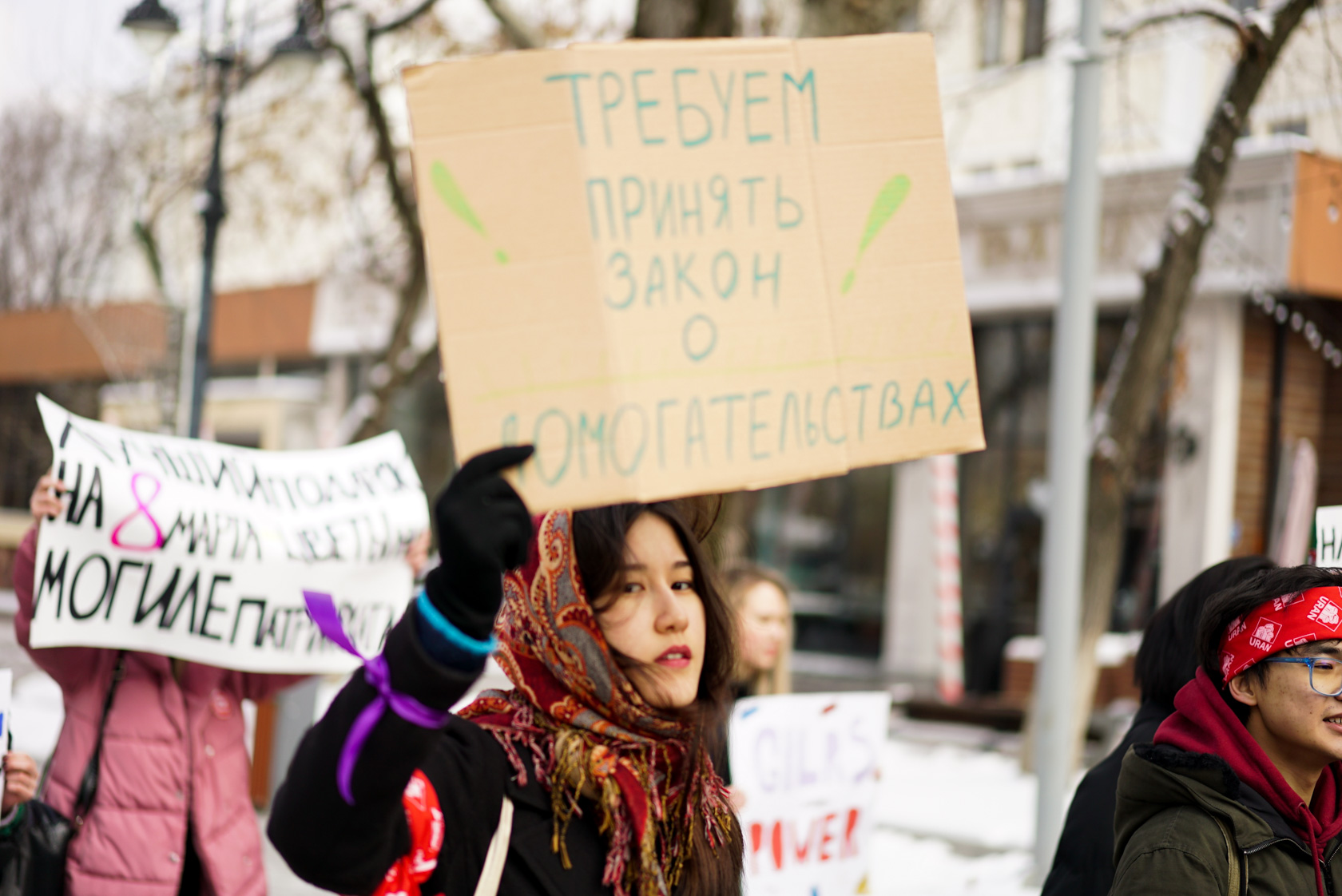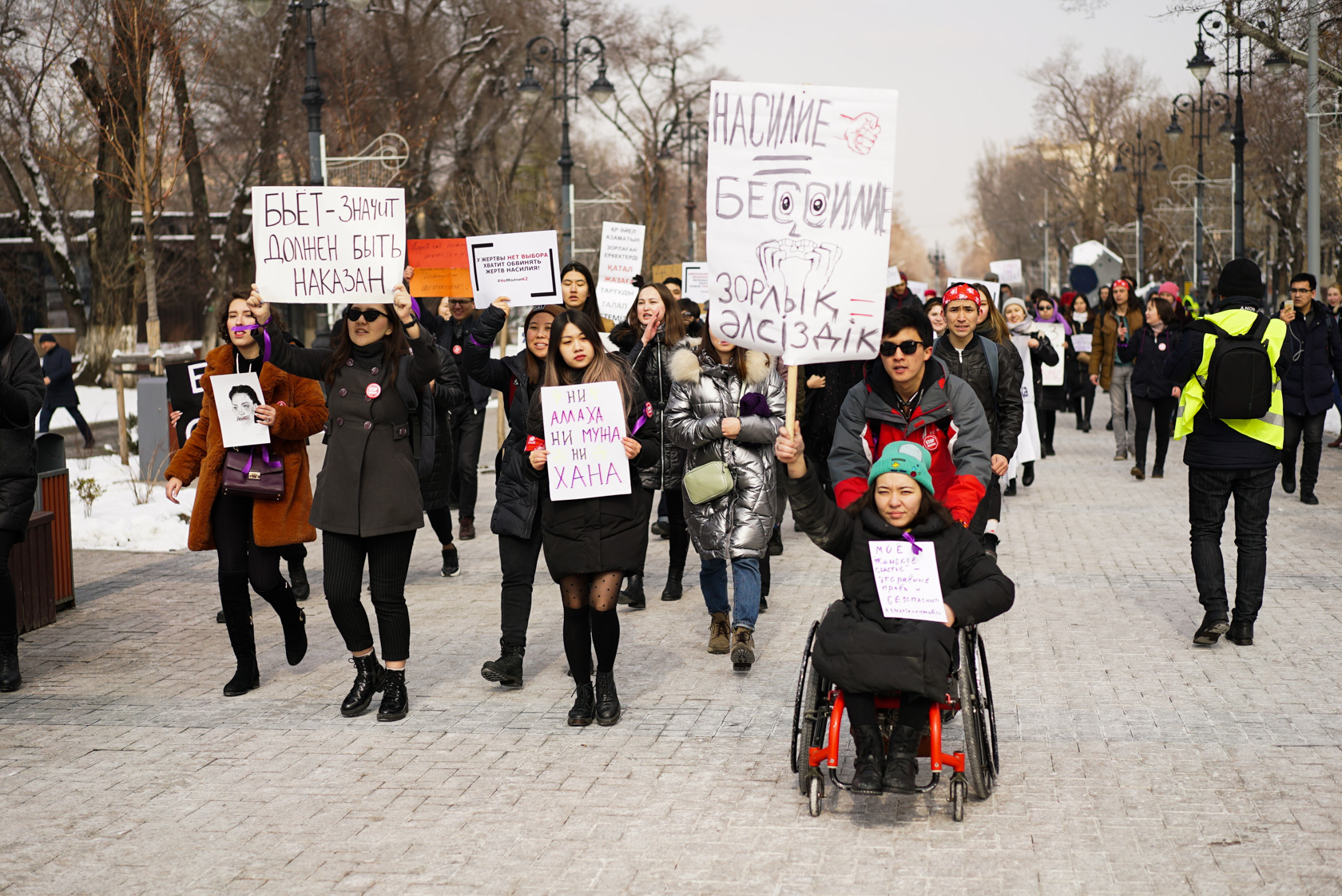 Context:
Violence is one of the leading causes of death and disability among women aged 16-44 around the world. Violence against women and girls is widespread throughout Central Asia. Research carried out with the support of UN Women for the first time in Central Asia found that 17% of women aged 18-75 who have been in a relationship experienced physical or sexual abuse by their partner, and 21% experienced psychological abuse. The data only include cases in which the victims made police reports and the case went to court, which indicates that the real situation is significantly worse than the official statistics.
Additionally, 400 women die every year in Kazakhstan from domestic violence, according to the study. According to data from Human Rights Watch, women in Kazakhstan who experience domestic violence are not provided with sufficient protection and access to justice.
In 2017, domestic violence was decriminalized in Kazakhstan. Since January 2020, the use of fines as punishment for domestic violence has been abolished. Now, domestic abusers in the Republic of Kazakhstan receive written warnings.
According to the organization #НеМолчиДетиKZ, every three hours a woman is raped in Kazakhstan, and every day, two children are raped.
Вопреки Конституции Республики Казахстан, гарантирующей свободу мирных собраний, с весны 2019 года участились случаи задержаний, арестов и судов над участниками мирных митингов. Некоторые репортажи Adamdar/CA на тему:
Contrary to the Constitution of the Republic of Kazakhstan, which guarantees freedom of assembly, since spring 2019, detainments, arrests, and trials have become more frequent for peaceful protestors. Reporting by Adamdar/CA on this topic includes:
In Asya's Own Words
Almaty Rally for Women's Rights
Public Rally in Almaty
Almaty March
November 9 Rally in Almaty
December 16 Rally in Almaty
All photographs by ÅDÅMDÅR/CA
Use is permissible only with written consent from ÅDÅMDÅR/CA