What? Aïda Adilbek's solo show "Talqan, tary, topyraq"
Where? Atelier Cauchemar (Almaty, Kazakhstan)
When? from March 30 to April 30, 2023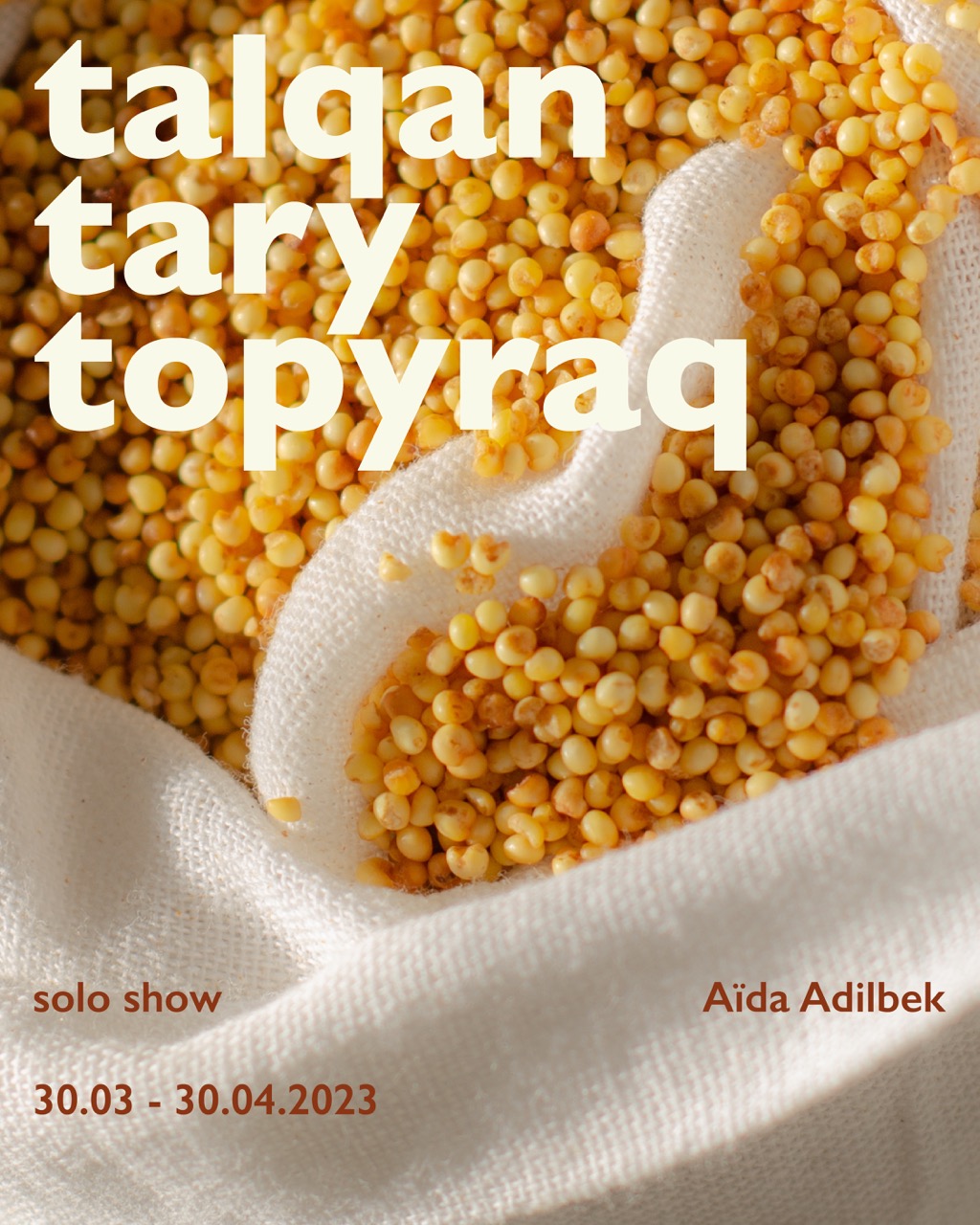 Aïda Adilbek's solo show "Talqan, tary, topyraq" opens on the 30th of March in Almaty. This show is a compilation of the artist's observations and revelations on family, womanhood and all the material and immaterial knowledge one woman passes onto the next one. Aïda Adilbek will present works born in the last three years such as a photo series "Jedi qaraqshy"; "Bata beru", a pocket-book compilation of wishes and blessings; video monologue "Köbelek" and a central piece, a short documentary film "Alaqan". In the film Aïda follows her mother and grandmother in their daily chores around the house and the garden. The film explores female domestic labour as an act of healing ritual. "Alaqan" was realised in the framework of DAVRA collective's 41-day public programme at documenta fifteen in 2022 in Kassel, Germany.
"Aïda Adilbek's solo show "Talqan, tary, topyraq" is a celebration of the safe space that is woven by the relationships between daughter and mother, granddaughter and grandmother, where care and mutual support reign, and the wisdom accumulated over generations is shared just as easily and naturally as well as handmade household items"
Dilda Ramazan, art critic and curator
The show "Talqan, tary, topyraq" was realized with support of Atelier Cauchemar.
About the artist:
Aïda Adilbek is a multidisciplinary artist and curator based in Akzhar (Almaty, Kazakhstan). Her practice evolves around ideas of womanhood through cultural codes, communication, and intangible simplicity of domestic life. She mainly works with mediums like performance and video art.
Aïda graduated her BA in Art History at Kazakh National Art Academy in 2016 in Almaty and her MFA in Fine Art at Goldsmiths, University of London in 2020 in London. After returning to Kazakhstan, she and her colleagues co-founded Almaty-based artist collective MATA in December of 2020; in 2021 she became a part of a research group initiated by Saodat Ismailova DAVRA for her project "Chilltan" at documenta fifteen.

The show opens on March 30, 2023 at 19:00 and will last until April 30, 2023
Working hours of the exhibition:
Monday off-day
Tuesday to Friday: 14:00–20:00
Weekends: 12:00–20:00
Address:
Atelier Cauchemar
40 Gogol Street
Almaty, Kazakhstan