Safina Shohaydarova is a mountain guide from Khorugh, the center of Gorno-Badakhshan region in Tajikistan, and one of the first members of the Women Rockin' Pamirs group. Along with her fellow female trekking guides, she leads tourists coming from all over the globe on some of the most difficult routes in the Pamir mountains. In 2017 she joined Paul Salopek, an acclaimed American writer, Pulitzer Prize-winning journalist, and author of the unique multiyear experiment Out of Eden Walk, on his fortnight-long passage in the Pamirs.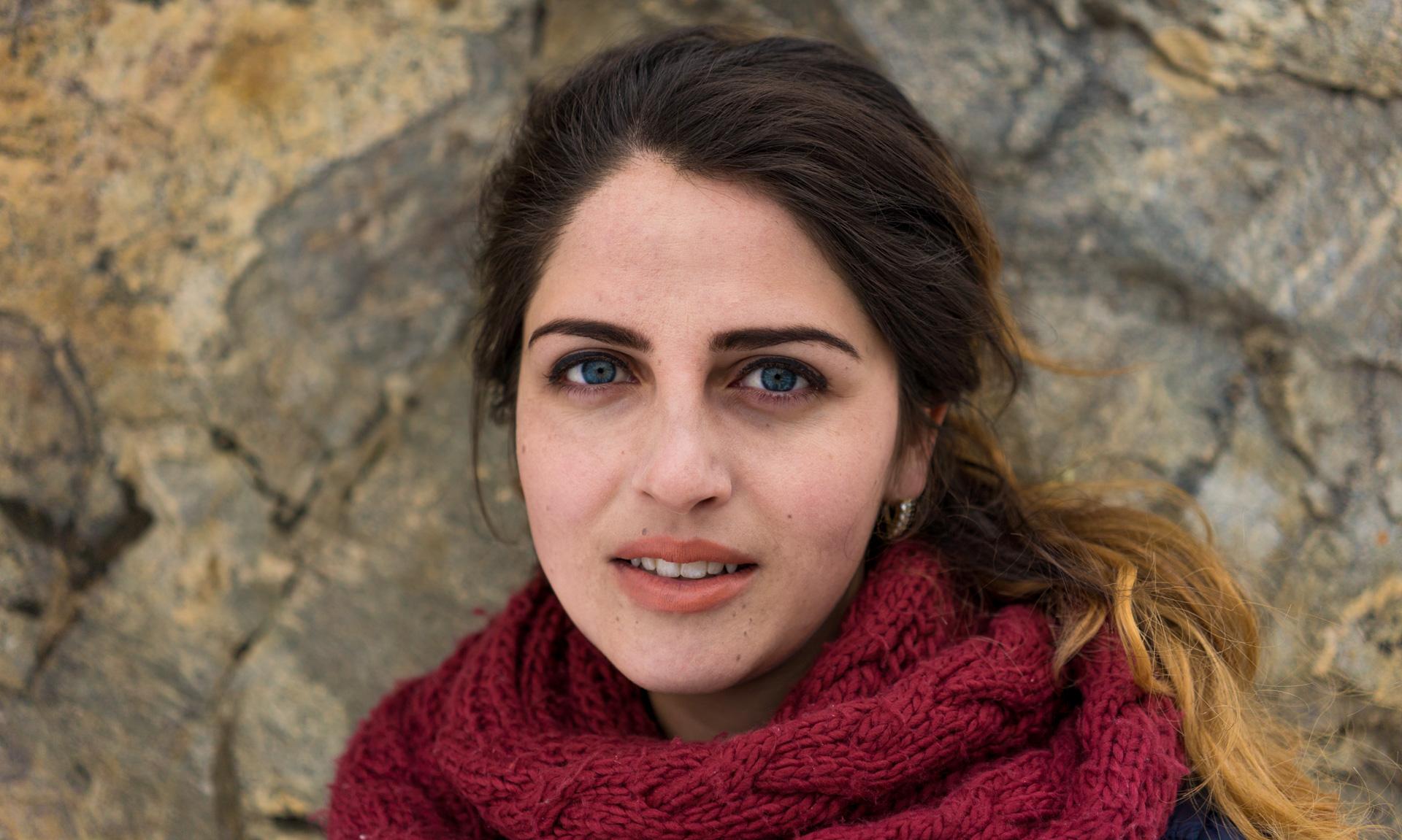 THE BEGINNING
My name is Safina Shohaydarova. I was born in 1994 in Khorugh.
My love for mountains began about three years ago. On the year I was planning to enter the university, they just launched a new study program on tourism. As I learned more about the program, I liked it and decided to enroll.
When I was a third-year student, a French lady, Christine Oriol, came to visit Khorugh. One day she went hiking in the mountains with my friend Furough. Impressed by the stories about their adventure, I decided to join them the next time. It was my very first trek, and it lasted about 4 days. We slept in tents. I loved the experience, but it appeared quite challenging for me as I wasn't equipped well enough and knew nothing about mountains. I didn't know what to wear, what to bring with me, how to cook, how to sleep, and so on. That year we had made several more treks together, and Christine came up with an idea of starting a group of girls who loved trekking and would like to work as mountain guides and, along the way, make additional income during summer. That's how our initiative, Women Rockin' Pamirs, was born.
Our project has been on for three years now; we have 5 girls on our team to date. We constantly keep learning and practicing.
In the early going, it wasn't easy to explain our job to people
Everything I know about mountains I learned from Christine Oriol. She has been working on a book about trekking in Tajikistan for a long time, and she comes here every year.
With the help of crowdfunding she brought all the necessary equipment and created guidebooks for us. Christine had invited journalists from Al Jazeera and French radio, who made a lot of people around the world find out about us. Another person who helped us was Robert Middleton from Great Britain. He granted us money which we used to buy bicycles for our team members.
In the early going, it wasn't easy to explain our job to people. Especially to our families as they were worrying about us: because of the wolves, avalanches, cold and other dangers mountains were associated with. But I kept telling them that mountain guiding was my profession which I loved and wanted to advance in.
Our second trek was seven days long, we walked about two hundred kilometers. We didn't take donkeys with us and carried everything ourselves. Everyone we met on the road — both in the city and in the villages — would say, "Girls, it's going to be very difficult for you. We would recommend you going to the mountains." Our teachers said, "It will be too hard for you, too dangerous." But then they all commended us for having done that trek.
Now everyone's used to our hikes, and our families say, proudly, "Well done, girls!"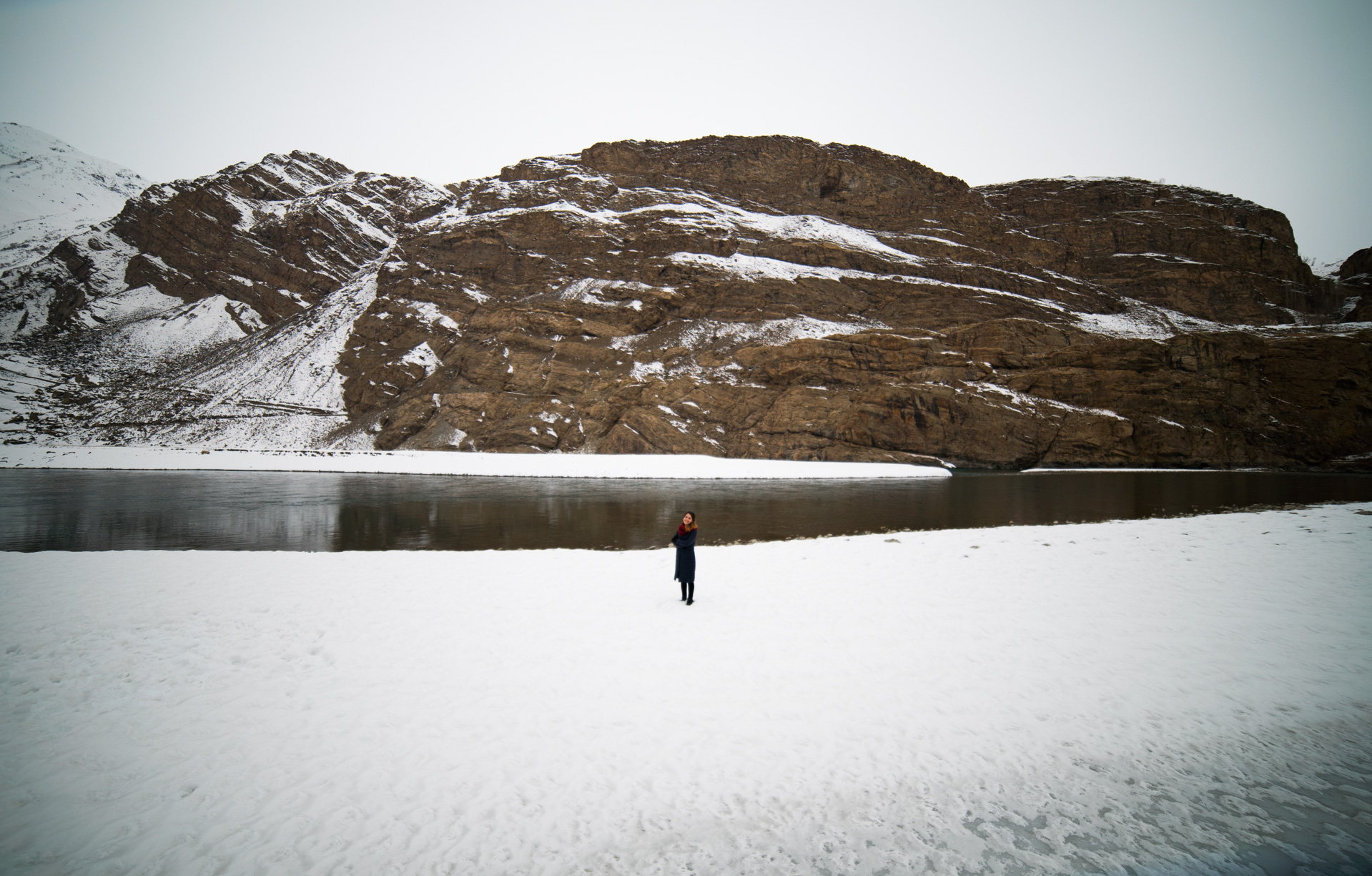 OUT OF EDEN
In 2017 we had the National Geographic fellow Paul Salopek here within his epic project, Out of Eden Walk. I accompanied Paul on the Pamir part of his journey. It was just me, Paul, a donkey and the donkey wrangler Safar Ali from Murgab. I greeted Paul in Murgab, nearby Kyrgyz border, and together we headed off to Ishkashim.
We walked 200 kilometers in 14 days
The first few days were rather hard because we could walk up to 35 kilometers a day and by the time we had to pitch the tents, I felt exhausted. But I adapted quickly. When we reached a village, we stayed there for two or three days, rested, interviewed the locals and then hit the trail again. In total, we walked 200 kilometers in 14 days.
People we met along the way — Tajiks and Kyrgyzs — often approached us, offering help. They would say, "Let us find you a car. Why are you doing this? It's very dangerous."
Most of the tourists I had worked with were easygoing and comminicative, but Paul seemed quite short-spoken at the beginning. He had so much work to do that he wouldn't sleep the first few nights, writing, working on his article. But as soon as he finished it, we started talking more and eventually became friends.
I was supposed to get married in just a week after the trek
Paul told me a lot of interesting things: about his family, his country and the travels. I asked him if he missed his home and family because after the Central Asian part of his journey he would still have years and thousands of miles of walking across the planet ahead. Every time I asked that, he would say, "I carry my home with me; this tent is my home. And my friends, my family are here with me too: Safar Ali and you." Paul's idea is that his home is everywhere. We are all people, and we share this planet together. Such a beautiful idea.
I made friends with Safar Ali too. At the end it was really hard for me to abandon that trek for I got so used to the road and my travel companions who had become my friends.
I was supposed to get married in just a week after the trek. Fortunately, I managed to come back to the city on time. So I handed the baton over to Paul's next walking partner, this time a male guide also from Khorugh.
I was glad that before getting back on the road, Paul came to my wedding and congratulated me and my husband on our big day.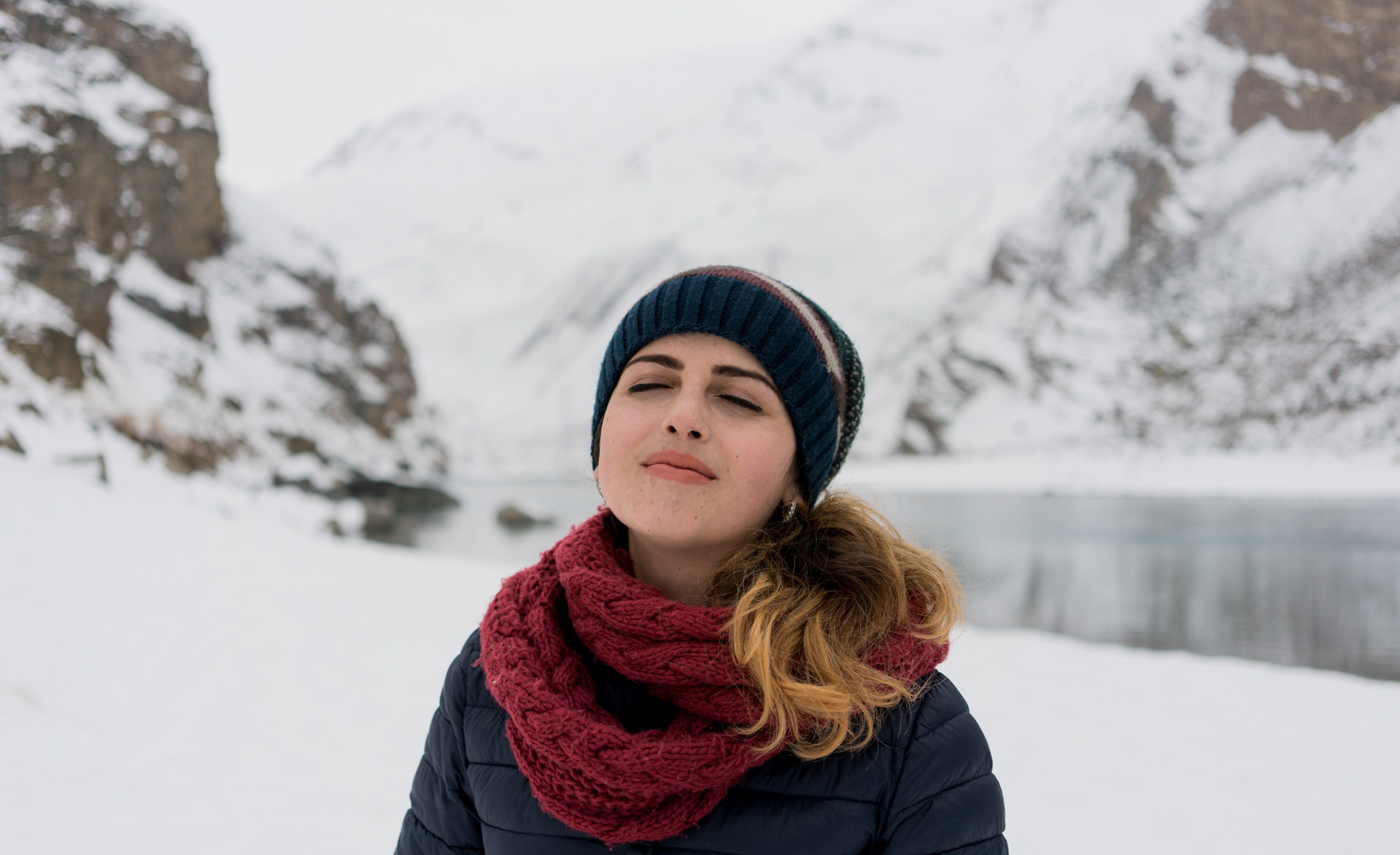 MOUNTAINS
The most important thing in the mountains is safety. Every time we plan a hike, we prepare a topographic map, carefully study all the passages and rivers. Then we decide on the meals and the menu. All of that must be done in advance, so that we're well prepared.
My favorite food during treks is buckwheat with canned stewed meat.
As for the outfit and equipment, number one is the shoes. I remember I was wearing just sneakers in my very first trek. And with Paul Salopek, it was summer, so I went on that long trek wearing sandals. Later he even mentioned in his article that a girl had walked so many miles in sandals. Those were good sandals; I knew they wouldn't fail me.
We want to handle it all ourselves, without any assistance
Most importantly, all the equipment has to be durable and comfortable: from backpack to trekking boots. And the clothing has to be chosen carefully because sometimes we get close to the glaciers and it's really cold there.
Often, when we hike with male tourists, they try to somehow help us, the girls: with carrying heavy bags or crossing the rivers. But we want to handle it all ourselves, without any assistance.
NEIGHBORS
Central Asia is hospitality. Central Asia is the mountains. Central Asia is the bazaars. I love bazaars because there you can bargain and talk to different people. Whenever we greet or tourists in Dushanbe, we always take them to the Green Bazaar.
Now I work in communications at the Pamirs Eco-Cultural Tourism Association. My friend and I are starting our own tourist company. We also continue to work with the Women Rockin' Pamirs initiative; our plan is to open its branch office here and engage more girls. This year we are going to launch a group for teenage girls. We'll now act as coaches and share what we've learned with them.
Most of the tourists coming to the Pamirs are from Europe: Germany, Switzerland, France, England. Sometimes we have visitors from the U.S., Korea and Japan too, but unfortunately, very rarely from Central Asia.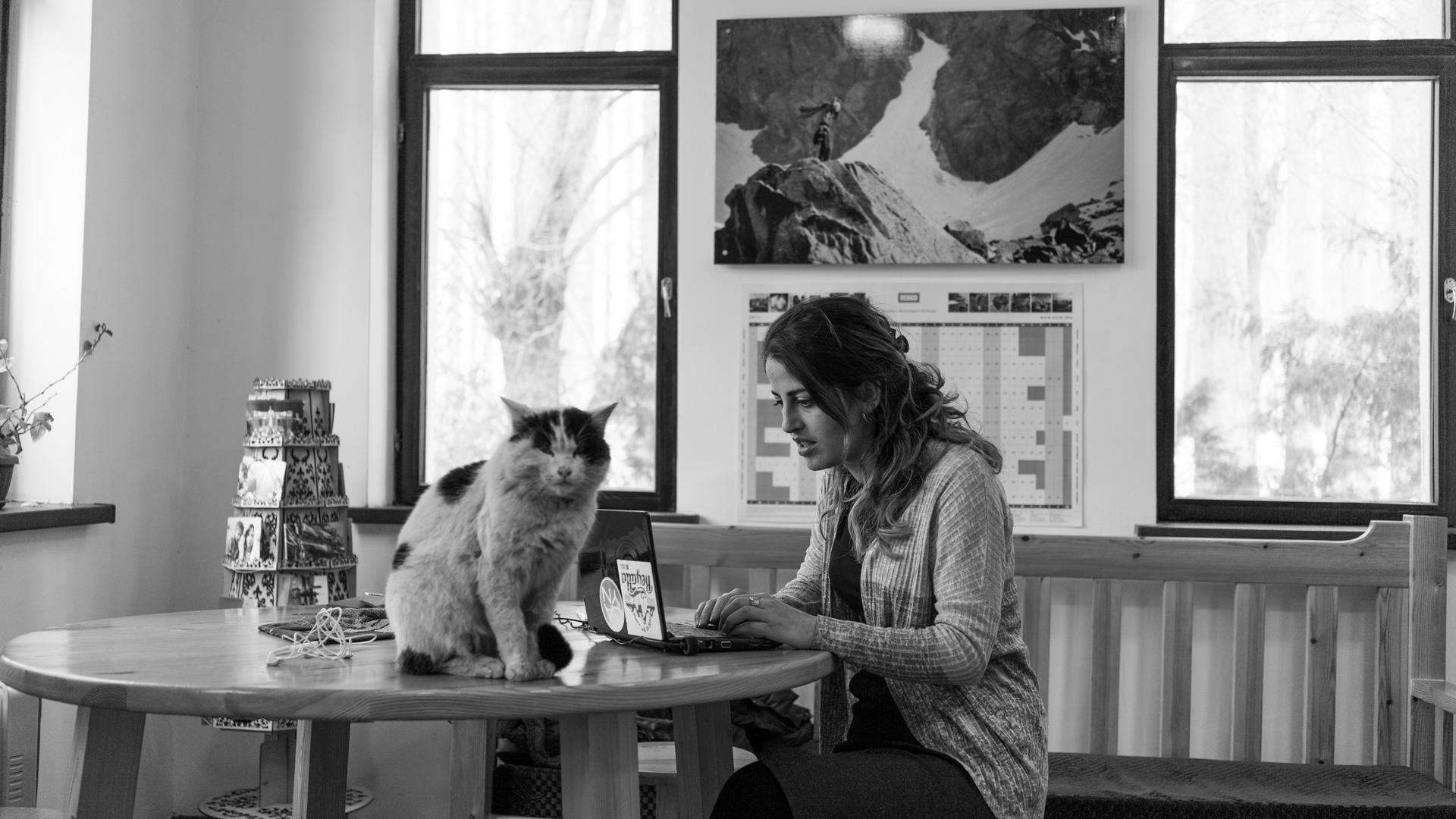 In Central Asia I've been to Kyrgyzstan and Kazakhstan. In Kyrgyzstan I liked Issyk-Kul lake and Cholpon-Ata the most. Such remote places are my favorite because people there often remind me of our people: friendly and communicative. In Kazakhstan I've only been to Almaty; I liked how green it was.
I would love to visit Afghanistan and Uzbekistan some time and see what life is like there, see the nature.
People often compare the Pamirs to the Alps. But when I was in the Alps, I was surprised to find out that the mountains were not as high as our Pamirs.
I love Tajikistan, and I love the Pamirs. I love sleeping in a tent and always miss the mountains. 7-8 days in the city, and I start to feel that urge to go back to the mountains.